Deciding where to go in Southeast Asia can seem like a tricky task. As diverse as it is beautiful, this incredible region is awash with unique cities, enchanting islands and awe-inspiring temples. Peppered with captivating countries, Southeast Asia offers endless possibilities. So, if you're looking for the best destinations to visit in Southeast Asia in 2019, then look no further. We've hand-selected our favourite spots from this gorgeous part of the world, from the seductive shores of Bali to the tranquil landscapes of the Philippines, this definitive guide will help you decide exactly where to go in Southeast Asia!
Indonesia
https://www.instagram.com/p/Bh4DLn3FPf8/?taken-by=theblondeabroad
Good for: Solo travellers, Couples, Honeymooners, Families, Luxury lovers, Culture lovers
When to travel: Between May and September
Don't miss: Bali, Komodo National Park, Gili Islands
Average daily cost: $25
Needing little introduction, Indonesia is home to some of the most spectacular scenery in the world, making it one of the best countries to visit in Southeast Asia in 2019. While the island of Bali has been a bucket list staple for years, there is much more to Indonesia than this. From gap-year trips to 'Eat Pray Love' adventures, this breath-taking country seduces honeymooners, students and solo travellers on quests for self-discovery – and jealousy-inducing Instagram accounts!
https://www.instagram.com/p/Bo9ZSVVl7d0/
It might be super popular, but there's a reason why people have been flocking to Bali for years. Known for having the best beaches in Indonesia, Bali also boasts unreal sunsets, a lively night scene and plenty of opportunity for spiritual discovery. Though lesser-trodden, Lombok is equally as beautiful and is definitely one of the best destinations to visit in Southeast Asia in 2019. As Indonesia's secluded gem, this stunning island is perfect for surfing and sun-soaking, thanks to its incredible golden coastline.
Also not to be missed, the capital of Jakarta is a thriving cityscape with towering skyscrapers and a beautiful old town. A shopper's paradise and a foodie mecca, this capital is just one of the many destinations worthy of your bucket list. Anyone venturing to Indonesia should also make the effort to visit Yogyakarta in Java, offering a rich and beautiful history that is visible in the city's magnificent 18th-century royal palace. If nature is more your scene, Lake Toba is surrounded by waterfalls and pine forests and is the perfect destination for digital escapism, as are the islands of Raja Ampat. Almost entirely covered in jungle, the Raja Ampat isles benefit from practically untouched beaches, beautiful coral reefs and an ancient underground cave network. Even if you're still unsure where to go in Southeast Asia, you won't regret adding Indonesia to your list!
During your trip, be sure to experience some of Indonesia's incredible cultural festivals. Take inspiration from our guide to the best events in Bali in 2019 and stay in style in one of our gorgeous villas, dotted across Indonesia.
Thailand
Good for: Families, first-timers, partygoers and groups of friends
When to travel: Between November and April
Don't miss: Bangkok, Phi Phi Islands, Ayutthaya, Phuket, Koh Samui
Average daily cost: $30
Definitely one of the best destinations to visit in Southeast Asia in 2019, Thailand really has to be seen to be believed. A popular destination for families on a trip of a lifetime, this diverse and bountiful country offers everything from lively beach resorts to tranquil natural landscape, ripe for escaping. Plus, with some of the greatest cuisine in all of Southeast Asia, Thailand is a foodie paradise awaiting your arrival!
The country's abundance of temples and ruins, seen most spectacularly in Ayutthaya, make it culturally rich, while the capital of Bangkok is a captivating metropolis that blends history with modernity. From towering skyscrapers to its age-old floating market, Damnoen Saduak, Bangkok is a must for anyone venturing to Thailand's shores. Another popular gem, Phuket is known for its enviable beaches. Covered with stunning rainforests and offering the perfect blend between tranquil paradise and thriving city, Phuket makes for a fun-filled Asian escape.
https://www.instagram.com/p/BhuODqdHvP8/
If you're looking for quieter beach vibes, head to some of the finest in all of Southeast Asia, on the shores of the Phi Phi Islands. This latest social media influencers' hot spot offers incredible see-through waters, pristine sands and a majestic surrounding landscape. Another option is the Similan Islands. As peaceful as they are beautiful, these shores are a dedicated Marine National Park and entice divers each year with their crystalline waters, vibrant corals and a fantastic array of tropical fish. These are just some of the many reasons why Thailand is one of the best countries to visit in Southeast Asia.
Finally, one of the most popular areas to visit in this beautiful country are the provinces of Phuket, Koh Samui and Krabi, each of those has its own benefits and specifics.
Make your trip to Thailand totally unforgettable by booking one of our luxurious villas or apartments, available across this enchanting country.
Cambodia
Good for: Friends, adventure travelers, culture explorers, off the beatean track lovers
When to travel: Between November and March
Don't miss: Angkor Wat, Phnom Penh, Battambang
Average daily cost: $15
A land of incredible temples and dramatic royal palaces, Cambodia is a highly affordable spot on the travel map, making it one of the best destinations to visit in Southeast Asia in 2019! Rich in National Parks and beautiful wildlife sanctuaries, Cambodia is also home to some of the finest religious monuments in the entire world.
The country's capital city, Phnom Penh, may be hectic but it is also full of history. The former home of the Khmer Empire, the city offers an idyllic water-front, an important Royal Palace and an impressive art deco market. For a more authentic trip, step out of the city and back in time by visiting the colonial-era town of Battambang. Set along the picturesque banks of the Sangker River, this gorgeous town is well preserved and entirely genuine – hire bicycles and explore like a local.
Firmly on the beaten track, Siem Reap remains one of the most iconic stops on Cambodia's tour, thanks to its incredible temple ruins, Angkor Wat, dating back to the 9th century. With much more to offer, Siem Reap boasts fantastic galleries, a lively Night Market and an Old French Quarter where some of the best local cuisines can be savoured. If relaxation is needed, then Sihanoukville offers truly incredible beaches, with water the unreal colour of turquoise. Need we explain further why Cambodia is one of the best countries to visit in Southeast Asia? We didn't think so…
Discover the best hidden gems in the country by reading our guide to Cambodia off the beaten track.
Vietnam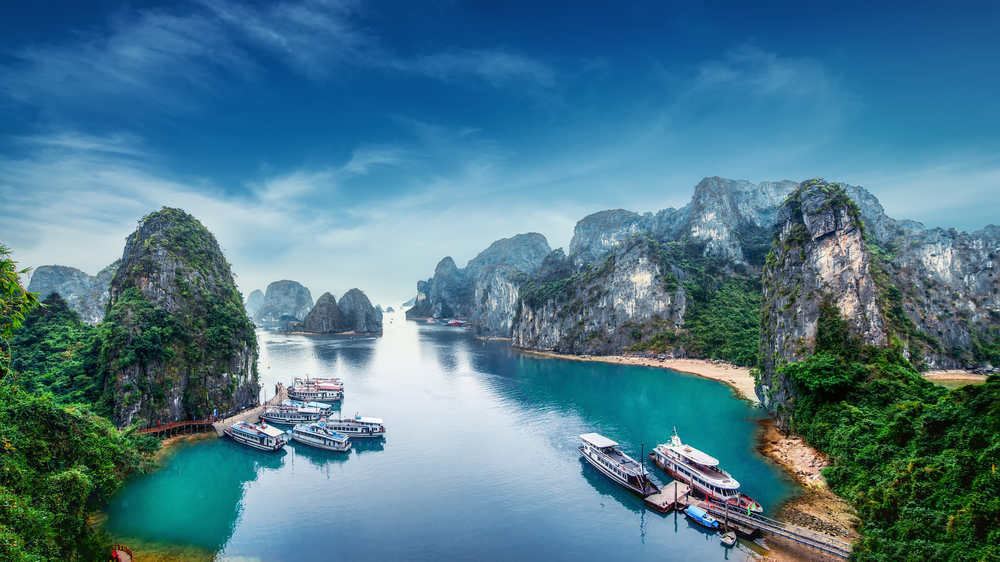 Good for: Couples, families, culture explorers
When to travel: Between February and April and August and October
Don't miss: Ho Chi Minh City, Halong Bay, Sapa
Average daily cost: $25
Lesser frequented than Indonesia, Vietnam is one of the most diverse places in all of Southeast Asia. Peppered with mountain peaks, sweeping paddy fields and intoxicating natural landscapes, this pretty country really does have something to offer every type of explorer. Ideal for couples, Vietnam is a relaxed and versatile country, where bustling cities lie beside incredible wonders of the natural world.
Once known as Saigon, Ho Chi Minh City is one of the most fascinating destinations in Vietnam, offering a rich history and even richer culinary opportunities, thanks to the likes of the Bến Thành street food market! Hire motorbikes and explore the city like a local and take an idyllic boat trip through the turquoise waters of Halong Bay, a listed UNESCO World Heritage Site – where mesmerising limestone islands offer unforgettable scenery.
https://www.instagram.com/p/BgysW2uA5he/
While Hue is one of most historic and picturesque towns in all of Vietnam, offering ornate ruins set on the banks of the idyllic Perfume River, the World Heritage listed Phong Nha-Ke Bang National Park boasts an incredible network of caves. Step into the countryside and take in the abundant beauty of Sapa, where rice fields melt into the peaks of the Tonkinese Alp. If you prefer being in the thick of it, then Vietnam's lively capital, Hanoi, is a must. With a beautiful old town, fascinating museums and lively street scene, this enthralling city is truly unmissable.
The Philippines
https://www.instagram.com/p/Bo8y9d_Fe7i/
Good for: Honeymooners, eco-travelers, nature lovers
Go: Between November and April
Don't miss: Chocolate Hills, Boracay, Panglao Island
What's special? Its crystal-clear waters and the friendliness of the locals
Average daily cost: $45
If you're still unsure where to go in Southeast Asia, this should definitely help. They say it's more fun in the Philippines and when you consider the beauty of this captivating country, you may understand why! Thanks to numerous social media influencers, the Philippines have gradually come under the radar of keen travelers, seeking pristine beaches and beautiful landscape scenery. Made up of more than 7,000 unique and beautiful islands, the Philippines are paradise in the waiting.
The country's capital, Manila, is famed for its ancient architecture and contemporary skyline, rising out above the ocean. Explore the city's colonial past in Intramuros and head to the Cordillera Central Mountains for hiking and wildlife spotting. Explore the beaches, lakes and coral reefs of the Calamian Islands, dive in the waters of the Cebu Island or hit the popular beaches of beautiful Boracay.
For a break from the digital world, take to the peaks of the Chocolate Hills, walk the rice terraces of Banaue or experience the magical culture of the world-famous Ati-Atihan Festival, a week-long street event that is alive with colour. Divers should not miss the waters of Puerto Princesa Subterranean River National Park, while beach bum should soak up the peaceful ambience of the flawless sands of Panglao Island. This, and much more, make the Philippines one of the very best destinations to visit in Southeast Asia in 2019. Get your bags packed!
Discover more influencer hotspots, thanks to our exclusive interview with the iconic Klaudia Shabani of @onlyfortravelx!