Stand by for the best events and festivals in Thailand in 2018. From North to South and throughout the year there's something for everyone. Whether you are visiting with friends or looking for an amazing family event in Thailand, these cultural and exciting festivals are your definitive list of things to do in Thailand for 2018.
Making your plans ahead? Check our list of Thailand's hottest events and festivals in 2019!
Wonderfruit
Of all the events and festivals in Thailand, Wonderfruit is the one that includes variety and  creativity. The creator describes it as 'An inspiring, diverse, multicultural, hedonistic, mindful celebration of art, music, food, wellness, family and creative ideas.' It is hard to find a more inspirational festival in Thailand.
Smiles, smiles, smiles
Imagine all the nicest, warmest most creative elements of festivals, then add extra loveliness, genuine smiles and a sense of community. Unique workshops teach the basics of Thai cultural arts; Thai cooking, handicrafts, bamboo weaving, ceramics, glass blowing and more. Think Glastonbury festival meets Burning Man festival set in Thailand's amazing world of smiles and warmth. Now that's an event in Thailand not to miss!
Family fun
Wonderfruit is definitely an event worth dressing up for, adults as well as children. Your imagination can fly freely here at this great family festival in Thailand. This super family-friendly festival has the dedicated 'Camp Wonder'. This attraction encourages adventure, creativity, and fun for the younger members of the family. You can still catch Wonderfruit 2017 on your list of things to do in Thailand for 2017. If not, we're sure it will make your list of family events in Thailand for 2018!
Tips
Stay hydrated. Bring a flask to refill at the festival water stations.
Take lots of sunscreen for the daytime events. December is the cool season, so bring an extra layer for night time.
Getting There
Wonderfruit festival takes place from Dec 14th to 17th 2017 at the Siam Country Club. It's 2 hours by road from Bangkok and around 15 minutes drive from Pattaya.
See their website for more information Wonderfruit
Ghostly goings-on
Of all the events and festivals in Thailand in 2018, you won't find a more supernatural event. The Ghost Festival [Phi Ta Khon] is a popular local event to attend and is a superb thing to do in Thailand for 2018. In Thailand, people have an intricate relationship with ghosts. Many modern Thai movies, TV series and popular comics all feature spirits. Most Thais believe in ghosts and will give offerings to appease them throughout the year.
Local beliefs
There are many different types of ghosts and they are believed to inhabit places like burial grounds, trees and, especially, abandoned houses. Dressing up for the event is important and the competition for the best-costumed dancer in the festival for 2018 will be keenly contested. Sheets and blankets are sewn together to create costume shrouds and long masks are painted with ghostly faces.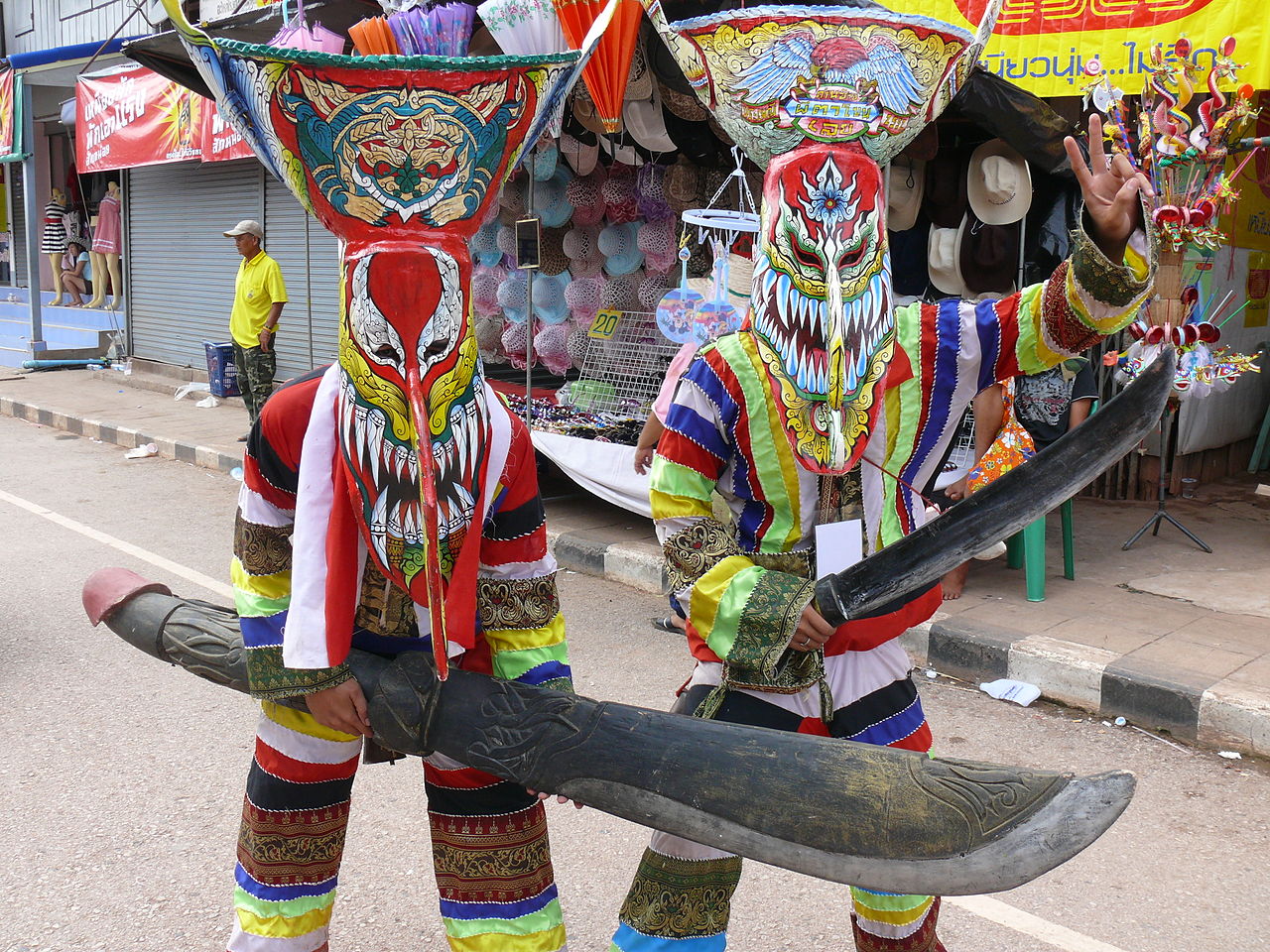 Parading about
The festival parade is a fun-filled event for 2018. It is an event full of a happy party atmosphere which is great for all the family. Lots of ghostly naughtiness goes on, with tricks and fertility symbols teasing the festival goers. Traditional northern Thai music and local dances take place at this unique festival in Thailand.
High flying
Rockets are fired into the sky in a symbolic action to encourage rain and the event closes out with a spiritual visit to the local temple.
Tips
The 2018 festival dates are not yet confirmed. Check TAT website for the exact dates:  Thai festivals
Getting there
Flights from Bangkok to Loei take 1 hour 20 mins. Dan Sai is 80km from Loei by road.
 Chiang Mai Winter Festival Fair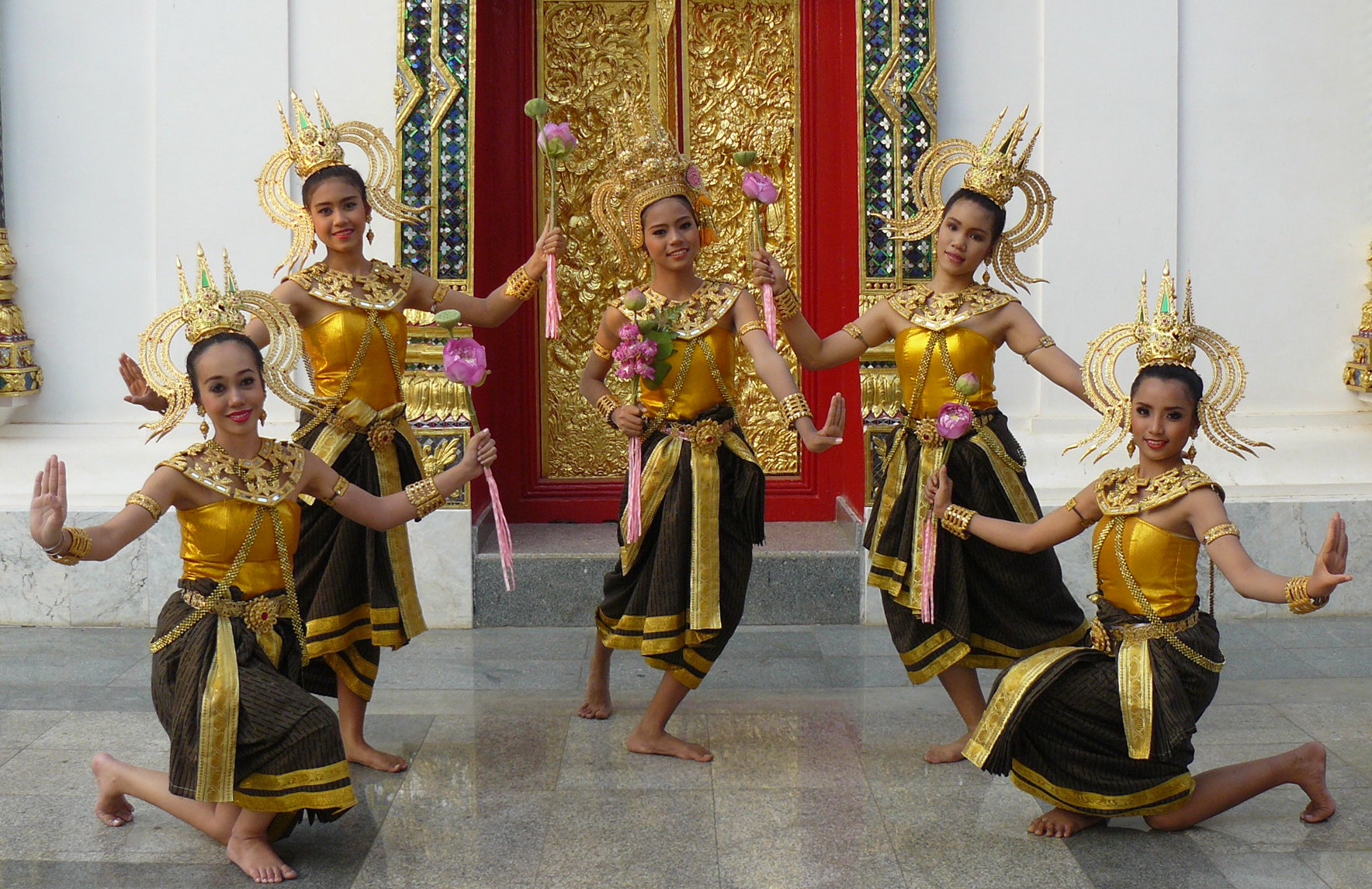 The Chiang Mai Red Cross and Winter Fair are always one of the most fun-filled festivals in Thailand. Fully endorsed as a great family event in Thailand there is plenty of hearty entertainment all around. This great festival raises and donates funds to different charities, in particular, the Red Cross, and the event has a unique atmosphere. It really is an essential event to attend in Thailand in 2018.
All the action
Festival activities include a miniature railway fun ride, live music, food stalls, arcade games and an outdoor cinema. There are lots of dance performances and local hill-tribe presentations at this great 2018 event. You'll find plenty of market stalls to stock up on souvenirs and see the action around the highlights of the 2018 festival.
Pageant fun
The hotly contested Miss Chiang Mai Beauty Pageant is also held during this great event with the winner announced on the final day.
Tips
The Winter Festival runs from the end of December and into the first two weeks of January.
Check out Chiang Mai Winter Festival for more information.
By the way, if you want to learn more about the top family activities in Thailand, have a look at our Infographic about the Top 10 Things to do For an Unforgettable Family Holiday
Rocket power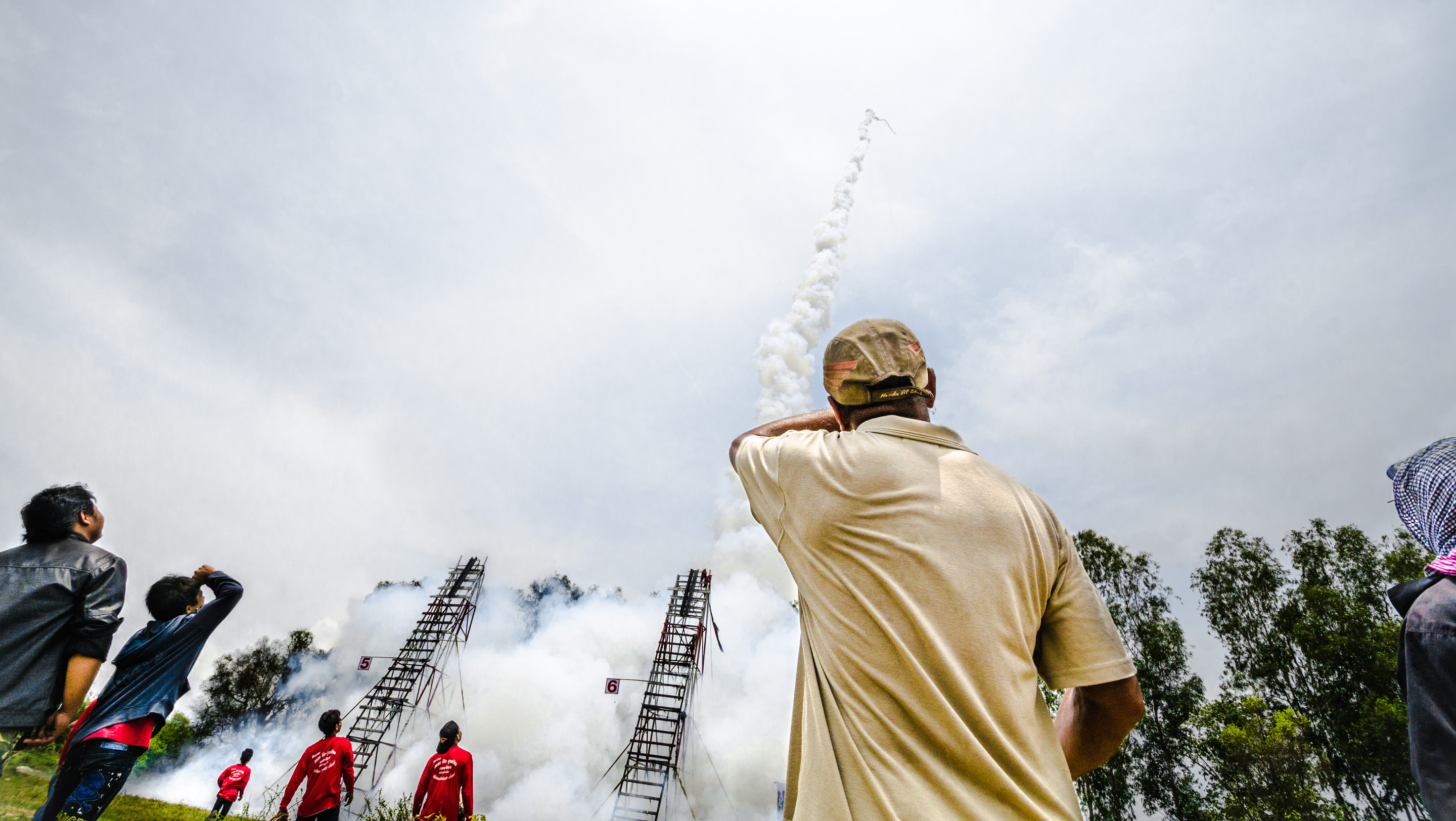 The Yasothorn Rocket Festival is the largest of a number of Thai firework festivals that are symbolic for promoting the seasonal rains. The three days of festival celebrations are full of family-friendly events with music, dance performances, and floats. This is the loudest of all the festivals and events in Thailand in 2018.
Homemade rockets!
The festival highlight is the exciting launch of the home-made rockets on the last day. You'll be amazed as these homemade gunpowder – driven rockets rush skywards. The festival's winning rocket is judged by how long it stays in the air but the event also marks rockets for leaving a beautiful smoke trail.
Mud fun
Those whose rockets misfire are either covered with mud or thrown into a mud puddle. This is an all-inclusive festival in Thailand so if you've tried the dancing why not try the mud pit as well?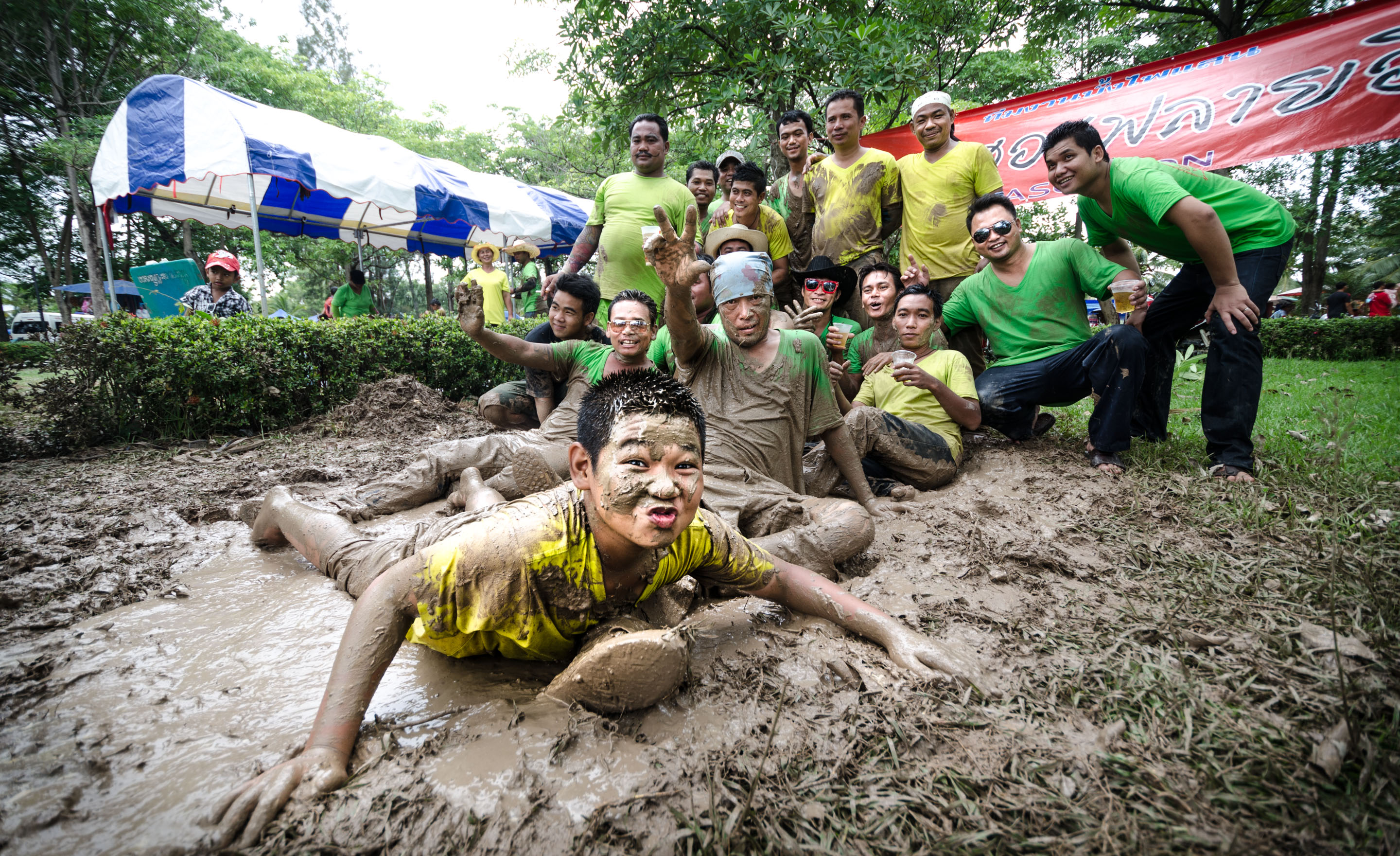 Join in the fun
Every speaker in the region seems to be here pumping out local favorites at the most incredible decibels. Don't stop yourself from joining in with the dancing action. You may find yourself being invited up onto the floats! Lots of local spirits will be consumed and the contest for being Miss Boon Bang Fai will be hotly contested in this unique event in Thailand 2018.
Tips
Take an umbrella or wear a hat. Use sunscreen and keep hydrated.
Watch out for falling bits of rocket if one misfires!
See Rocket Festival for more details.
Wet and wild Songkran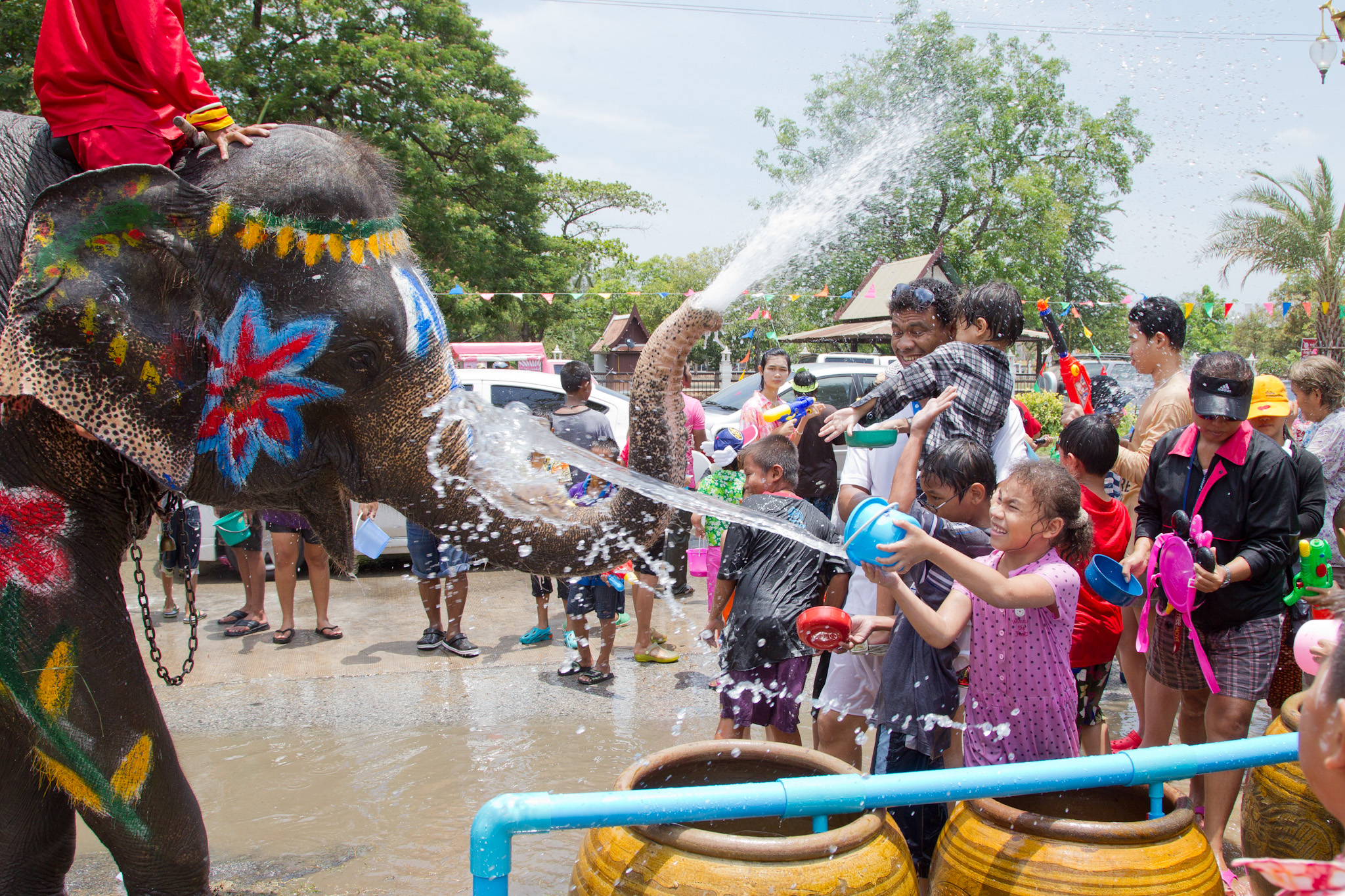 Songkran is the most fun-filled of all the events and festivals in Thailand for 2018. This is the biggest water-fight festival in the world and an event when usually shy and conservative Thais let loose. Songkran is the time when city-based Thais head home to be with family to celebrate the Thai new year festival. Behind the water throwing festival fun, there is a spiritual blessing attached to the sprinkling of water by relatives.
Water water everywhere
Chiang Mai is the spiritual home of the Songkran event and the festival lasts up to five days. There is so much energy in the city; thousands of men, women, and children douse you with water cannons, squirt guns, and buckets of icy cold water. Every street and lane is a potential water bucket trap in this festival. The most popular places to gather are down by the Ping River, the canal moats and the Thapae Gate.
Tips
Use plastic wallets to keep your phone dry. No-one is safe from a dousing so be prepared to get wet and accept it with a smile at all times.
Avoid swallowing any water as many refills come from the moat.
Avoid riding a scooter – having ice cold water thrown on you and safe riding don't mix.
Jazz by the sea
The Hua Hin Jazz Festival is a superb gathering of great local artists and renowned international performers. This popular event in Thailand 2018 will deliver amazing rhythms of jazz which nicely complement the beautiful coastline beaches of Hua Hin. If previous years are a true indicator, then this festival in 2018 will be a real winner.
Jazz from across the globe
The extended reach and love of jazz crosses many cultures and you'll find festival acts coming to Hua Hin from all corners of the globe. You can enjoy their sounds across the city, as multiple event stages are step up to celebrate this exuberant festival.
Sunny beach vibes
Organizers erect a huge main stage on the beach so you'll get great music while you relax on the sand. What better way to get an international event with some great Thai festival tastes!
Tips
Hua Hin is located 3 hours drive away from Bangkok
The dates for the Jazz Festival are June 22nd – 24th 2018
Find more details at the festival website – Jazz festival
Prettiest and Fastest Buffalo
Going to the races in Thailand 2018 might just add a new concept to your perception of lumbering farmyard animals. In the town of Chonburi the art of buffalo racing is no joke, but many moments of laughter are guaranteed. Fierce, but friendly, the local rivalry will definitively be in view at this amazing festival in Thailand 2018.
Best buffalo
Not just any old buffalo partnership can be a festival winner – so strict training and diets are a certainty for any proud entrant. That's a strict diet and training for the buffalo – this festival is serious business! Jockeys are tested to their limit as these giant beasts don't make racing look like an elegant walk in the park. Life, of course, is too easy in the saddle so the jockeys ride bare back just to add extra elegance and style. Races are based on age, weight, and size with the 100-meter track located outside the town hall.
Pretty Miss Buffalo
This festival in Thailand celebrates the agricultural importance of the buffalo and adds a healthy buffalo contest, a buffalo fashion contest and a parade of beautifully-decorated buffalo carts. As ever, at any festival in Thailand, it would not be complete without a beauty pageant. Local beauties turn out to contest the title of "Miss Buffalo". Usually being called a buffalo is a playful jibe, here at the Buffalo Racing festival all the girls want to be called Miss Buffalo.
Tips
The Buffalo Festival takes place in October 2018
Chonburi is 40km from Bangkok and very easily reached by road
Koh Tao Festival
Must see events and festivals for Thailand in 2018 wouldn't be complete without a beach party for soaking up the best of Thailand's amazing island settings. The Tao Music and Underwater Festival will be rocking into its third outing in 2018. This event keeps itself well grounded but throws a lovely acknowledgment to Koh Tao's scuba diving industry.
Eco-friendliness
The Tao festival really tries hard to keep eco-friendliness at its heart. The festival team go to great lengths to feature bamboo as one of the prominent sustainable materials. From bamboo cups, which require a deposit so they are more likely to be reused, to bamboo steamers for food and even bamboo viscose T-shirts! You'll find a great majority of festival goers with a genuine care for the local environment – possibly stemming from their scuba diving roots.
Plenty of fun
The 2017 festival offers up 3 days and 3 nights of great sounds ranging from traditional Thai music, reggae, house, hip hop and indie Myanmar sounds. Lots of attractions abound with visual arts, graffiti contests, film screenings and sword fighting! This event is a long way from the excesses of the Full Moon events that rage on the nearby Koh Phangan. What kind of a full agenda can we expect for this festival in 2018?
Tips
Check the festival website for dates and details of the festival in 2018  Tao Festival
Koh Tao is easily reached from Koh Samui and the mainland by the high-speed Lomprayah ferry http://www.lomprayah.com
Looking for an accommodation in Thailand? Check these awesome thailand villas – all prices and sizes! Alternatively, if other parts of Indonesia or Sri Lanka interest you, we have amazing villas in Bali & Sri Lanka too!