Also referred to as the Spring Festival, Chinese New Year welcomes in the warmer months and waves goodbye to the winter season. Taking place annually, this is one of the most anticipated Lunar events on the Asian calendar. Celebrated by more than 20% of the world's population, Chinese New Year often lasts for several weeks. On 5th February 2019 the Year of the Pig will begin and this year's events are expected to be bigger and better than ever! Here, we explore the best places to celebrate Chinese New Year 2019 – so no matter where you are, you need not to miss out…
Shanghai
Unsurprisingly, Shanghai is thought to be one of the greatest places to celebrate Chinese New Year. Offering both modern and traditional events, the city is home to an annual Lantern Festival, taking place in one of the oldest spots in Shainghai, Yu Gardens. The Yu Gardens Lantern Festival will take place on 19th February, the final day of the Lunar New Year festivities.
The Botanic Garden will come to life with colourful paper lanterns and traditional folk dancing, as well as the Temple Fair, where performances, souvenirs and street food can be savored. For more traditional options, head to Jing'an and Longhua Temples for blessings, ceremonies, group prayers and beautiful decorations.
Find out how other countries celebrate their annual traditions, with our guide to incredible light festivals around the world.
Essential info:
Address: Various, including 218 Anren St, Huangpu Qu, Shanghai Shi, 200000
Dates: Various, including Tuesday 19th February
London
https://www.instagram.com/p/BBxFabcsY2s/
Westerners should no miss out since London will be one of the best places to celebrate Chinese New Year 2019! Host to the largest event outside of Asia, London's Chinese New Year 2019 festivities will be a colourful and flamboyant affair. The city hosts an annual parade with vibrant floats, dragon and lion dancers, and special thanksgiving rituals in Trafalgar Square – where firecrackers and the Lions' Eye-Dotting Ceremony can be witnessed. With incredible street performances and vivid displays taking place in and around the city's West End, grab yourself a bubble wrap waffle and join in the Chinese New Year 2019 fun!
Essential Info:
Address: Various, including China Town and the West End, London, W1D
Date: Sunday 10th February
Bangkok
Bangkok's Chinese New Year festivities will take place on 5th February, with the city's Yaowarat Road getting dressed up for the annual celebration. Proceedings kick off on the eve of the Spring Festival (Monday 4th February) with acrobatics and dragon dancing taking place in and around Chinatown throughout the day. On 5th February the festival gets into full swing, with drummers and dancers making their way to the city's major temples.
Don't miss the First Dragon Parade on Yaowarat Road at 3pm and Thai singing at Chinatown Gate as 8.30pm. At 9.30pm Yaowarat Road will be closed for the main Dragon Parade, before solo drummers will continue the magic right up to midnight. On 19th February the city's Lantern Festival begins, making Bangkok one of the best places to celebrate Chinese New Year 2019!
If you need a place to stay during your visit to Bangkok, take a look at our hand-picked villas and apartments, scattered across the city and its surrounding districts.
Essential info:
Various, including Yaowarat Road, Krung Thep, Maha Nakhon
Dates: Various, from Monday 4th February
Beijing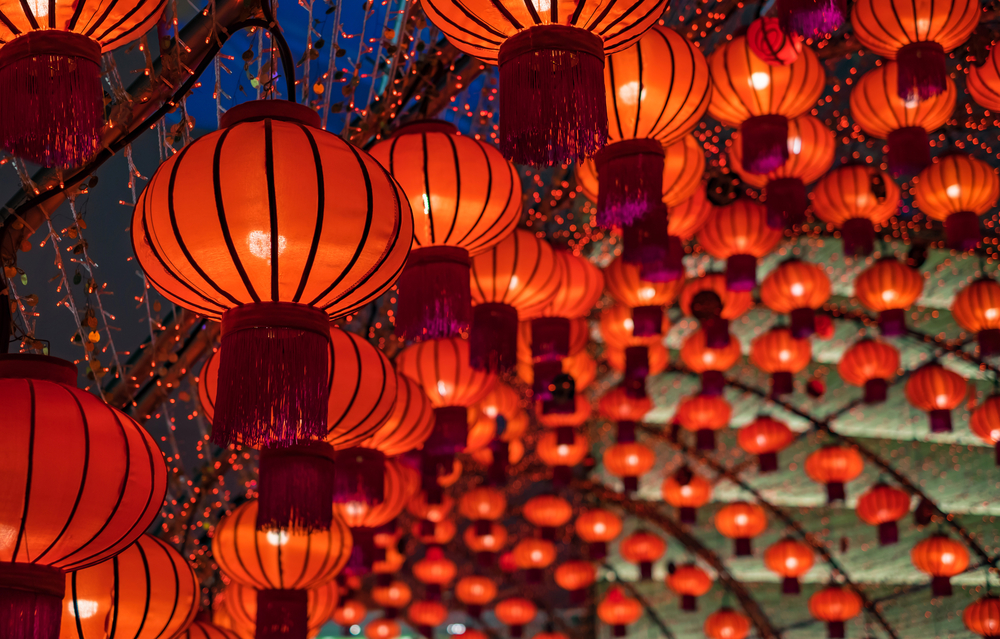 Beijing is most certainly home to one of the best Chinese New Year celebrations in the world. The Longqing Gorge Ice and Snow Festival is well worth a visit, as incredible hand-carved ice sculptures, fireworks and folk dancing create an unforgettable atmosphere. Enjoy the atmosphere skating on ice around impressive displays, as illuminated installations, whiz past you.
If you're after a more relaxed affair, head to a sky-high cocktail bar to soak up the city's annual fireworks display – try the Yun Bar & Lounge – or visit one of the city's many temples to witness a traditional New Year blessing ceremony. Ditan Park also offers historical re-enactments and plenty of warming street food, so you can see in Chinese New Year 2019 in any way you choose!
Essential info:
Address: Various, including Gucun Village, Jiuxian Town, Yanqing County, Beijing
Dates: From now until Thursday 28th February
New York City
https://www.instagram.com/p/BfxEc7GAJoP/
Harboring one of the world's most famous Chinatown's, New York City is home a huge Chinese community, making it one of the best places to celebrate Chinese New Year 2019. New York's annual Lunar celebrations feature parades, amazing street food and traditional performances, taking place in and around the Lower East Side. The annual street parade is a must-see, as giant handmade papier-mâché animals weave through the streets of Chinatown.
On 5th February, the city will also play host to the Firecracker Ceremony and Cultural Festival, marking the first day of the Lunar New Year. This yearly street party kicks off at 11am, with a fireworks display to mark the start of fresh beginnings.
Essential info:
Address: Chinatown, East Houston Street to Canal Street, Lower East Side, Manhattan, New York, 10002
Dates: Various, including Sunday 17th February
Vietnam
Tết, Vietnamese New Year, falls on the same day as Chinese New Year 2019, making Vietnam one of the best destinations to celebrate. Before the first day of the new year, the Vietnamese scare away the bad fortune by spring cleaning, resolving disputes and paying debts. During the week prior to Tết, the country also hosts daily ceremonies of respect, where incense is burnt and thanks are given to departed spirits.
As midnight hits on 5th February, the country will come to life with drumming and firecrackers, welcoming in the Kitchen God, a Vietnamese symbol of good luck. Enjoy midnight fireworks and the Spring Festival flower market in Ho Chi Minh City and don't miss the Dong Da Festival on 9th February in Binh Dinhll.
Essential info:
Address: Various, including Dam Sen Park in District 11, Ho Chi Minh City
Dates: Various from 4th February
Hong Kong
Undoubtedly one of the best destinations to celebrate Chinese New Year 2019, Hong Kong knows how to put on a show. From the city's temples inviting you to join communal prayers and blessings, to the annual firework display that takes over the Victoria Harbor skyline, Chinese Year Year 2019 won't get much better than this! Like many cities around the world, Hong Kong will host a fantastic street parade for Chinese New Year 2019. The Cathay Pacific International Chinese New Year Night Parade will take place on 5th February from 8pm, and will see exotic floats and performers take over the streets of Tsim Sha Tsui. You can also get your kicks at the Chinese New Year Race Day at Sha Tin Racecourse. On 7th February, the racecourse will hosts a lively horse racing meeting, complete with traditional lion dancing and blessings to mark good fortune for the year ahead.
Essential info:
Address: Various, including Canton Road, Haiphong Road, Nathan Road, Tsim Sha Tsui, Kowloo
Dates: From Wednesday 30th January to 19th February 2019