Looking for a pleasant tropical destination for your next unforgettable vacation? Boasting a charming contrast of pristine beaches and Buddhist culture, Sri Lanka is a perfect choice to chill and unwind and reconnect to life. So, get prepared for your journey with our 7 days Sri Lanka itinerary in 2019 for those who love to have a bit everything on their vacation.
This thoughtfully-compiled itinerary includes visits to many charming cities, cultural hubs and natural attractions of Sri Lanka.
Read on to know how to make the fullest of your 7-day stay in Sri Lanka!
Day 1: Arrive at Colombo and Explore the City
Gateway to wonderful Sri Lanka, Cosmopolitan Colombo flaunts a rich colonial heritage. It's an eclectic mix of races, religions, and cultures.  Its sprawling and bustling street markets brim with colorful silks, fresh fruits, and veggies, fragrant spices and cotton. You will experience a plethora of adventurous and amusing activities as well as the multi-ethnic legacy of the country.
Things to do in Colombo:
Trip to Gangaramaya Buddhist Temple
Buddhism influenced Sri Lanka hugely, and the iconic Gangaramaya Buddhist Temple reflects the same. Home to THE sacred Bodhi tree and dozens of Buddha images of various sizes, this temple is also a school of Buddhist learning. Visiting this temple is one of the best activities in Sri Lanka
Explore Dehiwala Zoological Garden
The Dehiwala Zoological Garden features a remarkable collection of indigenous and exotic fauna. This is one of the oldest zoos in Asia. Currently, this animal kingdom has 72 species of Mammal, 31 species of Reptiles, 89 species of Fish, 65 species of birds, 30 species of butterflies, etc.
Visiting hours: Everyday, from 8:30 AM to 6:00 PM
Visit National Museum of Colombo
Interested in Sri Lanka's heritage? Visit the National Museum of Colombo to see the most important historical artifacts offering glimpses into the history and culture of the country. Visiting this museum should on your list of top things to do in Sri Lanka.
Other things to do:
Where to Eat in Colombo:
Where to stay in Colombo:
Colombo Hotel
This boutique hotel sits in the heart of Colombo. The 6-bedroomed Colombo Hotel features six bedrooms each with cool cement finished en-suite bathrooms. The stylishly curved roof, splendid white walls, and homely amenities make it a perfect holiday home to stay in Colombo.
Other popular holiday properties in Colombo:
Day 2: Drive from Colombo to Kandy City for Sightseeing
Kandy, Sri Lanka's cultural capital, is well-known for ancient temples and colorful cultural heritage. The city has many popular tea factories that make must-visit places in this old king city.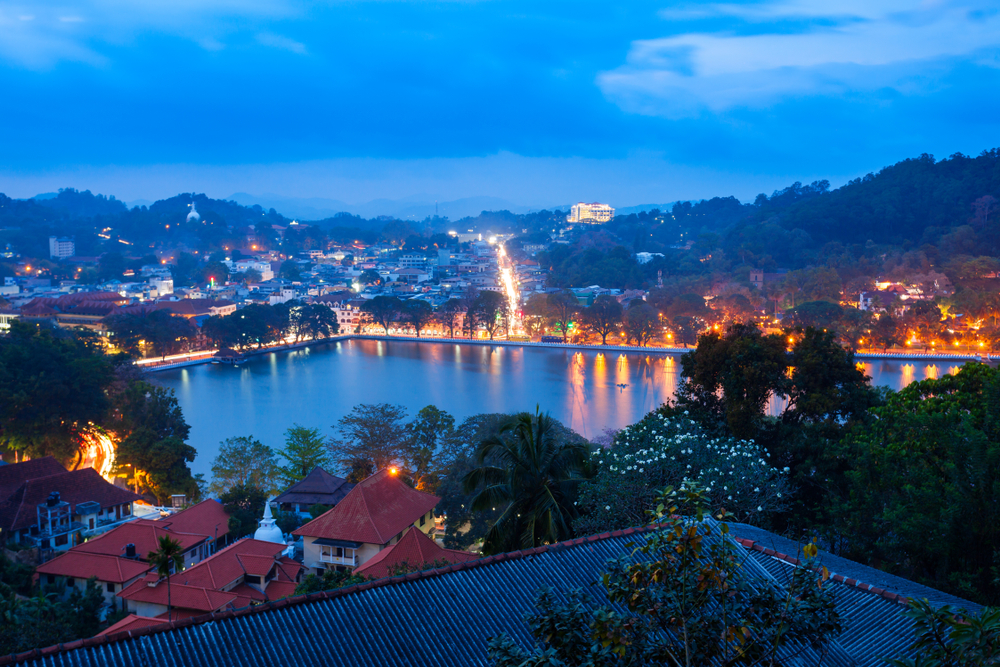 Things to do in Kandy:
Temple of the Sacred Tooth Relic
This one of the holiest place in Sri Lanka is a golden-roofed temple and home to a tooth of Buddha. Tourists get the opportunity to inspect the gold casket in which the tooth is guarded at the time of prayers.
The royal complex of the Sacred Tooth Relic Temple encompasses several other temples and museums. Best time to visit this place is the annual perahera when the tooth is paraded around the city with 65 colorfully decorated elephants.
Bahiravokanda Vihara Buddha Statue
Overlooking the city, this giant Buddha statue is Kandy's most notable religious monument. You can climb the hill within an hour and enjoy panoramic views of Kandy. The statue remains visible from all over the city and looks dazzling at night when it's bathed in light. You can offer flowers and lit oil lamps in reverence to the mighty Buddha.
Knuckles Forest Reserve
Knuckles Forest Reserve is a UNESCO designated World Heritage Site. The forest reserve boasts a fantastic variety of vegetation, natural streams and over 128 species of beautiful birds. Besides these, you will get to explore 31 mammal species, including Mouse deer, Civet Cat, Loris, Bandicoot, Porcupine, and more.
There are 60 species of butterflies, with Birdwing and Blue Mormon, two endemic species. You will also explore 17 species of mollusks and 53 species of reptiles. It's a must-visit place for nature-lovers and those who love trekking.
Other things to do:
Where to eat in Kandy:
Where to stay in Kandy:
Weir House
If you are wondering where to stay in Sri Lanka for full privacy and homely feeling, book with Weir House. This holiday home is all about de-stressing yourself in surroundings best explained as nature's therapy for overworked people. Built on a mountainside, this house sits within a grove of clove trees.
Four bedrooms with en-suite bathrooms, kitchen, and more amenities make Weir House a perfect place for both camaraderie and solitude. You will also get access to spacious and opulent living areas, a private garden and a swimming pool. You will enjoy some of the best activities in Sri Lanka at this villa.
Day 3: Drive from Kandy to Yala
The beautiful and adventurous at the same time, Yala National Park is a famous wildlife safari in the whole Sri Lanka. It's best known for a number of endemic and non-endemic animals along with diverse plants that you'll find nowhere else.
Things to do in Yala:
Yala National Park
Yala National Park hugs the panoramic Indian Ocean. Initially used as a hunting ground by British rulers, Yala is now a home to 44 varieties of mammals and 215 bird species. Its famous residents are the world's biggest mix of leopards, sloth bears, spotted deer, crocodiles, majestic elephants, jackals, and sambars. Wildlife safari in this park is one of the top things to do in Sri Lanka.
The best time to visit the park is between February and July when very low water levels bring animals into the open.
Infrared Night Drive
Set for a ground-breaking excursion in Sri Lanka for an adventurous late night experience. The use of special infrared vision ensures that the visit will not disturb the wildlife, thus reducing environmental footprint. This celebration of the nocturnal environment and its species trailing around is impeccable.
Sithulpauwwa Rock Temple
This ancient Buddhist monastery belongs to the 2nd century B.C. by King Kavantissa. It is believed to be a place for worship as well as a center for the Buddhist education for Buddhist monks. This rock temple once housed a total of 12,000 monks in the ancient times.
Other things to do in Yala:
Where to eat in Yala:
Where to stay in Yala:
Taru Villas – Yala
This two-bedroom stylish oasis villa sits in a small local village amidst traditional Chena farms. The villa will transport you into the complete nature away from the ambient city's noises and bustle. You'll wake up to birdcalls and sleep under a clear sky full of stars at night. Taru Villas – Yala has spacious living areas, a fully-equipped kitchen, a garden and a private pool.
Day 4 – Drive from Yala to Mirissa
Mirissa sits between the bustling Unawatuna in North and the peaceful Tangalle in the South. It's a perfect stop for a calm and beachy escape with your family members or your soulmate. Its clean beaches are beautifully dotted with palm trees. Moreover, you can indulge in various water sports at Mirissa beaches. Thus, it definitely features some of the most exciting travel activities in Sri Lanka, especially for the beach lovers.
Things to do in Mirissa:
Secret Beach
This tiny, secluded beach is so beautiful and known to locals only. Chill at a small bar and taste delicious and soothing coconuts, while enjoying an incredible sunset at the beach. Search for the Secret Beach on Google Map and take a tuk-tuk drive to the beach. You need to walk about 10 minutes down the road to reach this amazing place for solitude and peacefulness.
Secret Beach Bar, location: Mirissa Beach, Mirissa, Southern Province, Sri Lanka, Sri Lanka
Parrot Rock
Sitting right on Mirissa Beach, this small flag rock sits beautifully. You can climb up the rock and see a bit of the beautiful Mirissa area. You have to walk a bit through the water to reach the rock. Avoid climbing the rock during the high tide or wild water.
Whale Watching
Mirissa is well known for its impressive marine life. You will enjoy whale watching tours that will take you out on the Indian Ocean. You will spot whales, dolphins, and turtles. The best time for whale watching in Mirrisa is from November end until March
Where to eat in Mirissa: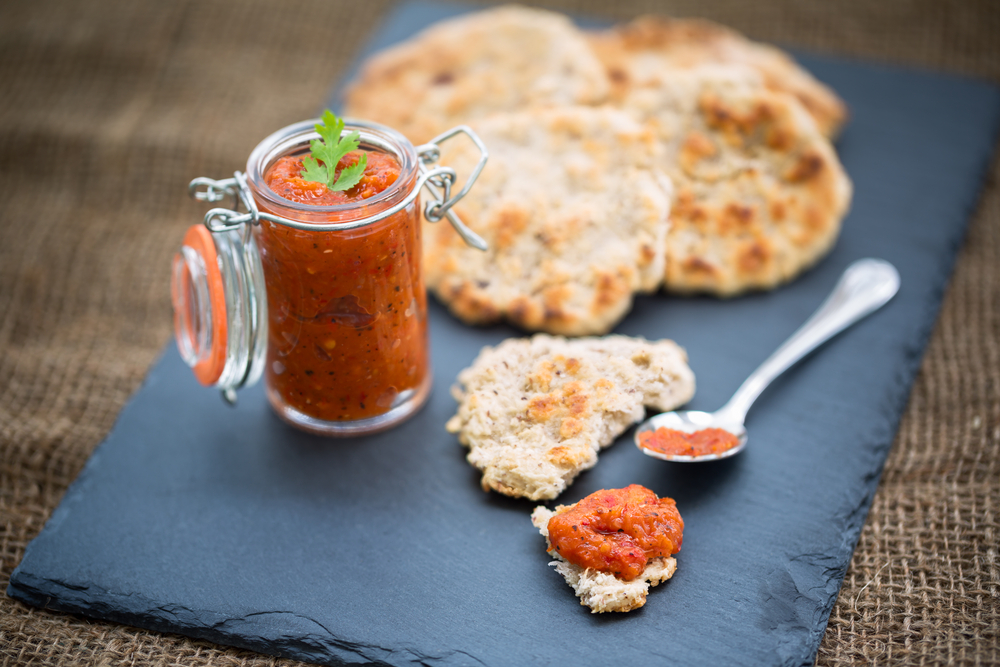 Where to stay in Mirissa:
Villa Vatura
Where to stay in Sri Lanka? Come and spend an unforgettable night at Villa Vatura!
Sitting just a few minutes along the spectacular coast of Mirissa Beach, Villa Vatura offers an idyllic holiday experience. The lush tropical gardens, steady sea breeze and hypnotic sound of the Indian Ocean make it a perfect place to unwind and reconnect to the life. Each bedroom has an en-suite bathroom. You will receive all home-like amenities at Villa Vatura to make you feel luxurious and comfortable.
Other great places to stay in Mirissa:
Day 5 – Drive from Mirissa to Galle
This historic city and a UNESCO World Heritage site is a worth to explore on foot. The city boasts amazing Dutch-colonial buildings, grand mansions, museums and ancient churches and mosques. While taking a tour of the city, you will pass stylish cafes, captivating markets, quirky boutiques and friendly locals.
Things to do in Galle:
A cycling tour to Galle Fort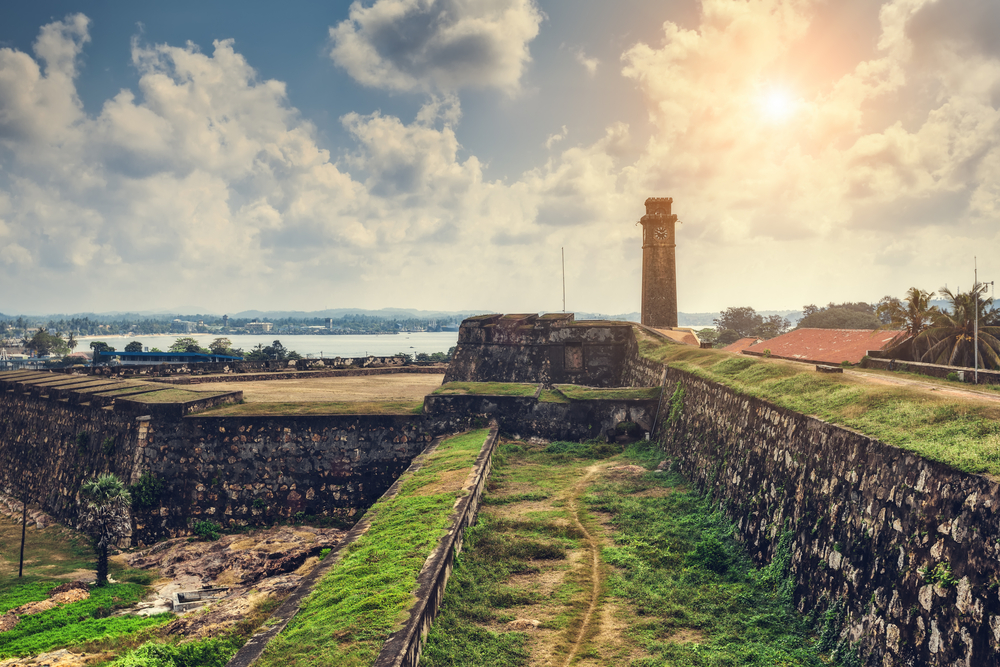 Delight in an amazing and fun cycling trip to Galle Fort with your friends or family. This kid-friendly cycling trip is truly an exhilarating experience. You will cycle through the scenic beauty of Galle and visit some most spectacular places in Galle. The tour takes a few hours to arrive at the historic Galle Fort.
Old Dutch Hospital
This place has maintained its charm for quite a few centuries now. This old building was set up to provide medical help to people working for the Dutch East India Company. Don't forget to visit Odels, decent joints selling high-quality souvenirs and clothes.
Flag Rock
Wind up your day with some peace while watching the sunset, hearing the seagulls beckoning you and observing waves crash the rocks forming touching melody at the Galle Flag Rock. The Rock was a natural defense center during the Dutch rule, from where ships were signaled about lurking dangers.
Other things to do in Galle:
Where to eat in Galle: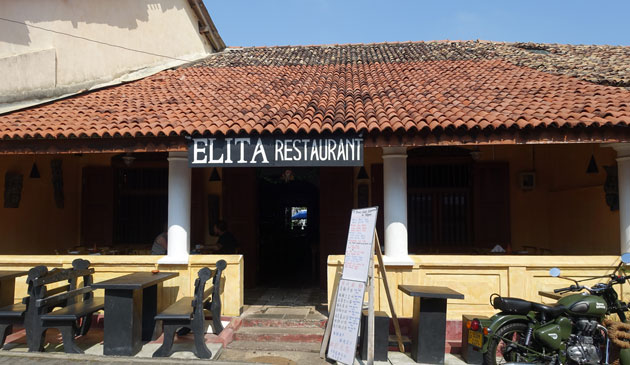 Where to stay in Galle:
Skinny Beach House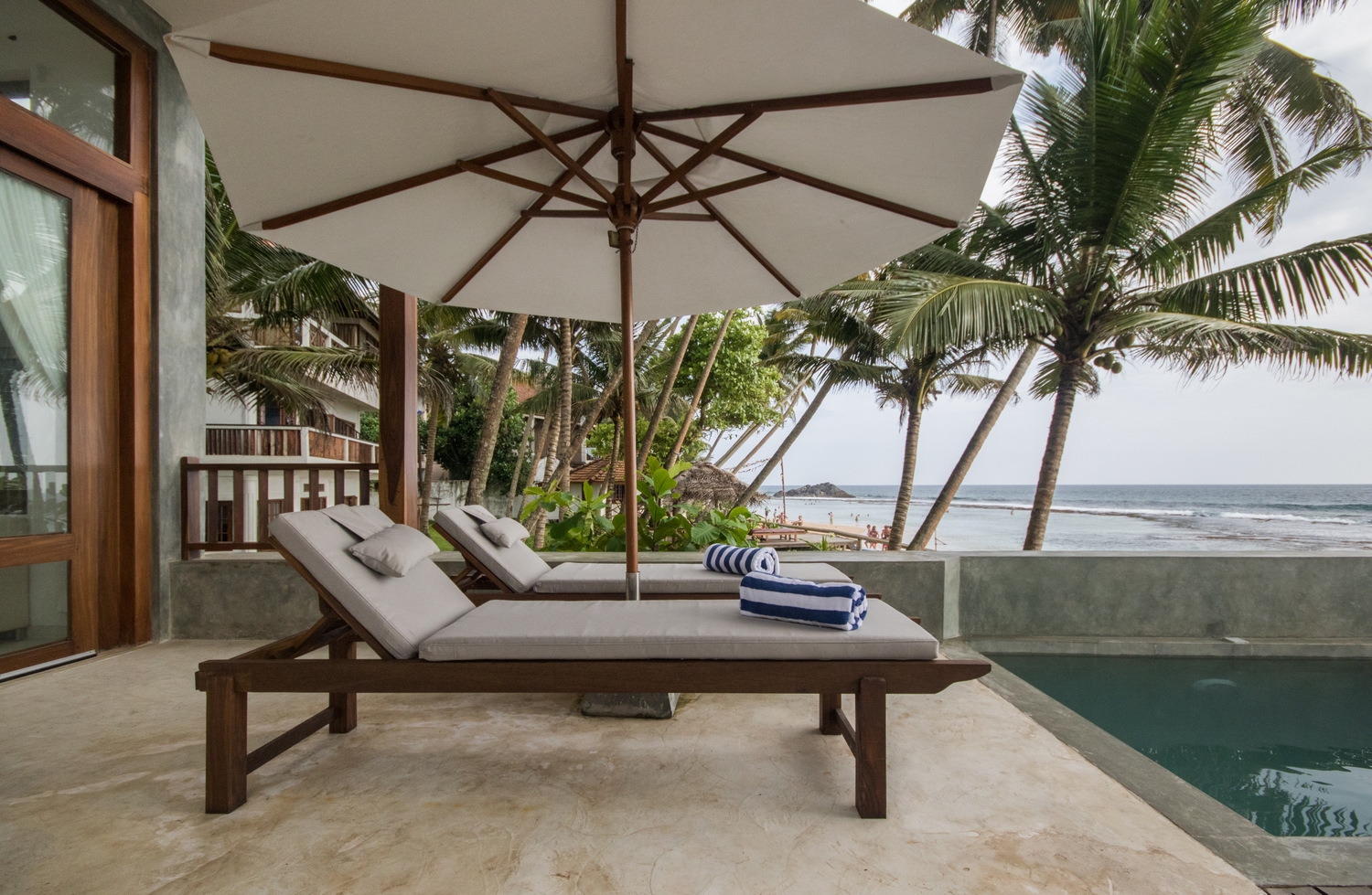 Nestled on the palm-fringed southern coast of Sri Lanka, Skinny Beach House is just 20 minutes drive away from Galle Fort and 10 minutes past Unawatuna. This stylish, private and beachfront holiday home has ultra-comfortable bedrooms fitted with king-size beds and stunning mosaic-tiled bathrooms. Spacious living room, a private garden, and a swimming pool add to your comfort at the villa.
Other great places to stay in Galle:
Day 6 – Galle to Bentota
The next day on this  7 days Sri Lanka itinerary in 2019 will let you explore the beauty of Bentota. The wonderful Bentota offers unique experiences to the travelers who seek natural beauty and adventure together. You will love the golden sandy beaches, the Madu River, a tropical lagoon, the turtle hatchery in Bentota. It's a great place for a family-friendly trip because Bentota has something for everyone.
Things to do in Bentota:
Madu Ganga River Safari
A must for nature lovers! Cruise through the mangroves and the islands, dotting the river. It's a perfect retreat for bird lovers with over 111 bird species existing here. Mandu Ganga River is also a wonderland for biologists and ecologists due to its thriving wildlife and plant life. This is one of the best places for wildlife lovers in our 7 days Sri Lanka itinerary in 2019.
Kande Viharaya
Dating back to 1700s, this temple is a great place to indulge in some history while observing the local lifestyle. Kande Viharaya is a pioneer center for Buddhist education in Sri Lanka. It features many ancient sculptures and colorful frescoes that belong to the Kandyan era of the 15th to 19th century.
Shopping at Ambalangoda
Once you're done scouting around for exciting things to do in Bentota, head to Ambalangoda. This coastal town sits just twenty-four kilometres from Bentota city. The town boasts ancient devil masks and devil dances. You will find a plethora of antique shops selling unique fancy jewelry and clothing items at great prices.
Other things to do in Bentota:
Where to eat in Bentota:
Where to stay in Bentota:
Max Wadiya
This holiday villa serves as a sanctuary of serenity, privacy, and comfort, making you feel at home. The villa has three air-conditioned double bedrooms with attached spacious bathrooms. Max Wadiya is well-stocked with all amenities and furnished with charming antique colonial pieces. The lush green garden and a private swimming pool add to your comfort.
Other popular holiday villas to stay in Bentota are:
Day 7 – Drive from Bentota to Colombo
Start your final day in Sri Lanka with a scrumptious breakfast and buy some souvenirs for your dear ones.
Check out from your villa and reach the Colombo International Airport to board your flight back to your country with some sweet memories. Make sure you follow this 7 days Sri Lanka itinerary in 2019 to make it a vacation of a lifetime.