We all love an adventure, but it's no secret that travelling can be expensive! If you're planning to explore Bali over the next few months, make sure you fill your to-do list with some unforgettable moments that won't leave you out of pocket. Here, we round up the best ways to enjoy Bali on a budget and to explore iconic, yet cheap luxury experiences on the island.
Bali travel accommodation tip: If you are traveling with friends or/and family, then booking an affordable holiday villa in Bali for the whole group could cut the cost!
Yoga on Sanur Beach
https://www.instagram.com/p/Bov5u-xlCoN/
For just 120,000 IDR ($8) for a one-hour class, you can calm both mind, body and spirit with a yoga session overlooking Sanur Beach. The Power of Now Oasis is a luxury yoga studio offering daily classes and regular retreats, to help you rediscover yourself. Listen to the waves lap against the shore and meet some new people in the process.
Plus, each Sunday morning the studio offers free Bahasa Yoga classes, while Monday to Friday you can discover all about meditation with a free introduction to this state of well being. If you're looking for true cheap luxury in Bali, look no further!
Essential info:
Address: Jl. Retro Beach, Sanur Kauh, Denpasar Sel., Kota Denpasar, Bali 80224
Tel: +62 878-6153-4535
Website: https://powerofnowoasis.com/
Instagram: https://www.instagram.com/powerofnowoasis/
Facebook: https://www.facebook.com/PowerOfNowOasis/
Cost: 120,000 IDR ($8)
Munduk Viewpoint over Twin Lake
https://www.instagram.com/p/BbwolwMF8_g/
Munduk lies in the North of Bali and is often overlooked by travellers, due to its position some distance from the lively tourist spots of the south coast. Yet Munduk offers a wealth of beauty and opportunity for visitors seeking an authentic taste of Indonesia. Affordable luxury in Bali need not be difficult – in fact, leaving the well-trodden path is a sure fire way of saving some cash.
One of the best opportunities in Munduk is the incredible viewpoint overlooking the Twin Lake. Buyan and Tamblingan lakes sit in the crater at the bottom of a mountain and from Munduk, you can soak up views over the landscape – and what's even better is that this bucket list photo opportunity is completely free of charge!
While you're there, don't miss a Munduk coffee tasting in one of the area's cafes, where you can try a cup of local coffee for less than $1.
Getting there:
Munduk is around a two-hour drive from both Ubud and Canggu. You can book a taxi for around 457,000 IDR
Cost: FREE
Try Bounce Boarding
If you've ever been trampolining, you'll know how much fun it can be! Yet, what if you took this sport to a whole new level? Well, at Bounce Bali you can! As well as regular trampolining sessions, you can now book Bounce Board fun, which will see you strapped onto a snowboard-style plank. For just 70,000 IDR ($5) you can enjoy an energetic 20-minute bounce session. Of all the ways to enjoy Bali holiday on a budget, this has to be one of the most fun!
Essential info:
Address: Finns Recreation Club West, Jalan Raya Pantai Berawa, Canggu
Website: https://www.bouncebali.com/
Tel: +62 (361) 848 3939
Facebook: https://www.facebook.com/bouncebali
Instagram: https://www.instagram.com/bouncebali/
Cost: 70,000 IDR ($5)
Discover Pura Tirta Empul temple
If combining luxury experiences and travelling Bali on a budget is your thing, then consider experiencing one of the island's most incredible temples. For just 50,000 IDR ($3.50) entry fee, you can soak up one of the coolest cultural opportunities Indonesia has to offer. Tirta Empul is a Hindu Balinese water temple, close to the town of Tampaksiring. Here, you can visit the numerous temple bathing pools to enjoy cleansing ceremonies. The temple is also famed for its holy spring water and locals attend for prayers and ritual purification, making for magical memories!
Essential info:
Address: Jl. Tirta, Manukaya, Tampaksiring, Kabupaten Gianyar, Bali 80552
Cost: 50,000 IDR ($3.50) per person
Explore the Tegalalang Rice Terraces
The Tegalalang Rice Terraces are truly special and make luxury holiday destinations on a budget incredibly easy – costing less than $1 to visit! Positioned to the north of Ubud, these rice paddies lie in a valley and offer some spectacular scenery and plenty of Instagram selfie opportunities!
Explore the different levels of the fields and don't miss out on the swing that sits overlooking the valley, although bear in mind that a three to five-minute swing will cost you around 100,000 IDR ($7). An easy 20-minute drive from Ubud, the Tegalalang Rice Terraces are one of the best options to experience Bali on a budget!
Essential info:
Address: Jl. Raya Tegallalang, Tegallalang, Kabupaten Gianyar, Bali 80561
Cost: 10,000 IDR ($0.70) plus 100,000 IDR ($7) for the swing (optional)
Ubud Traditional Art Market
https://www.instagram.com/p/BqrB97xAC9K/
The Traditional Art Market in Ubud might not seem like a luxury experience, but its rich offerings, friendly locals and beautiful handcrafted wares make it one of the best options for affordable luxury in Bali. Featured in the hit movie Eat, Pray Love, the market is now popular with bucket listers hoping for an Instagram-worthy photo!
Open daily opposite Puri Saren Royal Palace, this market is a fantastic taste of authentic Indonesian culture. Plus, unless you decide to purchase a handmade rattan bag, a kite, or a souvenir, the market is completely free to visit. Browse for trinkets, get lots among the woven handbags and explore the beauty of Balinese handicrafts.
Make the most of your visit to Ubud, by staying in one of our gorgeous villas or apartments, dotted around the region.
Essential info:
Address: Jl. Raya Ubud No.35, Ubud, Kabupaten Gianyar, Bali 80571
Cost: FREE (unless you shop!)
Snorkel for free
Experiencing the underwater world of Bali need not be expensive! You could opt for a guided tour, where you'll be escorted on a boat to a location where you can snorkel the waters, but this will come with a hefty price tag. The most affordable way to witness the sea creatures of Indonesia is to simply buy a snorkeling mask from a local beach-front store and hit the water. A mask will set you back around 70,000 IDR ($5) and the best spot to explore is the 14-kilometre coastline of Amed. The area's black sand beaches and views of volcanic Mount Agung make it a spectacular destination for water sports.
Inspired to discover more about Bali's best beaches? Check out our guide to the secret, Instagram-worthy coves around the island.
Getting there:
Amed is roughly three hours from Kuta, Nusa Dua and Jimbaran. Daily shuttle buses run from Ubud, take around two hours and costs about 165,000 IDR ($12)
Cost: Around 70,000 IDR ($5) depending on where you shop
Tembeling Forest Natural Pool
Situated on the small southern island of Nusa Penida, just off mainland Bali, Tembeling Beach and Forest have plenty in the way of cheap luxury in Bali. From the coastline, where you can sun soak for free, to the gorgeous jungle canopy that costs nothing to explore, there is somewhere here for everyone. Hidden in the forest is a gorgeous natural pool, where bathing can be enjoyed. Parking is also free of charge, so you can drive to this idyllic place and spend as long as you like walking around. It's beauty and its diversity makes it one of Bali's best luxury holiday destinations on a budget!
Getting there:
From Sanur Harbor buy a ferry ticket to Nusa Penida. The journey takes about 30 minutes and should cost around 100,000 IDR ($7). Once you arrive, the pool can be reached by foot or motorbike. From the parking area, drive for around 10 minutes or enjoy the scenic 30-minute walk.
Cost: FREE
Bali Swing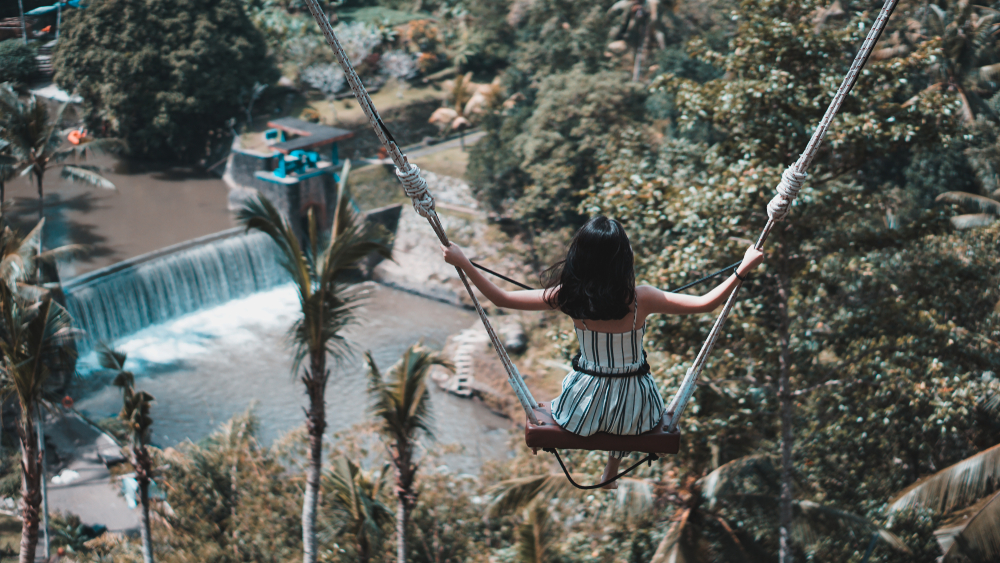 Bali is home to numerous awe-inspiring swings, each in gorgeous landscape settings around the island. Yet perhaps the most special of all of these is the Bali Swing located in Banjar Tegal Kuning. High over the forest canopy, the swing allows you to fly out over the abyss below, or sit in a bird's nest-style wicker basket, suspended over the jungle.
Just 140,000 IDR ($10) will buy you entrance to the swing park, lunch, drinks and photo-shoot opportunities around the forest. If you desire cheap luxury in Bali, it doesn't get much better than this!
By the way, here you can also take dozens of pictures in the giant nests, overlooking the scenic landscapes.
Essential info:
Address: Jl. Dewi Saraswati No.7, Bongkasa Pertiwi, Abiansemal, Kabupaten Badung, 80352
Cost: 140,000 IDR ($10) per person, entry fee
Watch the sunset from Pura Luhur in Uluwatu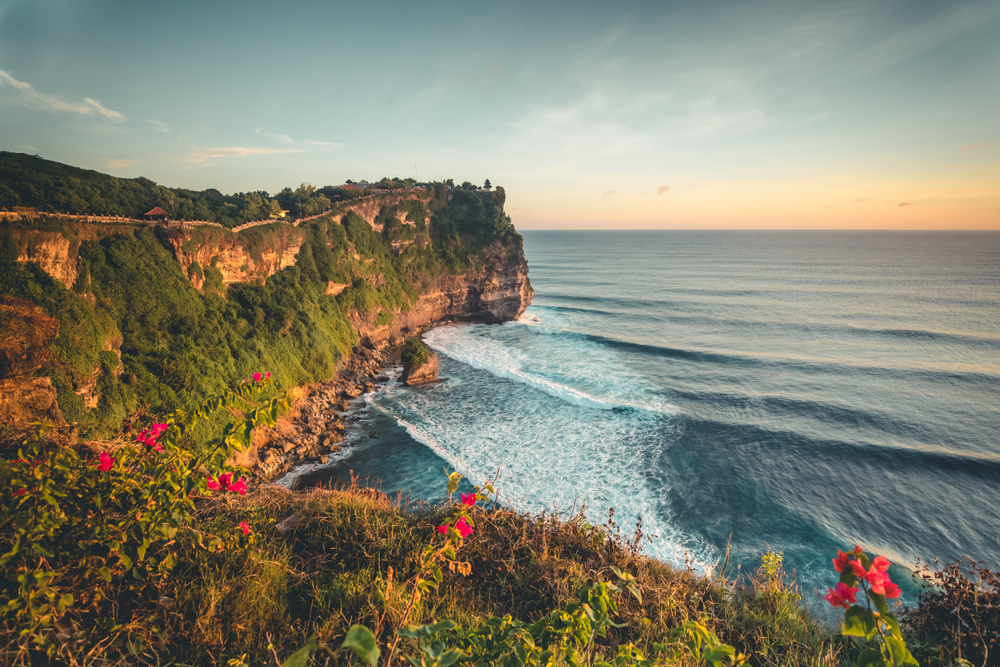 If Bali is known for one thing, it's its sunsets. The sky here turns all shades of red, orange and gold as night falls, offering plenty of opportunities for witnessing this miracle of mother nature for yourself. Experience the beauty of Uluwatu on a budget, by heading to Pura Luhur temple just before dusk.
For around 30,000 IDR ($2) you can enter the temple, explore it's intricate carvings and statues, take in the magic of the coastline below and then soak up the colours as the sun begins to set.
Essential info:
Address: Pecatu, South Kuta, Badung Regency
Cost: 30,000 IDR ($2)