While you may associate Asia with Buddhism and Hinduism, the region is rich in spirituality, with many countries celebrating the colourful traditions of Christianity. Luckily, this means that the egg-cellent Easter holidays can be enjoyed across the continent. This year, the festive Sunday falls on 21 April 2019, so if you're planning a vacation during this most cheerful of Spring festivals, then use this as your essential guide on how to celebrate Easter in Asia!
Hunt Down Hot Cross Buns
We might be wrong, but we think that hunting down warm, buttery Hot Cross Buns might just be one of the best Easter traditions in Asia! Well, luckily for us, there are plenty of bakeries and restaurants across the continent, serving up batches of freshly baked buns. If you're celebrating Easter in Bali, head to Sprout Cafe in Canggu or Biku in Seminyak, while over in Thailand you can grab some perfectly formed buns at Lady Pie in Phuket. If you'll be spending this holiday Sri Lanka, BreadTalk in Colombo and Wattala will be offering its take on this tasty Easter staple!
Visit the Pod Chocolate Factory in Bali
https://www.instagram.com/p/BscvW66hcyV/
Easter in Asia doesn't get much more egg-citing than a visit to a chocolate factory – in fact, Pod Chocolate in Bali offers much more than that! With three locations around the island, you can visit the factory and outlet in Mengwi, explore the beginnings of chocolate at Pod Origin in Petang or head to the Shop and Cafe in Sanur to indulge in an afternoon sugar fix. The factory is the place to be this weekend, where you can observe its chocolatiers creating tasty treats. Grab a chocolate frappe in the cafe and then try your hands at making your own chocolate bar. Over at Pod Origin you can enjoy a chocolaty tour, sample some roasted beans and watch a tempering demonstration – and of course, try as much candy as you like! If you're planning on spending time in Bali, be sure to read our guide to the island's cuisine and how to maintain a balanced diet during your trip.
Essential info:
Address: Jalan Denpasar-Singaraja No.29, Mengwi and Jalan Tukad Ayung, Carangsari, Petang
Website: https://www.podchocolate.com/
Instagram: https://www.instagram.com/podchocolate/
Facebook: https://www.facebook.com/podchocolate/
Cost: From 95,000 IDR per person
Attend a Traditional Church Service in Thailand
If you're looking for a more traditional Easter in Asia, then why not attend a special church service? Across Thailand you'll find plenty of Catholic and Christian churches offering an mass programme. If you find yourself in Phuket for the annual festivities, be sure to attend the Easter mass services in English, at St. Joseph's Catholic Church, taking place at 6.30pm on Good Friday and Saturday, and at 9am and 11am on Sunday. Over on Koh Samui, you can attend services at Mary Help of Christians Church at 3pm on Good Friday, 7pm on Saturday and 8.30am and 10.30am on Easter Sunday.
Meet Baby Chicks at Jurong Bird Park
Offering a truly fun-filled eggs-travaganza, Jurong Bird Park in Singapore is putting on a family-friendly event staring everyone's favourite Asian character, Gudetama! Bring your little ones and enjoy an educational tour of the park's Breeding and Research Centre, where you'll learn how to care for baby chicks and watch them be fed. Afterwards, take part in an exploratory Easter egg hunt around the park – and keep your eyes open for the hidden golden egg, to be in with a chance of winning some special Gudetama prizes! You'll also be able to meet the Gudetama mascot, get crafty with an egg-painting workshop or take part in a meet-and-greet with resident bird, Sally the Hornbill! You can also discover some real life family travel stories to inspire your group adventure.
Essential info:
Address: 2 Jurong Hill, Singapore 628925
Web: https://www.wrs.com.sg/en/jurong-bird-park/whats-on/
Date: Until 30 April 2019
Cost: 30 SGD for adults and 20 SGD for children
Witness a Passion Play in Sri Lanka
Easter is celebrated across Sri Lanka, with numerous Passion Plays re-enacting the crucifixion of Christ, in vibrant live theatre shows. These emotive processions tend to last for hours and take over entire neighborhoods, with locals dressing up to take part in the action. Crowds gather to watch the drama unfold – and you can join them! If you're in Negombo during the holiday, don't miss the area's much-loved annual Passion Play parade, taking place on Good Friday (19 April) from St. Peter's Church. The church erects its very own outdoor stage and the action spills out into the streets from 10 am.
Essential info:
Address: Chilaw Road, Negombo 11500, Sri Lanka
Tel: +94 312 221 005
Date: Friday 19 April
Visit Some Local Chocolateries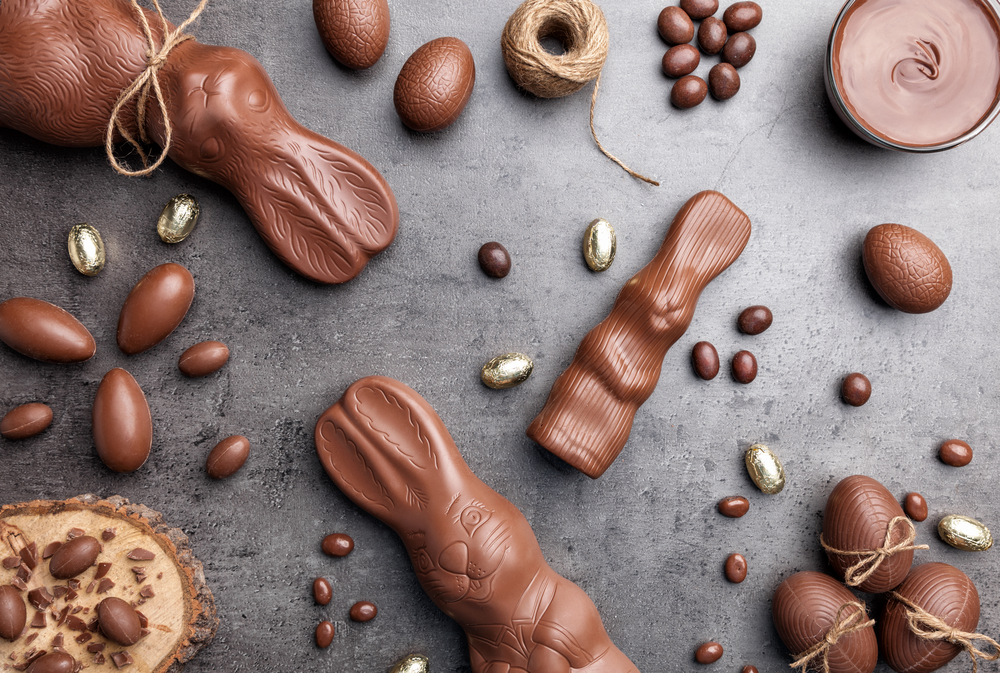 It may surprise you to know that Asia is home to plenty of chocolate shops, all eagerly preparing for the sweet treats associated with Easter weekend. If you find yourself in an Asian city and are in need of something decadent, then be sure to hunt down the best chocolaterie around. Lucullus in Hong Kong has been making chocolate since 1976 and has four branches in the centre, while in Bangkok Royce offers plenty of chocolate options to satisfy your cravings. If you're in Ho Chi Minh City don't miss a visit to Maison Marou Chocolat, while over in Singapore The Cocoa Trees offer truly scrumptious Easter options!
Sun Soak at a Luxury Beach-front Villa
There are few better ways to celebrate Easter in Asia, than by renting a luxurious, beach-front villa for the duration of your trip. No matter where you choose to spend the annual holiday, we have a deluxe getaway that will suit your needs. If you're going to be celebrating it in Sri Lanka, consider Woolamai Beach House, positioned on the sands of Talpe in Galle, or go with Suriyawatta Villa which is just moments from the waters of Weligama Bay. Those heading to Thailand can also indulge in true luxury at Villa Tievoli, located on the beach in Natai-Phang Nga, Phuket, or gorgeous Frangipani Pool Villa, with its infinity pool overlooking the shoreline of Koh Samui. Heading to Bali instead? Fear not, as there is the perfect option for Easter in Asia. Breath-taking Villa Mellisa in Canguu will be the envy of all your friends, while Villa Grand Cliff Ungasan lies in the prestigious boutique resort of Bukit – and it's family-friendly!
If you're spending Easter in Sri Lanka, you'll definitely want to check out our guide to the eight most Instagrammable holiday properties out there.
Indulge with Bali's Longest Easter Brunch
Named Bali's Longest Easter Brunch, Sundara Beach Club knows how to celebrate a tradition in style. This six-hour feast offers an unlimited menu, live music and enthralling ocean views. Open from 11am until 5pm, stay as long as you like and indulge in modern Australian fare from Executive Chef Phillip Taylor, as well as artistic Indonesian dishes designed by Made Widana. As well as a feast, there will be a lively egg hunt, magic show and chocolate painting for children – as well as plenty of organic Balinese chocolate treats and desserts, made by World Champion Chocolate Chef, Yusuke Aoki.
Essential info:
Address: Jimbaran Bay, Kuta Selatan, Bali 80361
Web: http://sundarabali.com/special-events-promotions/
Date: Sunday 21 April 2019 between 11 am and 5 pm
Cost: 650,000 IDR for the unlimited menu