Island Of Gods. Heaven and Hell on Earth. The Morning of the World. Bali, one of the most popular travel destinations in the world, is a true paradise. Due to its magnificent landscape, amazing culture and impressive hospitality, this island of gods offers many things for every kind of traveler, especially when it comes to unique artistic places. It's an ideal place for all bohemians, hippies and other artistic free-thinkers who need a stimulating environment to inspire others with their paintings, poems, books, and music. Vibrant, full of colors and interesting details, every corner of the island has its own story.
Bali has a relaxing, bohemian vibe that will enchant you, leaving you with the impression it's probably one of the best destinations you have ever seen. But the real beauty of the island can be found in every street and every gate, every smile you'll get and every temple you'll visit. Finally, art is everywhere.
So here are the top 5 beautiful artistic places in Bali that will make you free your artistic self, reconnect with nature and let your soul sparkle wild and free.
LA LAGUNA
From the moment you step into this bohemian rhapsody, you are transported to an enchanted world where you can release your inner child and feel the magic. A beautifully decorated entrance will lead you to the path where a gypsy boho-chic vibe can be found. Heavily ornamented vintage wooden caravans among colorful gardens make this place one of the most popular artistic places in Bali. It is certainly a true paradise for art lovers, especially if you love vintage and antique things.
So, step into this Spanish heaven and let it inspire you with its stunning decor, amazing wall panels and interesting multi-colored furniture at every corner. If you rather want to spend the night dancing by moonlight while counting stars, head to the exterior terrace. Furthermore, let yourself be amazed by the heavy bridge under the glittery lights. It brings you down to the Bali shoreline, giving you a fascinating view of the ocean. Fully opened with amazing cushioned metal chairs overlooking the beach or soft round cushions over a lawn, this place is ideal for watching famous Bali sunsets. As a result, the whole ambiance of this restaurant is very charming and unique, making it one of the most magical, artistic places in Bali.
Essential Info:
SHADY SHACK
Shady Shack is one of those places with an amazing boho vibe where you want to stay forever after visiting. An open space full of luscious greenery, vibrant corners with heavy furniture and mismatched patterns as well as delicious food gives you a feeling you're in the middle of heaven.
This shop offers only vegetarian and vegan options, making it a perfect place for healthy food lovers, but it is totally worth the visit even if you can't live without the meat. Whatever you order, it will amaze you with its colorful content, different taste and beautiful decorations. Every dish is presented as a work of art. And what is better than enjoying the art while the light breeze flows around letting you breathe in those island vibes. Due to its relaxed atmosphere and beautiful ambiance, this little paradise is often visited by many writers, art lovers and people who want to absorb the moment. Don't miss it if you are looking for the most beautiful artistic places in Bali.
Essential Info:
BUNGALOW LIVING CAFÉ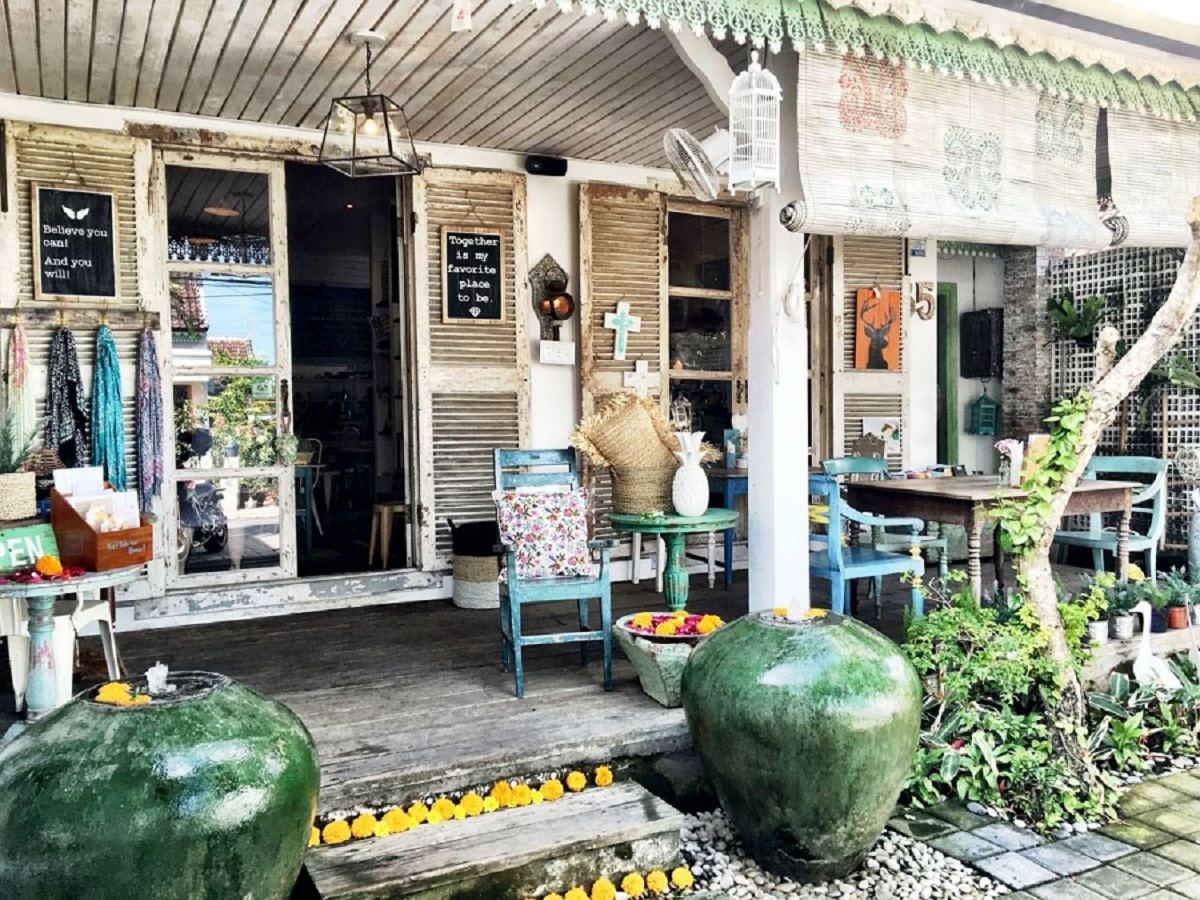 Imagine yourself entering into a place that takes you on a journey around the world. A journey where different cultures meet and finally merge into Balinese paradise. A triple treat for all art lovers, this stunning artistic place consists of an art gallery, a store and a coffee shop all in one. The New York Times named Bungalow Living Café a must-visit while in Canggu, which is the best confirmation of how special this place really is.
A great way to start the day is by taking coffee and having breakfast at a coffee shop. The beautiful venue, decorated with tropical flowers and many small interesting details, fills you with a sense of happiness and comfort. It's like you finally came where you needed to be. All dishes are passionately prepared and cooked from organic locally sourced produce, which makes this place likable for locals and tourists as well.
To continue this holistic lifestyle, head to the Bungalow Living Home Store, where you can find original textiles and prints. Inspired by the owner's travels across Asia, the store's aesthetics are described as 'tribal meets tropical.' This is where art meets every corner of the space, making it an enchanting place to spend time. Perfectly designed pillows, flower arrangements, lamps and trinkets bring creativity to the surface, inspiring you to feel the moment. But be prepared, it is impossible to leave the store empty-handed!
Essential Info:
LA FAVELA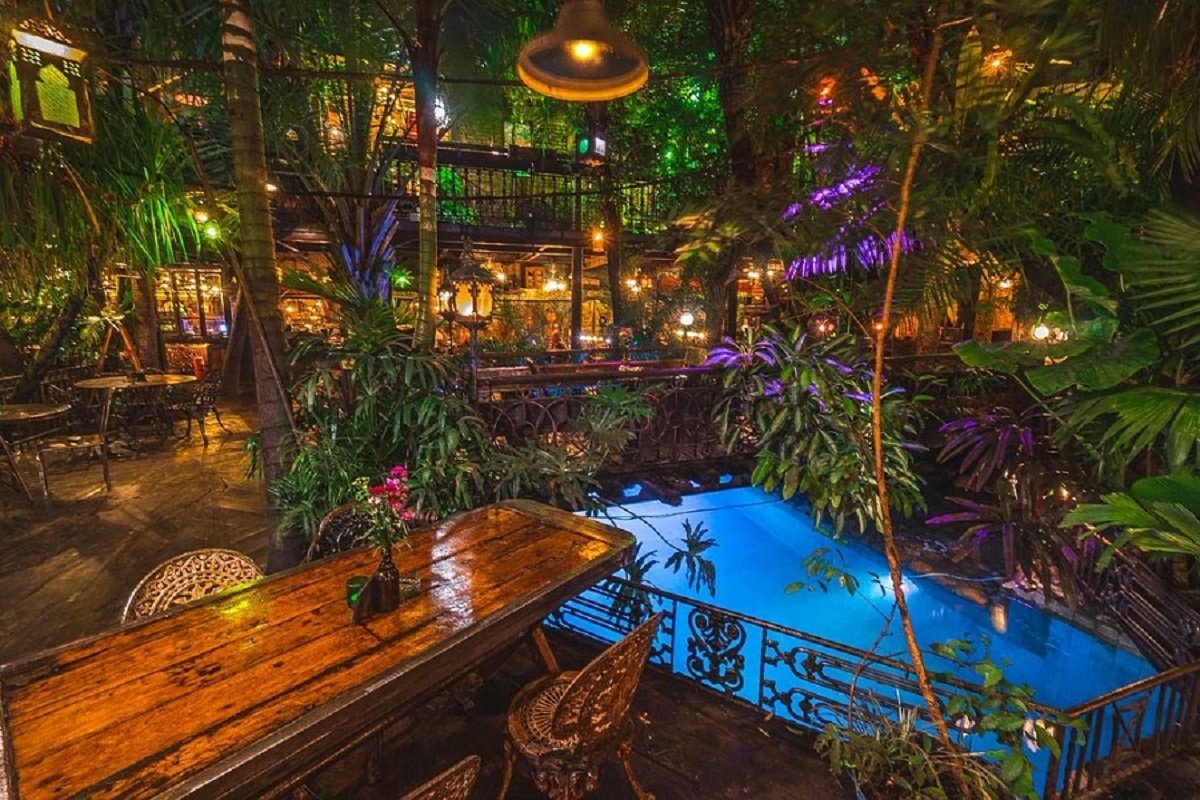 La Favela is probably one of those rare places you accidentally find and immediately fall in love with. Situated in the heart of Seminyak, this amazing place offers you a special experience from the moment you enter. Semi-indoor gardens with beautiful artificial waterfalls and ponds and tables under a mini-bridge are something that definitely takes your breath away. Inspired by the best decorative ideas across the world, you get a feeling like you're stepping from the jungles in Bali over underground clubs in London to a classic favela in Rio.
If you pay attention, you will see that the whole interior is made of heavily ornate and funky decorations from the house of the owners as well as pieces brought back from the travels of their friends. Furthermore, that minivan turned into a rich bar and a replica of Christ the Redeemer is just one part of its charm. Except for delicious gastronomy, this place becomes an amazing urban party scene when the night falls down. Many international and resident DJs are welcomed, so you should definitely check out the schedule in advance and make a reservation because this is one of the most visited places in Bali.
Whether you come to drink, dine or dance the night away, this artistic place is unavoidable if you're looking for a local, boho island vibe. Indulge yourself in and let 'La Favela' show you how real beauty lies in imperfection.
Essential Info:
BALI BOHEMIA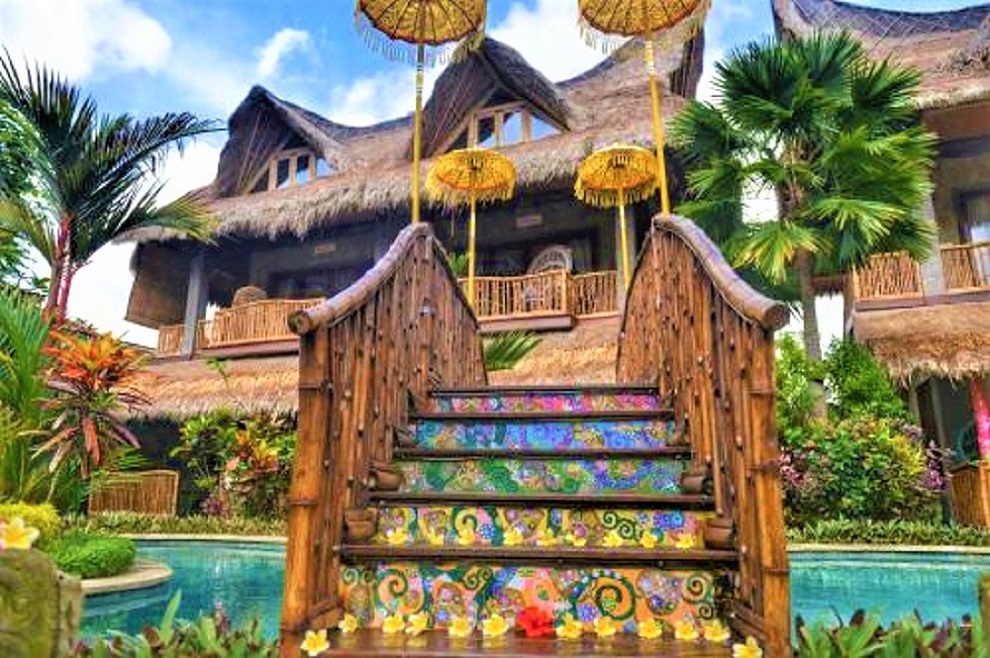 Have you ever dreamed of how it would be to live like a free spirit by the rules of carefree bohemian vibes, learning how to be in touch with nature and art? If so, Bali Bohemia is the place for you. Come and stay in beautiful traditional thatch-roofed huts with unique designs and multicolored mosquito nets. On a sunny day get a tan in a sun lounge by the outdoor pool.
Finally, when it comes to gastronomy, Bali Bohemia is an excellent example of how food and art have an unbreakable connection. Inspired by cultural differences, the food you'll get here is wholesome, delicious and colorful. As a result, it brings great ideas when it comes to food preparation. Probably the best thing about Bali Bohemia is its artistic charm. Through an appreciation of art and music, this incredible place supports local art and becomes a great gathering place for all art lovers, musicians, and travelers. A big blank wall at the restaurant is a masterpiece in creation where the stunning work of local artists is regularly shown. It doesn't need much to be astonished at this laid-back, bohemian style because Bali Bohemia is certainly one of the most beautiful artistic places on the island.
Essential Info: