The world is home to some truly mesmerizing beaches, but imagine a strip of sand that isn't golden, or white, but pink! That's right, around the globe you can find some very rare, rose-tinted shores. The phenomenon occurs thanks to millions of microscopic creatures that produce red pigments, which when blended with regular sand, turn the particles pink!
There are just eight of them in the world and while there isn't a pink beach in Bali, Indonesia is home to three! Here, we guide you through where to find a pink beach near Bali and beyond, so you can illuminate your Instagram account.
Are you ready to discover the world's most beautiful pink beaches? Grab your sunglasses and let's go…
Looking for unique holiday accommodation in Bali? Then book yourself a private villa!
Pink beaches in Indonesia
Let's start with exploring the three bink beaches in Indonesia you can easily visit during your vacation.
Pink Beach, Komodo Island
https://www.instagram.com/p/BwuWvZwATOO/
It's hard to believe that this beach really exists – but it does! As probably the most famous of all the pink beaches in Indonesia, this Pink Beach is aptly named and resides on the coast of Komodo Island.
Also known as Pantai Merah, this glorious strip of salmon coloured sand is just a short flight away from Bali! The best thing about visiting it is that you can also soak up the beauty of Komodo National Park, witness some Komodo dragons in the wild, dive or snorkel its coral reefs, and even explore the picturesque bays of Komodo's eastern edge.
A trip to Pantai Merah is the closest you will get to enjoy a pink beach in Bali!
Find out more about this gorgeous area, with our ultimate guide to the most picturesque isles near Bali.
Getting there:
There are daily flights from Bali to Labuan Bajo, which take around one hour. From there, you can travel to Komodo by boat, which will drop you straight onto the sand and takes around three hours.
Tangsi Beach, Lombok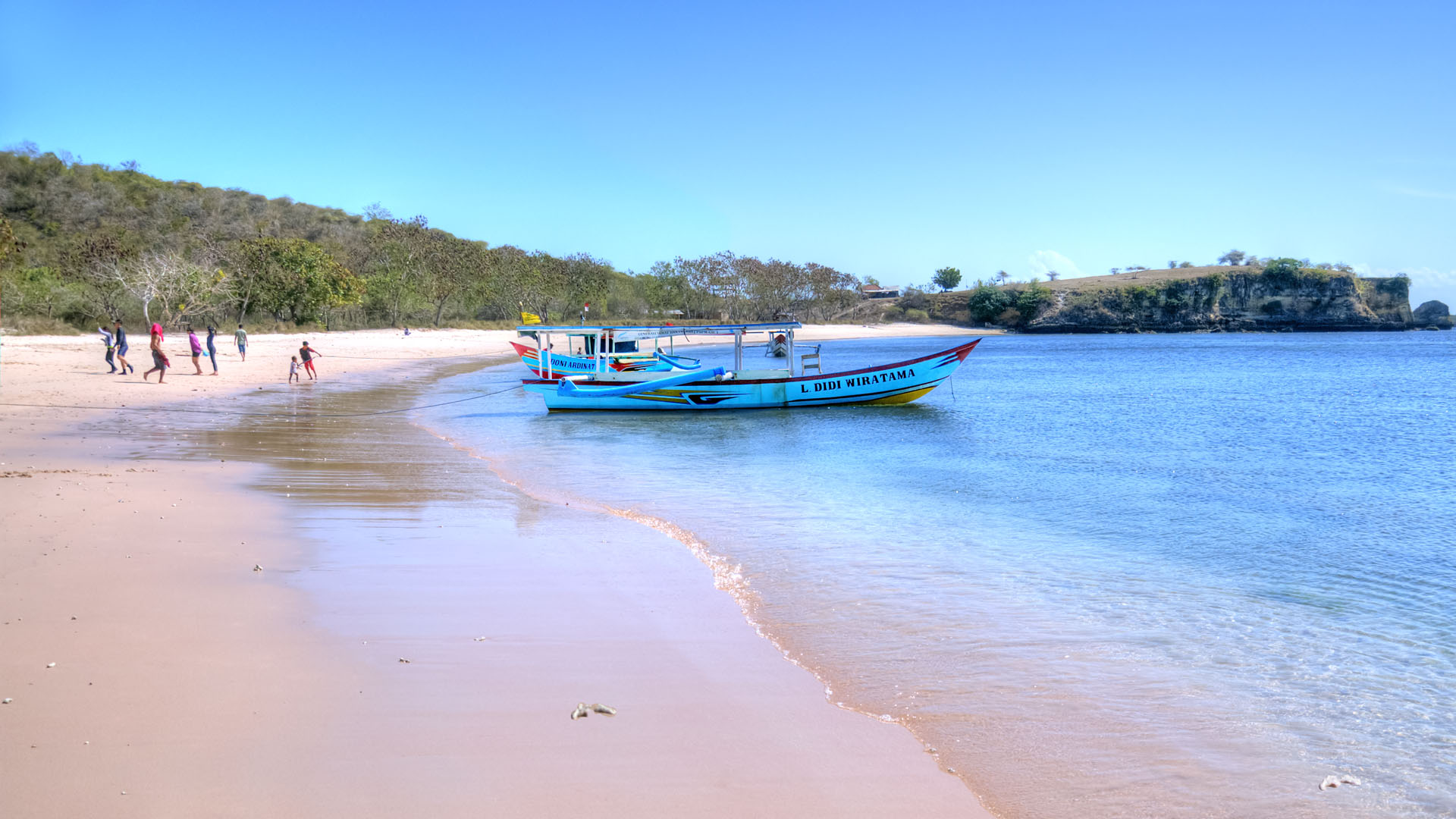 Lombok is home to one of three pink beaches in Indonesia and is Bali's neighbour, sitting just moments away.
Just like Bali, this Indonesian island has plenty of stunning coastlines to explore and Tangsi Beach is perhaps the best of the bunch. This rose hinted shoreline offers fantastic snorkelling opportunities in its rich waters, or you can choose to simply recline on the sand.
Those with more energy can head up to the beach's many berugaks (clifftop houses) to soak up panoramic ocean views – pure bliss!
Getting there:
Getting from Bali to Lombok is easy! You can choose to take a quick 25-minute flight or enjoy a more leisurely ferry ride from Padang Bai, which takes around two hours and costs roughly 580,000 IDR per person.
Serai Beach, North Sulawesi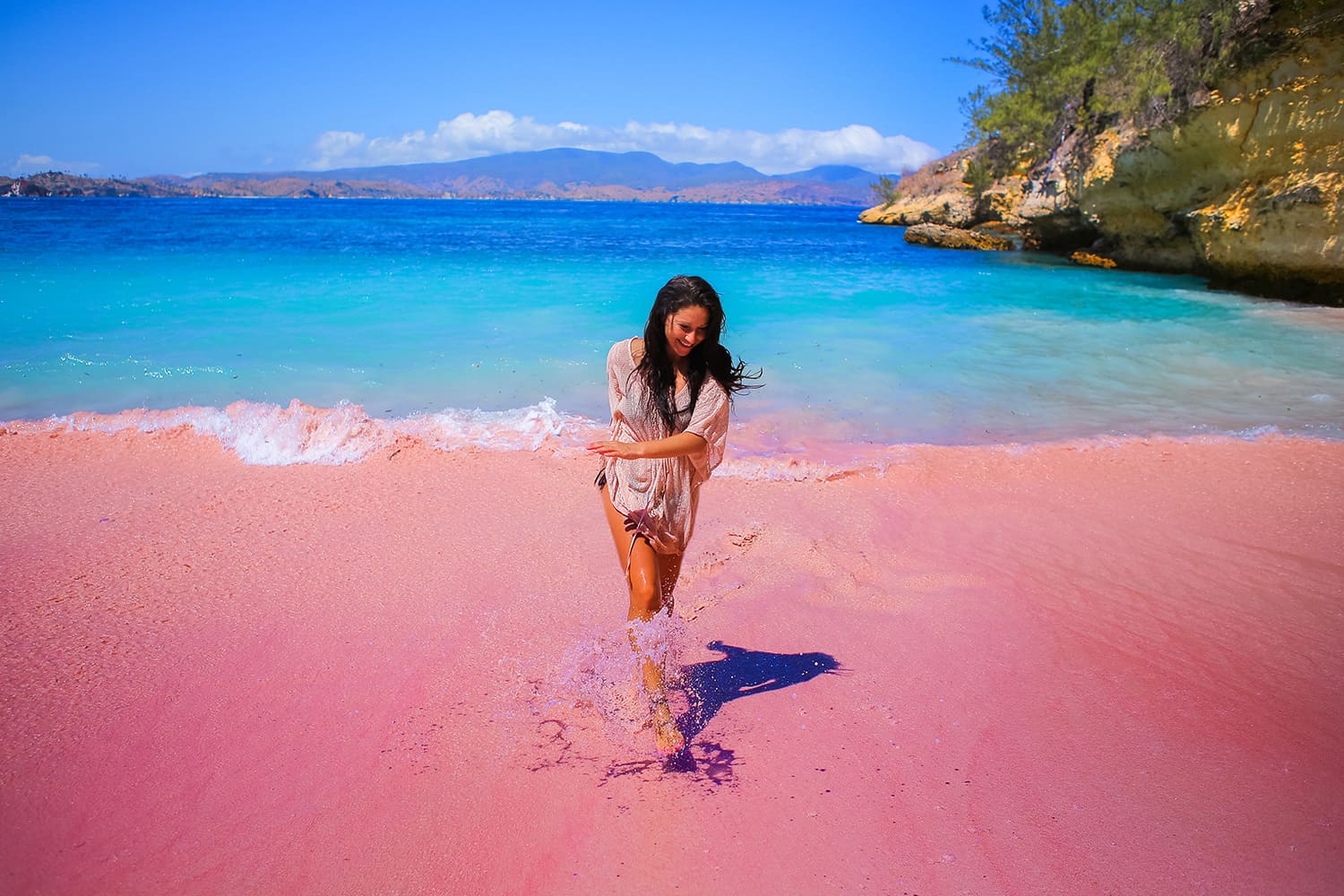 Serai offers the last of the pink beaches in Indonesia and lies in North Sulawesi, on the very tip of the country.
While Komodo's beach infrequently flaunts its pink tones, Serai Beach is pink for 12 hours every day!
After you've soaked up the rays on this stunning shore, head into the water to explore the island's coral reefs or take a boat trip to nearby Talisa Island to explore its subtropical landscape! You can also enjoy the wildlife of Tangkoko-Batuangas Dua Saudara Nature Reserve, volcanic scenery from atop Mount Klabat, or the bustle of the capital, Manado.
Getting there:
There are regular flights from Bali to Manado, from which you can drive or take a taxi to Serai, a 70-minute journey.
Pink beaches in other parts of the world
If you feel adventurous and would like to visit them all, here is the list of the world's most famous beaches to put on your bucket list!
Great Santa Cruz Island, the Philippines
https://www.instagram.com/p/BxOIO8eFYH9/
Over in the Philippines, you can find pink beach number four – on Great Santa Cruz Island.
This tiny isle is positioned just off the shore of Zamboanga and offers the Philippines's only pink beach. When surf erosion took place, the beach was exposed to coral pigments, just like on other beaches around the world.
After you've enjoyed the gorgeous rose hues of the sand, hit the waters or head to the mainland to explore the history of Fort Pilar or take in the beauty of the Merloquet Falls.
Getting there:
From the mainland in Zamboanga, head to the Santa Cruz Island Ferry Terminal, where regular boasts transport people to and from this miniature isle.
Elafonisi Beach, Greece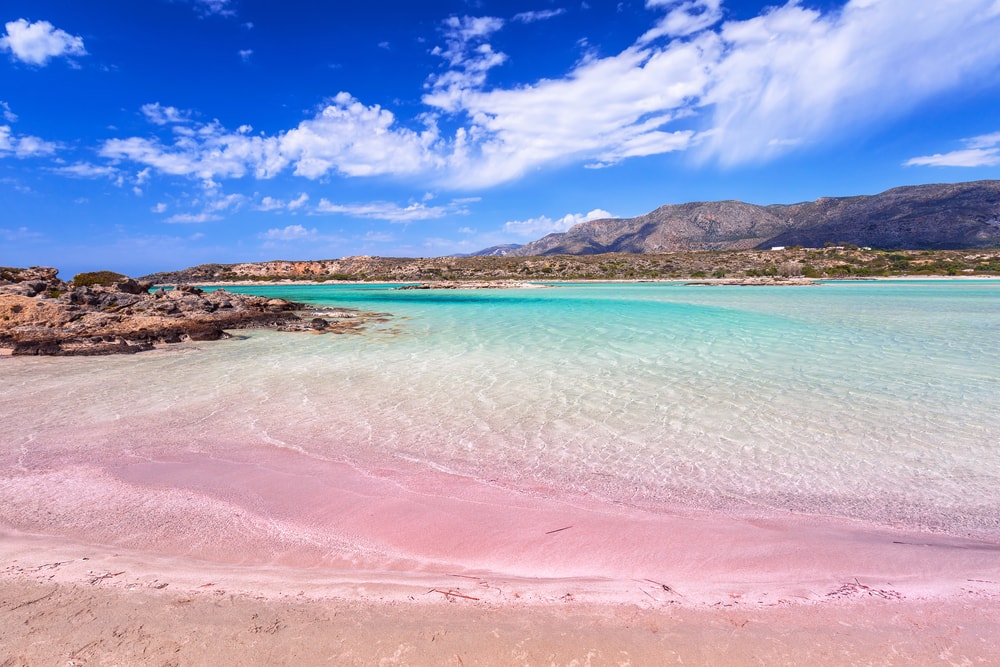 Lucky for Greece, the country is home to two of the world's most beautiful pink beaches. The first is on Elafonisi, positioned just off shore from Crete. This striking rose lagoon is perfect for families, offering shallow waters and plenty of fun activities and sports, including snorkeling and rock pooling. Explore the nature reserve of Memorial Cave or hire a boat and visit the island's numerous secret bays and inlets. You may even spot the rare loggerhead sea turtle, which is a native of this region! Looking for more incredible beaches to explore? Check out the wow-factor secret beaches in Bali!
Getting there:
You can reach Elafonisi via a daily bus from Chania city during high season. Outside of these times, you can hire a car. Alternatively, a daily boat leaves from Paleochora at 10 am and returns at 4 pm.
Horse Shoe Bay, Bermuda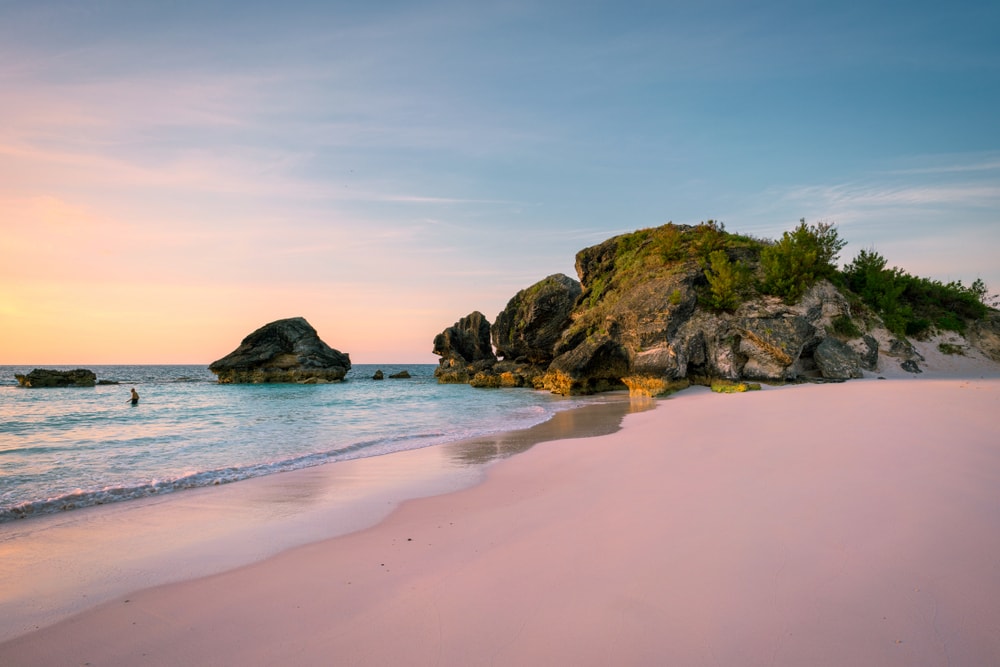 Bermuda is home to some of the world's most pristine beaches and the one at Horseshoe Bay is perhaps the country's most popular.
In fact, it is considered one of the world's most Instagrammed beaches! This quiet cove offers baby pink sands that shine subtly in the sunlight!
As well as pinkish sand, the bay also offers dramatic rock formations where hidden caves and coves can be explored. Go surfing in the waves or head to Rum Bum Beach Bar for cocktails and coastal views.
Getting there:
Horseshoe Bay is located on Bermuda's southern shore and can easily be reached by public transport. Take the No.7 bus from the Hamilton or the Royal Naval Dockyard, or a private taxi or scooter to the bay.
Balos Lagoon Beach, Greece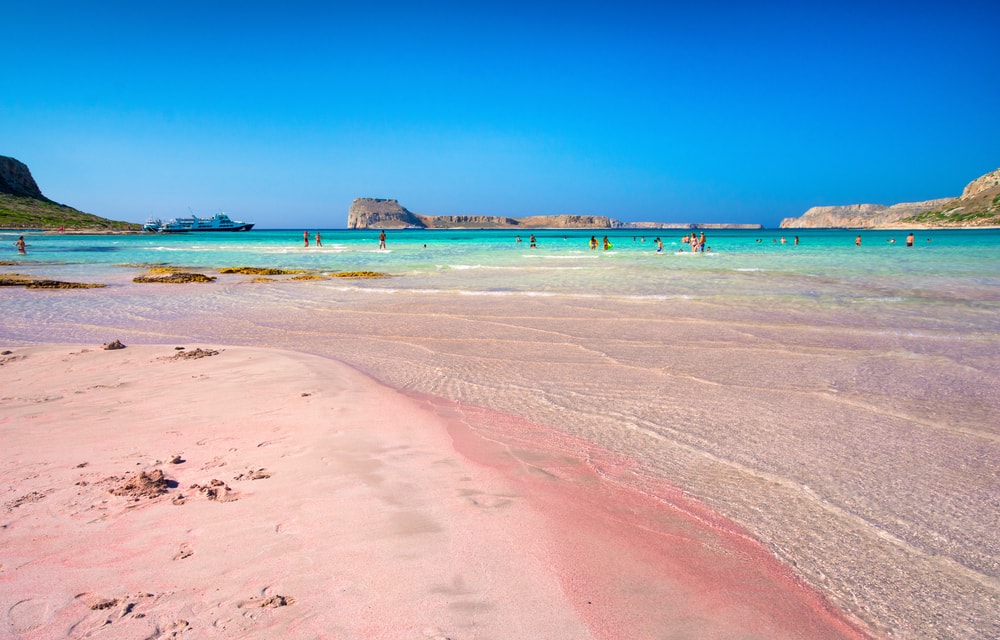 Greece is home to two of the world's rare pink beaches and the second can be found at Balos Lagoon. Located in Gramvousa, this uninhabited isle is around 17 kilometres northwest of Kissamos!
Here, the waters are crystal clear and shallow while some parts of the sand twinkle various shades of pink, thanks to thousands of crushed shells. Snorkel in the lagoon, witness wild monk seals, dolphins and loggerhead sea turtles or swim in the waters of Imeri Gramvousa islet, where you can also see an ancient fortress and a shipwreck.
There's no arguing that Balos is one of the world's most beautiful pink beaches!
Getting there:
You can access Balos Lagoon via a ferry from Kissamos, which costs around 25 Euros. Between May and October there is a daily boat, leaving in the morning and returning in the evening. From mid-June until mid-September, there is also a midday boat departure.
Pink Sand Beach, Barbuda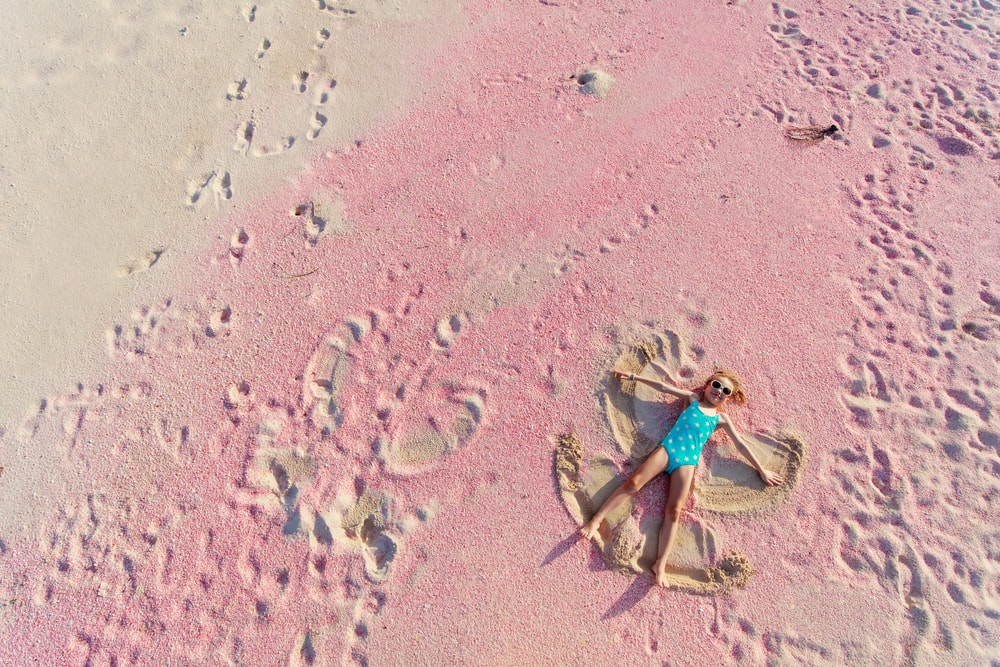 Barbuda is one of two islands making up the nation of Antigua and Barbuda and is not to be confused with Bermuda, despite its similar name.
The stunning island is home to one of the world's most beautiful pink beaches, aptly named Barbuda Pink Sand Beach!
Unlike some of our other rose-tinted shores, this beach is vibrant pink, with gorgeous salmon and watermelon coloured shells to match! Plus, the water here is truly incredible.
While you're there, don't miss the island's fascinating 11 Mile Beach and be sure to take a scenic boat ride through the Caribbean Sea.
Getting there:
Two daily flights connect Antigua with Barbuda, one in the morning and one in the afternoon. Return tickets cost around $130 per person. You can also take the Barbuda Express boat, which runs daily from Antigua. The ferry departs from St. Johns port at 9 am and returns at 4 pm. The journey takes 90 minutes and costs about $90 per person.