Nowadays, the trend towards eating healthy is truly popular in the Western world. However, in such countries as Indonesia healthy food is something that everyone is used to, as it makes an important part of the national cuisine. Thereby, in addition to the numerous quirky dining places, there is a plenty of outstanding healthy food spots in Bali to have a retreat filled with taste and nutrition. To make your search easier, we have gathered the most impressive and trendiest spots on that list: it's time to start the gourmet experience!
Seminyak
Sisterfields – Experience the Australian Cafe Culture
Bringing the Australian cafe culture to Seminyak, Sisterfields has garnered the love of the tourists and locals. You will particularly love their outdoor seating area where you will be able to enjoy both Indonesian healthy cuisine and fabulous weather. People have come to love their 'all breakfast' menu along with their unique collection of nutrition-rich smoothies and shakes. The assortment is absolutely great, although polenta fries and Lamb Shoulder Salad are two must-try items on their menu.
Essential Information:
Address: Jl. KayuCendana No. 7, Seminyak, Kerobokan, Bali
Opening Hours: 7AM to 10PM (Open 7 days)
Contact: +62 811 3860
Website: www.sisterfieldsbali.com
Cafe Organic – Super Yummy Vegan Food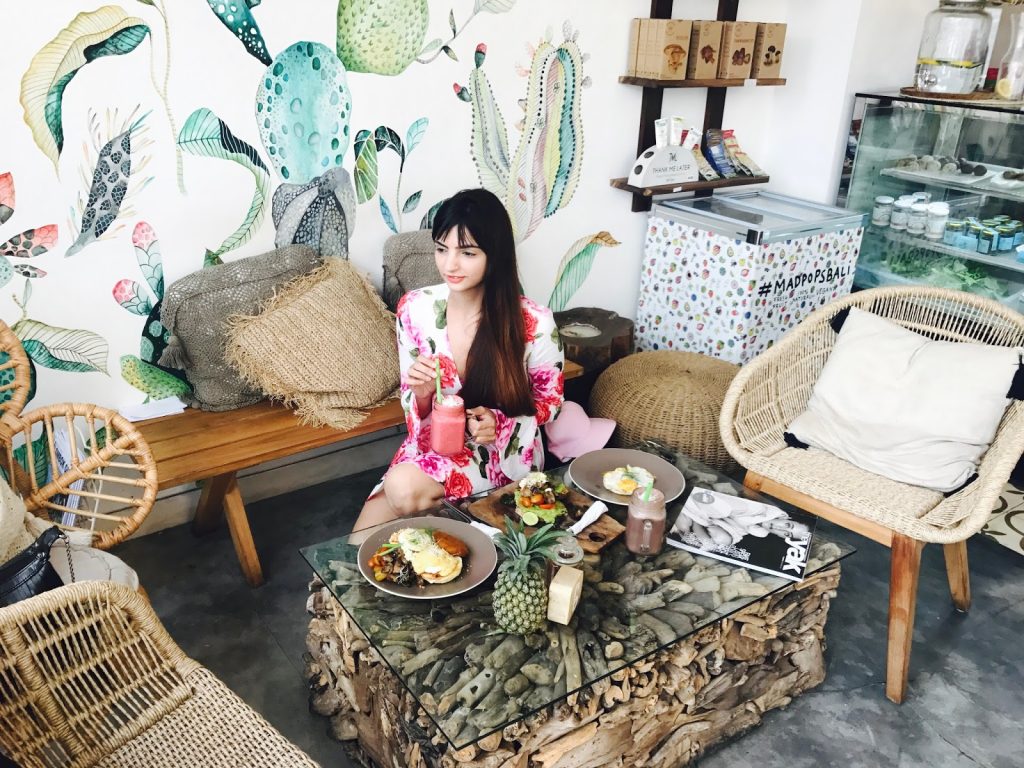 Boasting an all-vegetarian menu, cooked with a locally farmed produce, Cafe Organic should rank number one on your list of healthy food places in Bali. Their extensive healthy menu includes items such as smoothie bowls, chia cup, salad bowls, signature Gangsta toast, bites, breakfast, and lunch.
The Acai bowls here seem to be the most ordered positions on the menu. Everything here is just too delicious to explain, and definitely deserves a place on your Instagram Feed due to their impressive food presentation. Finally, make sure to try their absolutely divine mushroom stack.
Essential Information:
Address: Jln. Petitenget 99x Seminyak Bali
Opening Hours: 7AM-10PM (Monday to Sunday)
Contact:+62 812 3612 8341
Website:www.cafeorganicbali.com
Ginger Moon –Modern Eatery Inspired by Bali and Indonesia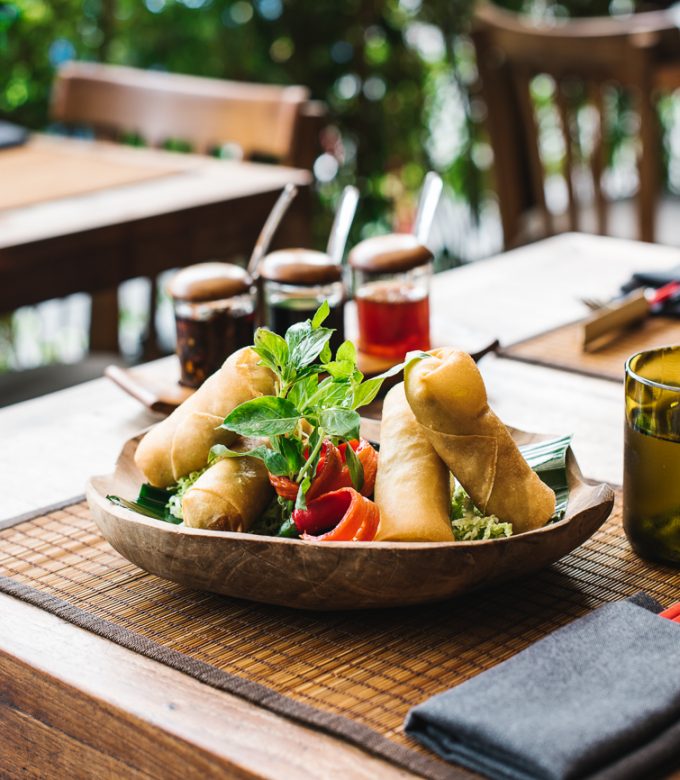 Ginger Moon is a warm and welcoming Asian Canteen with a contemporary interior. Dean Keddel, a renowned Aussie chef,is the beating heart of this healthy food spot in Bali. Dean offers a creative menu of authentic island cuisines cooked using myriads of tropical ingredients.The air-conditioned oasis and professional and friendly team will make you feel at home.
The topmost items to try at Ginger Moon are their Cauliflower Pizza and Peking Duck. They have an impressive collection of locally-inspired non-alcoholic and alcoholic cocktails and icy-cold beers. They also make mouth-watering tropical juices, coffee and a variety of tea.
Essential Information:
Address:Jalan Oberoi / Laksmana 7, Seminyak, Bali
Opening Hours: noon to 11 PM
Contact:+62 361 734 533
Website:www.gingermoonbali.com
Nalu Bowls Shelter Cafe- Smoothie Bowls Paradise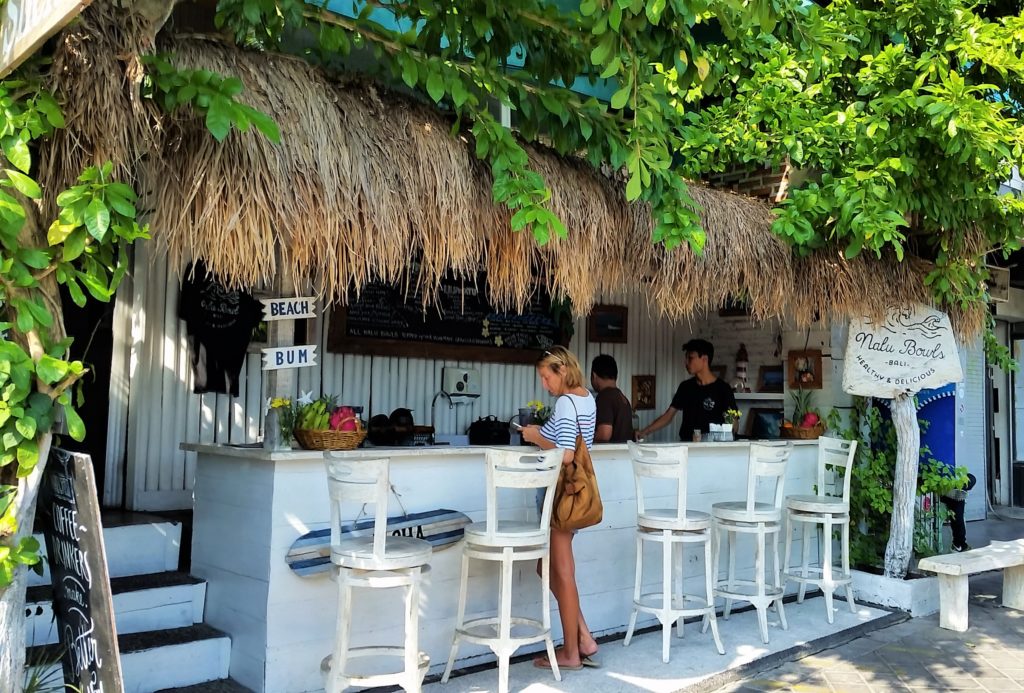 When your stomach demands something healthy in Bali, and you don't mind eating at a shack, Nalu Bowls Shelter Cafe is a place you are looking for. The restaurant has an enormous outdoor sitting space so that you can have a sweet and refreshing treat while you breathe in the fresh air.
It is a heaven for Granola fans, and their Acai bowls are no short of perfection either. They offer freshly baked homemade granola that will cheer up your taste buds. Some of the most popular bowls are Macaronis, Pipeline, Uluwatu, Mavericks, and Tea hupoo.
Essential Information:
Address: Jl. Drupadi 1 No.2A, Seminyak
Opening Hours: 7:30 AM – 6 PM
Contact:+62 0812 3660 9776
Website:www.nalubowls.com
Grain Cafe – Authentic Organic Food
Another place that is popular for its savory salads and organic juices is the Grain restaurant. They are connected to a strong network of farmers,which ensures their food reaches the table straight from the farms each morning. Keeping up with the changing lifestyles of people, they have also introduced a gluten-free menu for health-conscious guests.
When it comes to juice and smoothies, you will have a myriad of options to choose from. For example, the 'liver reboot' is one such drink that literally serves as a perfect hangover cure. The swordfish and the salmon are an absolute delight at Grain Cafe.
Essential Information:
Address: Jalan Seminyak 16b, Seminyak, Badung
Opening Hours: 7:30 AM to 10 PM
Contact:+62 361 730 528
Website: www.grainbali.com
Canggu
Betelnut Cafe – Healthy Treats Surrounded by Paddy Fields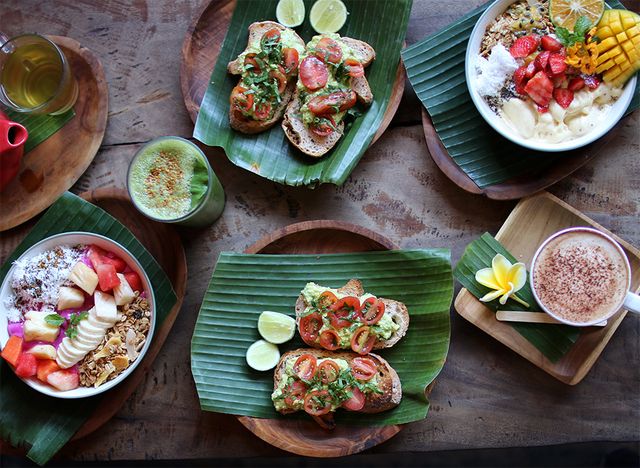 Betelnut Cafe is designed in a cozy shack-style spot that overlooks Canggu rice fields. Although the place is a heaven for surfers, it is evolved into a famous hangout among all types of travelers, whether they're families, honeymooners or a group of friends looking for healthier eating options in Bali.
The menu is a mix of local and other Asian cuisines. You will find authentic Balinese sate lilit, wrapped style satay, Indonesia's Gado-Gado salad.
Essential Information:
Opening Hours:7 AM to 10 PM (Closed on Monday)
Address: JlBatuBolong 60, Canggu 80361
Contact:+62 821 4680 7233
Eden Cafe – Nourish Yourself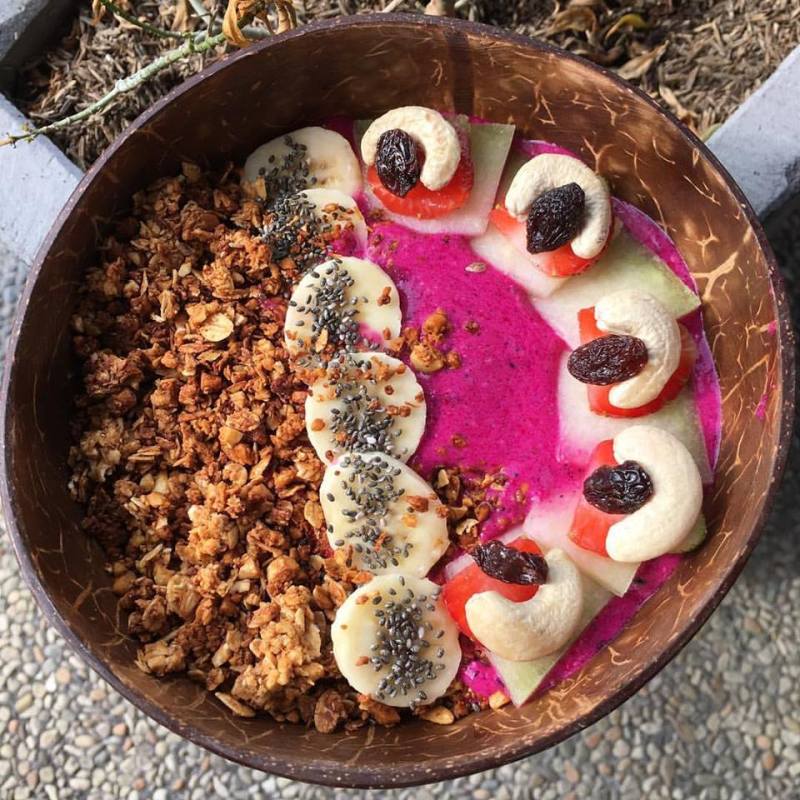 Eden Cafe is the perfect place where health meets taste. Their food is served with nutritional value in mind which will help rebuild your relationship with food and your body. It also remains to be one of the most beautiful and healthy food places in Bali with its partial outdoor seating.
The Eden Cafe is popular as a brunch place, and naturally, pancakes are the preferred choice off the menu. We suggest you try their green monster wrap that is absolutely delicious and is complimented with home-cooked cashew milk.
Essential Information:
Address: Jl. PantaiBatuBolong No.8, Canggu Kuta Utara
Opening Hours: 7 AM – 6 PM
Contact:+62 831 1430 6553
Website: www.edencafe-bali.com
Sprouts – Healthy Heaven
Sprout is all about nature to nurture. They grow a majority of their ingredients themselves maintaining that the only thing that they need to serve their guests is well-being and love. They take great pride in the quality of their coffee, which is sourced from Indonesia or South America and then later roasted in Bali.
You will love their Moroccan Chicken Salad and Golden Tonic, as well as the heavenly cooked Chorizo & Black Beans Eggs.
Essential Information:
Opening Hours: 7 AM to 6 PM
Address: Jl. Raya Semat 18A, Canggu, Bali
Contact:+62 812 36653165
Website: www.sproutbali.com
Cafe Vida – Organic Restaurant & Boutique Espresso Coffee Stop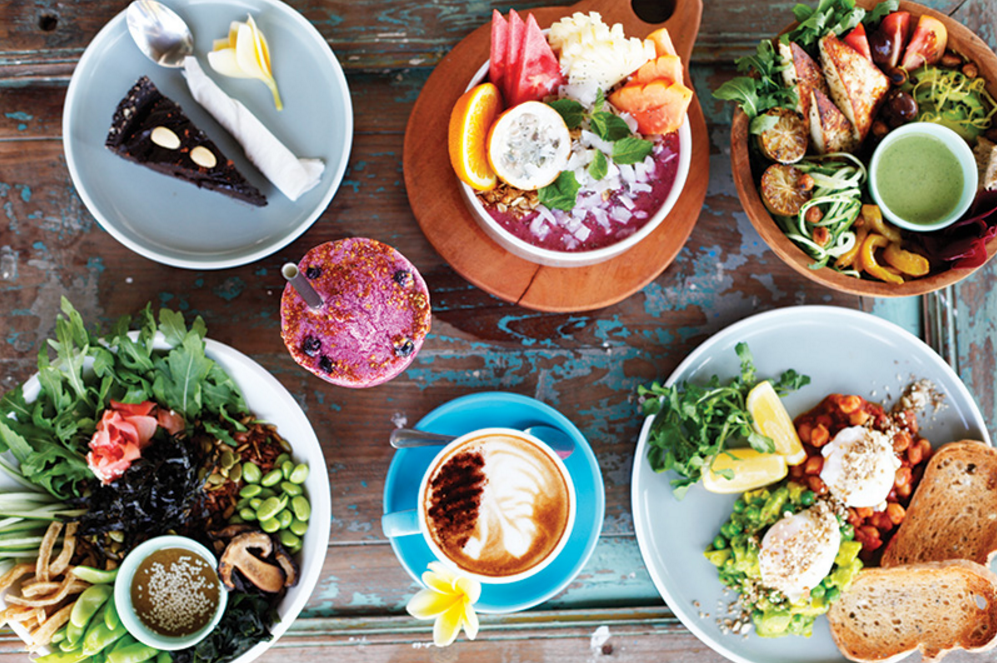 Cafe Vida went a step further and upgraded their kitchen to make the food even healthier. For example, they refrain from using aluminum cookware in their kitchen. Everything is cooked in stainless steel utensils. Products like palm oil, refined cane sugar, wheat flour or MSG can't be found at Cafe Vida's kitchen.
The most impressive item on their menu is their buckwheat pancakes which can be best enjoyed with their freshly brewed coffee. Their Summer Salad and Fish Tacos are also pretty popular.
Essential Information:
Address: JalanPantaiBatuBolong No.38A, Canggu
Opening Hours: 7 AM to 10:30 PM
Contact: 0813 39886864
Website: http://cafe-vida-bali.business.site/
Jimbaran
The Smoothie Shop–An Ultimate Vegan Stop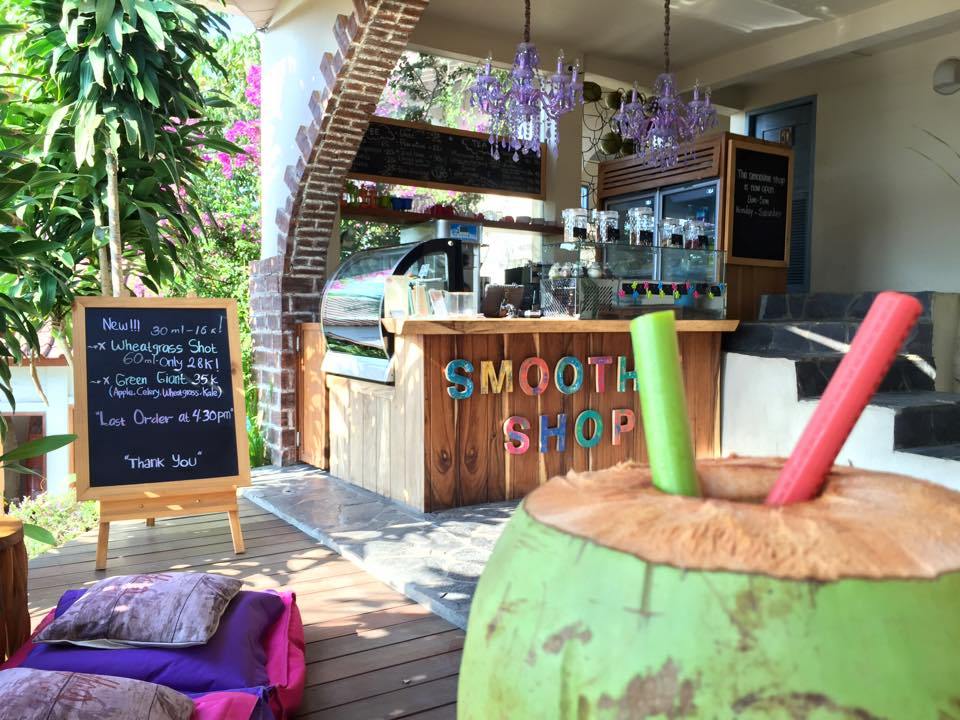 If you think where to eat healthy food in Bali, head to The Smoothie Shop. None of the food here is prepared with sweeteners, synthetic foodstuff, colorings or any other harmful ingredients.
They have a variety of organic juices and coffee that stand out on the menu. They serve organic juices made using slow juicers, which ensures that all nutrients and vitamins are preserved. The granola bowls here are also appetizing and make an ideal pick for a tasty and healthy breakfast.
Essential Information:
Address: Mandala Village resort, JL. Pantai Balangan
Opening Hours: 8 AM to 3 PM
Contact: +62 361 4725462
Website: www.mandalavillagebali.com/dining/smoothieshop
Livingwell – Organic Resto and Green Retail
In Livingwell, they don't limit themselves to serving healthy food: in fact, you can experience growing your own produce at the cafe with the help of their special team of gardeners. There you will be in the good hands: Chef Elizabeth focuses on meals that provide the right amount of nutritional value and has been working extensively around it for the past 26 years.
They have a beautiful terrace where you can sit on a decorated table and munch upon their rainbow noodles while enjoying the nature around the restaurant. Other dishes like Wraps and sandwiches seem to have their own set of fans. By the way, you could easily find gluten-free or vegan-friendly meals on the menu.
Essential Information:
Opening Hours: 8 AM to 10 PM
Address: Jl. Raya UluwatuPecatu No.9, Ungasan, Kuta Sel., Kabupaten Badung
Contact: (0361) 6290111
Website: www.livingwellbali.com
Ubud
The Seeds of Life–Fresh Vibrant Raw Food Treats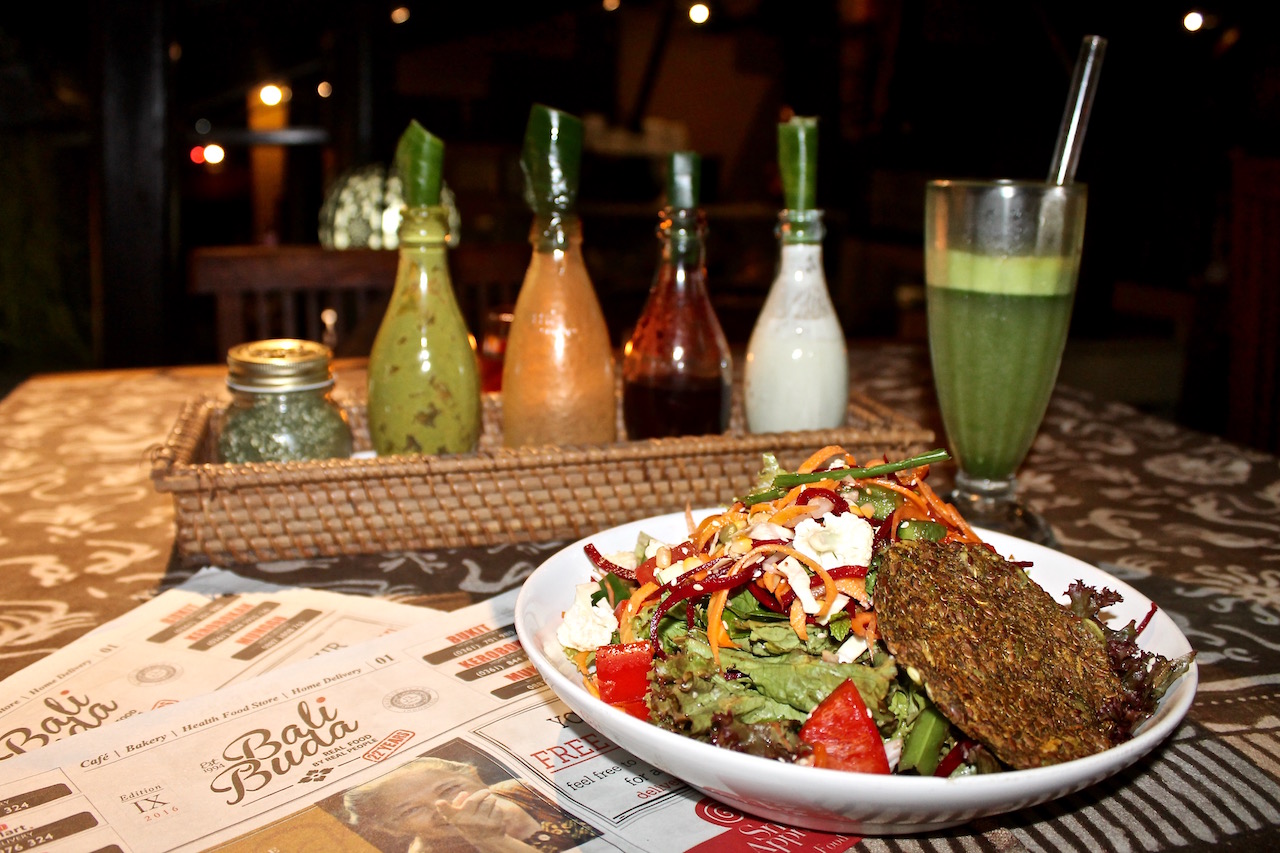 Also known as the Raw Food Cafe, The Seeds of Life in Bali is the brainchild of Ben Richards. Inspired by his travel and intensive study on nutrition, Ben decided to bring excitement, creativeness,and taste to raw food.
The restaurant serves fresh organic juices, delicious raw and vegan desserts, super food bliss balls and herb-filled raw chocolates. The Mexican Lasagne, Korean hobak rolls, tacos, sprouted seeded hummus are some of the must-try items at the Raw Food Cafe Bali.
Essential Information:
Address: The Seeds of Life Cafe 2 JalanGootama, Bali
Contact:+62 361 970650
Website: www.theseedsoflifecafe.com
Sage –Divine Place for Organic Food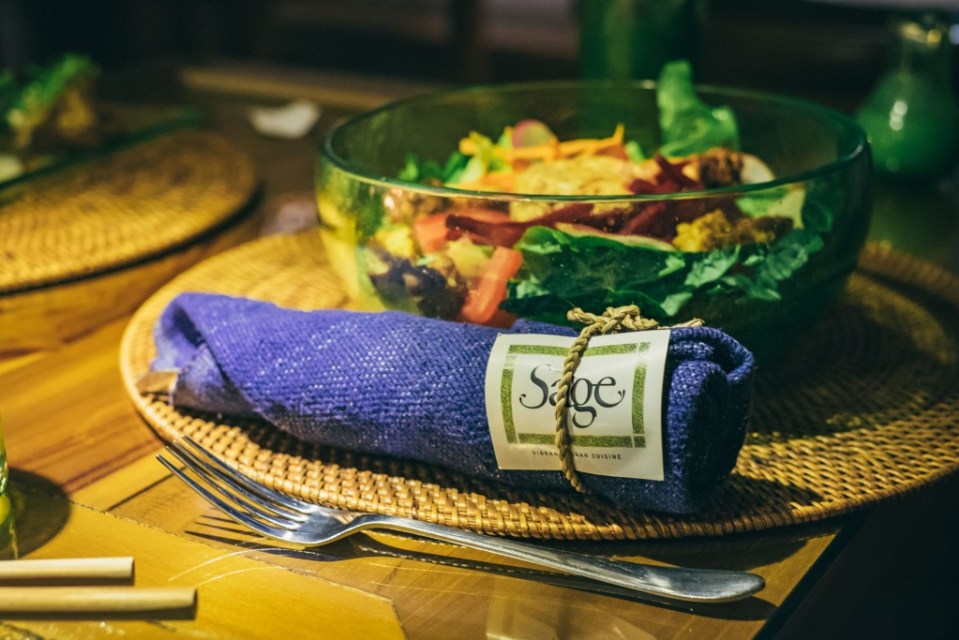 Calling the ambiance of Sage 'divine' would be an understatement.  There is a lot of light indoors as well courtesy the large airy windows, which makes this place spacious and full of light.
Their coconut cake here is the best thing you'll probably try during your stay in Bali. Sage's reputation as a top restaurant also has to do with their absolutely fantastic buffalo wings.
Essential Information:
Address: Jl. NyuhBulan No. 1, Banjar NyuhKuning, Ubud, MAS, Gianyar, Kabupaten Gianyar
Opening Hours: 8 AM to 9:30 PM
Contact:+62 361 976528
Lazy Cats Cafe–Where Being Lazy Means Self-Exploring
Lazy Cats Cafe is one of those places that will leave you wanting to come back solely for their ambiance. With a partially covered shack, an inspiring interior and great food, there is so much to love about this place. Their healthy and appetizing menu paired with vintage furniture gives this cafe a bohemian flair.
People come to taste their veggie lasagne tapas and barbeque Tofu bowl. If an appetizing breakfast is what you seek, then you cannot go wrong with their 'potatoes sunny side up.'
Essential Information:
Address: Jl. Raya Ubud No.23, Ubud, Kabupaten Gianyar
Opening Hours: 8 AM to 10 PM (Closed on Mondays)
Contact:+62 813-3882-2589
Website: www.lazycats-bali.com
Head to any of these healthy food spots in Bali for a scrumptious, nutrition-rich meal! However, if at any point you decide it's time to indulge yourself with something different, Bali's street food spots would be a perfect match for you.