There is something truly special about the Indonesian cuisine: although it still has not become mainstream, it manages to mix dozens of Asian elements, coming from Chinese, Indian, Arab and even Spanish and Portuguese influence, while preserving its individuality. Full of bright colors and unusual tastes, it remains healthy and suitable for every kind of foodie. Of course, each region of Indonesia has its own local specialties – and Bali is not an exception. Finally, the good news is: there are some dishes that you can easily cook at home – just check this list of the top Balinese cuisine recipes!
Balinese Chicken Satay
The Sate Lilit Bali, or Balinese Fish Satay, is one of the most popular Balinese dishes and represents a healthy and delicious snack or dinner option. By the way, the satay itself belongs to the Indonesian cuisine and can be cooked in all possible variations – from meat and poultry to the mixture of fish and seafood.
Here's what you will need to cook this mind-blowing dish:
500g of boneless chicken breasts, cubed into smaller pieces
3-4 cloves of garlic
2 red chilly peppers
1 tbsp of root ginger
½ tsp ground turmeric, ground white pepper, and ground coriander
3 tbsp of vegetable oil
1 tsp sugar
Salt to taste
Lemongrass sticks
To begin with, put the chicken away and grind all other ingredients into a soft paste. After that, mix the chicken cubes with the paste and let them marinate for one hour. As soon as the marinade is ready, skewer the chicken cubes and bake them in the oven for 10-13 minutes at 180 degrees. Your satay is ready, enjoy it hot & with a peanut sauce!
Sambal Matah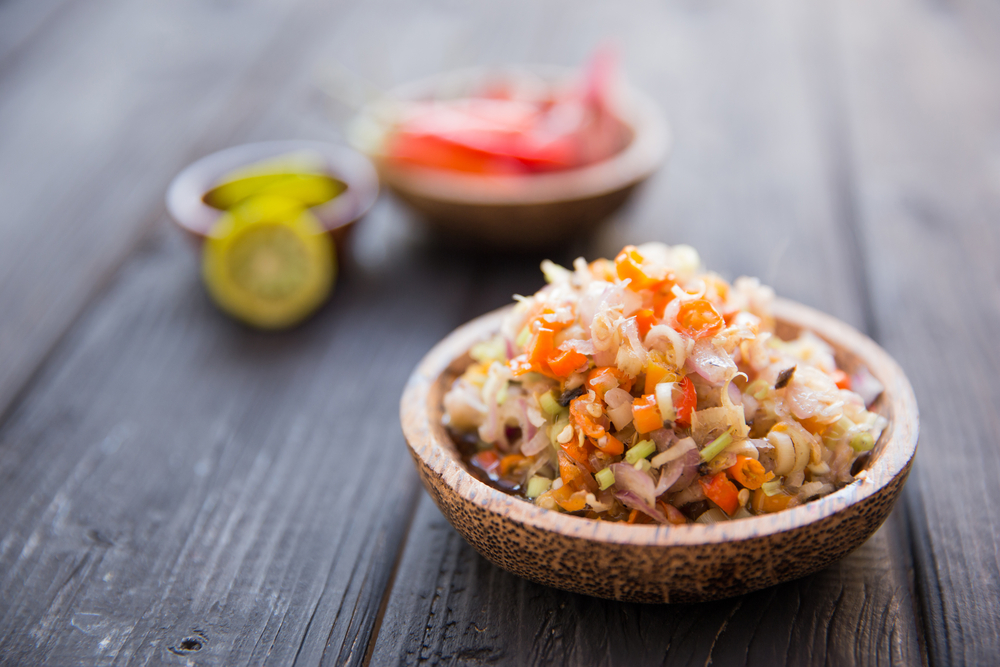 Sambal Matah is a Balinese raw sauce that goes really well with seafood and chicken and has a unique spice taste, which makes it one of the top Balinese cuisine recipes to try at home. It's really easy to prepare, and the entire cooking process will take you 5-8 minutes. However, you will need to buy the shrimp paste in advance – search for it in the local specialized shops or buy it online.
These are the ingredients you need to have to prepare this chic sauce:
4 green and red bird's-eye chilies
4 shallots
1 clove garlic
8 g shrimp paste
Salt (1-2 tsp)
Vegetable oil (1/2 tsp)
2 stalks of lemongrass
2 juiced limes
Slice the lemongrass and shallots finely and mix them with chopped chilies and garlic. Fry the prawn paste in a dry skillet for 3 minutes and mix it with other ingredients, adding oil, salt, and lemon juice until it has the consistency of a paste. Enjoy the meal!
Balinese Chicken Lawar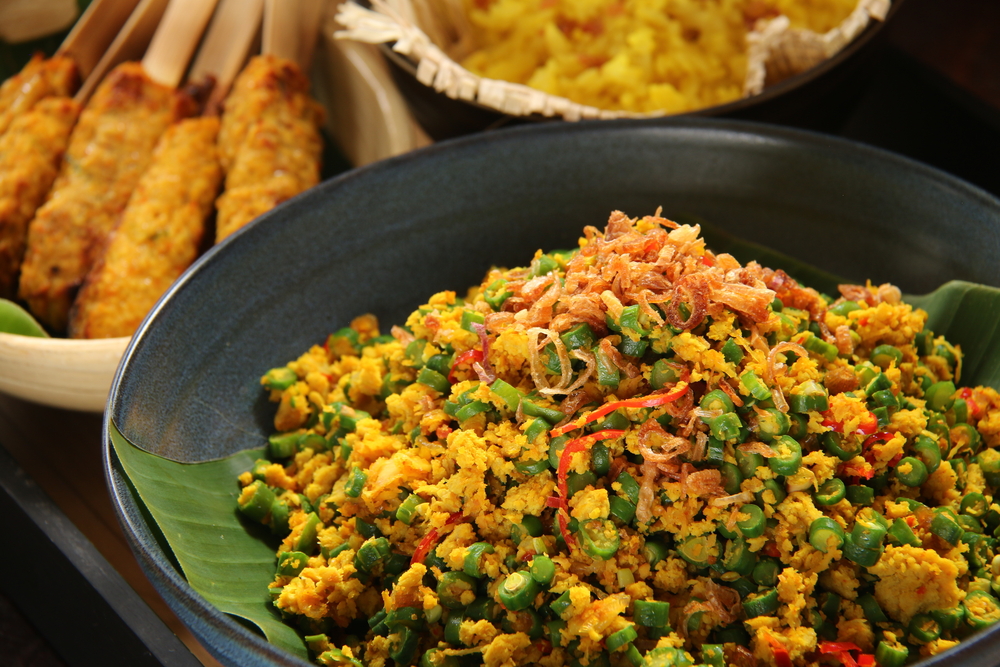 Balinese Chicken Lawar is an outstanding example of the South-Asian cuisine that will surprise you with its bright and playful mixture of tastes, especially in this variation by Yvonne Ruperti. It is really easy to cook, although mixing the numerous ingredients might take some time.
Make sure to find your local Asian store to prepare everything for cooking:
For the sauce:
candlenuts or macadamia nuts
1 medium-sized shallot
Green or red chilies (chopped)
1.5 big cloves garlic
1 tsp ground turmeric
1 tsp of chopped ginger
Pinch ground cloves
1/4 tsp of black pepper
1/2 tsp sesame seeds
For the lawar:
Green beans
2 tablespoons vegetable oil
2 eggs, lightly beaten
500 g of chicken
2 kaffir lime leaves, sliced (you could use 1 teaspoon lime zest added at the end of cooking instead)
1/2 cup  low sodium chicken stock
1/2 cup coconut milk
1 tsp salt
1 tsp grated palm sugar (or light brown sugar)
1 cup of freshly grated coconut (or 3/4 cup unsweetened desiccated coconut)
1/4 cup of fried shallots
Steamed rice to serve on the side
To begin with, mix all the ingredients for the sauce in a food processor for about 30 seconds. Secondly, boil 4 cups of water and cook beans; cool them in a large bowl.
Next, pour the eggs in a pan with 1.5 teaspoons of oil so that they cover the entire bottom of the skillet and cook for around 30 seconds. After that, cool the omelet and roll it into a log, that should be then cut into 2,3 cm strips.
Continue with adding the remaining oil to the same pan and cooking the sauce with the kaffir lime leaves for about a minute. Add chopped chicken and cook it for 4 minutes more.
Finally, pour in the chicken broth, salt, and coconut milk & simmer until it slightly covers the chicken and has a liquid consistency. Move it to the bowl with beans and toss with the egg and coconut. Top it all with crispy shallots, serve with steamed rice and enjoy your dish!
Dadar Gulung – Green Coconut Pancake
Indonesia is all about bright colors and joy – same as these colorful and immensely delicious coconut pancakes, that make up the sweetest option among our favorite Balinese cuisine recipes.
Those are the necessary ingredients:
To get the juicy green color, visit your local Asian grocery store and buy 5 pandan leaves (chop them afterward). You can substitute it with pandan paste (1 teaspoon)
100 ml of coconut milk
200 ml of water
1 egg
150 g of plain flour
Salt
Oil for cooking
To make the taste perfect, use the following components for the filling:
Grated frozen or fresh coconut
1/3 cup of water
1/2 cup shaved palm sugar
To begin with, mix the palm sugar and water, simmer for 4 minutes, transfer to a bowl and cool to the room temperature. Make sure to add coconut and stir.
Combine the pandan and water in a blender, and strain the mixture through a sieve to get as much liquid as possible. Mix the liquid pandan, coconut milk, egg, salt and flour in the food processor.
Heat a non-stick frying pan and brush it with oil, add around 37 g of batter, cook for 2 minutes + 1-2 minutes more from the other side. Repeat with the remaining ingredients and spread the coconut filling among the pancakes. Roll up each pancake and plunge into the sweet universe!
Use Your Imagination – Create Your Own Bali Bowl
Bali is famous for its healthy breakfasts and numerous options of sweet bowls you can try in the local cafes. However, you could also easily cook them at home while getting prepared for the Bali trip: use your imagination and create your own perfect bowl!
Some of the options you might like:
Oatmeal Bowl. Plain oatmeal at the base with banana slices, peanut butter and cinnamon & fruits of your choice.
Apple & Greek Yogurt Bowl. Mix some vanilla Greek yogurt, cinnamon, bananas, apples, and pears.
You could add any other kind of fruits, including the exotic ones like dragon fruits, mango, and papaya, mixing them with yogurts, honey, granola, milk and coconut water.
Feeling like you can't wait to make a real trip to Bali? Start with booking your own private villa with a cooking crew & choosing the top dishes in Bali that you will try during your stay!