Thailand is one of the hottest places for a luxury holiday right now and you won't find much better than our ocean view villas in Koh Samui. We've put together this extraordinary list of ten of our favorite plush holiday pads – and, of course, each has their own pool!
There are many famous destinations to choose from in Thailand, but at only an hours flight from Bangkok and providing access to the beautiful island of Koh Tao you can rest assured that Koh Samui is a flawless all round choice for your next getaway.
Sunset Bay Villa
If you're looking for sunset views and a stunning panorama of the sea then Sunset Bay Villa is the vacation you need! As smaller ocean view villas in Koh Samui go, this is one of our favorites; all three bedrooms boast supreme ocean vistas!
The spacious, fully-equipped kitchen and open-planned living area offer enough space for up to eight guests to dine and relax. On the other side of the sliding doors, your picturesque pool terrace offers spectacular views. The Jacuzzi is a flawless place to enjoy a serene sunset night after night.
Essential Info:
Beds: Three
Bathrooms: Two
Prices start at: $242 / night
L2 Residence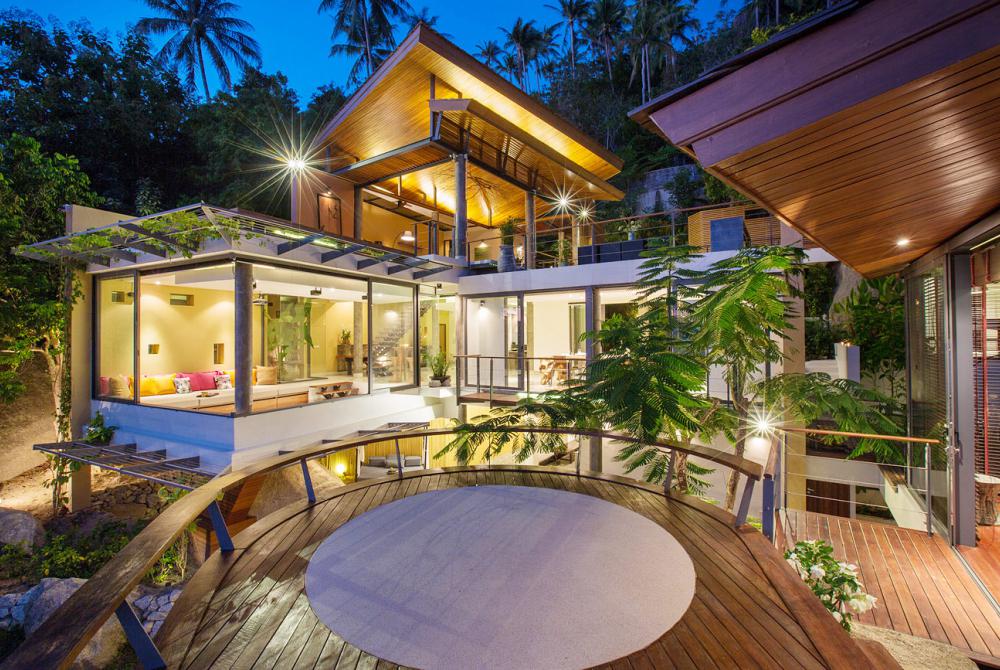 Whether it's an idyllic getaway for couples, families or a small group of friends, L2 Residence is the perfect island hideaway in search of the ultimate island – it's one of the finest holiday pool villas in Koh Samui.
Enjoy unmissable ocean vistas from the interesting blend of contemporary design and natural elegance of this spacious open-planned resort. Outside, a soothing waterfall feature feeds into the luscious plunge pool, creating a true sense of tropical seclusion.
Each of the three minimalist bedrooms features an en-suite bathroom and a balcony to enjoy the beautiful scenery which surrounds this stunning property. They are housed in a second pavilion, connected to the living pavilion by a garden and courtyard. Breezy terraces, gorgeous views, and cool dips make this a flawless retreat!
Essential Info:
Beds: Three
Bathrooms: Four
Prices start at: $530 / night
Blue Sea Villa
The Blue Sea Villa has some of the finest views you're likely to cast your eyes upon – from the seclusion of your infinity pool of course. Just five minutes away from the sun-kissed Chaweng Beach, it has a perfect location.
The modern and vibrant living space boasts high ceilings, flowers and exotic artwork on show. With a dining space for up to eight people (featuring an incredible view) and a games room with a ping-pong table, Blue Sea Villa creates a flawlessly sociable atmosphere.
Finally, each of the three double rooms boasts it's own en-suite with a rain shower – it's one of our favorite ocean view villas in Koh Samui.
Essential Info:
Beds: Three
Bathrooms: Four
Prices start at: $633 / night
Villa Julie
A peaceful retreat on the west coast of Koh Samui, this exceptional villa is located directly on the beach. If you're looking for a break from it all, this is the place to climb into a large saltwater pool (featuring an integrated Jacuzzi) and just… Breathe… And enjoy the sunset.
Also featuring a large Thai massage pavilion, both the kitchen and living room are stylishly decorated with boast gorgeous interior design. Of the three bedrooms, two are situated on the beach and feature stylish full windows – as well as direct access to the swimming pool and sea.
As luxury holiday rentals in Koh Samui go, you'd be hard-pushed to find any more idyllic and secluded than Villa Julie!
Essential Info:
Beds: Three
Bathrooms: Three
Prices start at: $650 / night
Sky Dream Villa
The loft-style living area on the second floor of the Sky Dream Villa will take your breath away. Leading to the dining room for eight people, you will then walk outside to the exquisite pool with panoramic views of the ocean.
Onsite, the 24-hour staff will show you true Thai hospitality. Each of the four bedrooms is carefully positioned to overlook Chaweng Noi Bay and the ocean beyond – all feature high-end Bose sound systems and satellite TV's.
Asides the infinity pool, you will find a carefully manicured garden and a large sun-deck from which to soak in some rays. Surely among the most truly luxurious ocean view villas in Koh Samui, Sky Dream Villa is an ideal resort for larger groups to have a holiday to remember!
Essential Info:
Beds: Six
Bathrooms: Six
Prices start at: $665 / night
Villa Nagisa
Set on one of the most breath-taking locales of the islands' north-east coast, Villa Nagisa is a four bedroom resort which boasts stunning views over the National Marine Park and ocean beyond.
All four of the elegant en-suite master bedrooms have panoramic views of the turquoise waters below. The curvaceous 18m swimming pool is the perfect place to take a dip, before catching some rays from the spacious sun terrace. Come nightfall, bespoke Moroccan lanterns make for a gorgeous, low lit atmosphere.
For true pampering, the exquisite in-house chef can be relied upon to produce delectable meals at any time – guests can also request extensive spa treatments, yoga, Muay Thai and even salsa lessons.
Essential Info:
Beds: Four
Bathrooms: Four
Prices start at: $821 / night
Celadon Samui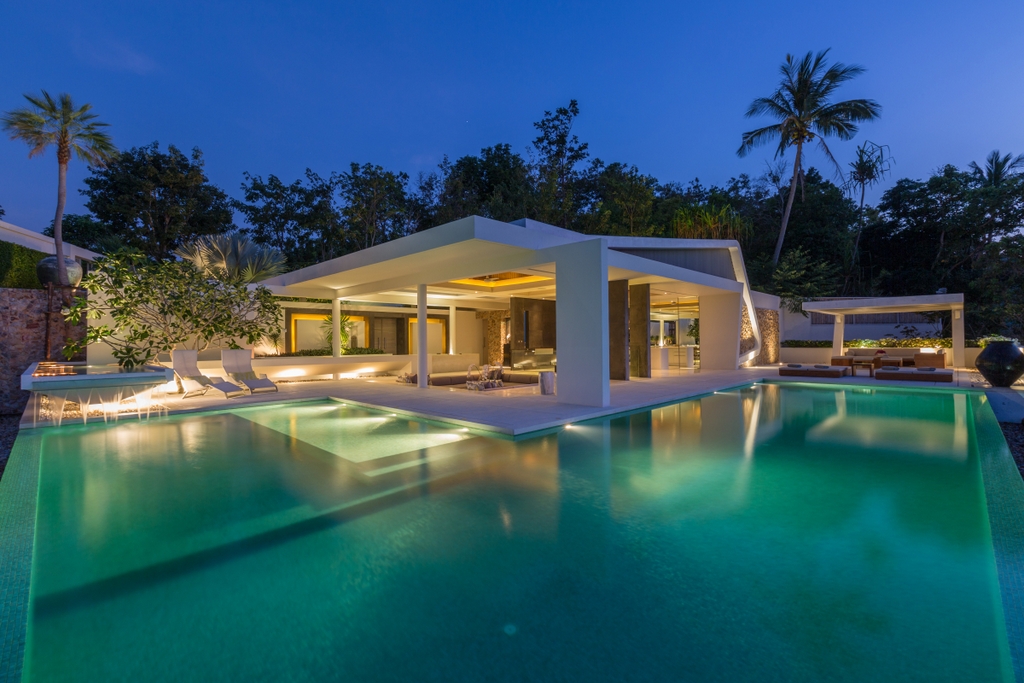 Another stunning four bedroom resort, Celadon Samui is one of the most incredible ocean view villas in Koh Samui. Minimalist, chic and luxurious, it offers absolute privacy from which you can enjoy breath-taking vistas of the ocean scenery.
Each of the double bedrooms features an en-suite and a terrace, making this villa ideal for a family or couples retreat. If you're looking for simplicity and a space to get away from it all then this pristine property (which is 100m high on a secluded hilltop) will be the ultimate exotic getaway. However, it is still only minutes away from the high-end bars and restaurants of nearby hotels.
Essential Info:
Beds: Four
Bathrooms: Four
Prices start at: $1177 / night
https://www.eatsandretreats.com/villas/villa6292.html
Samudra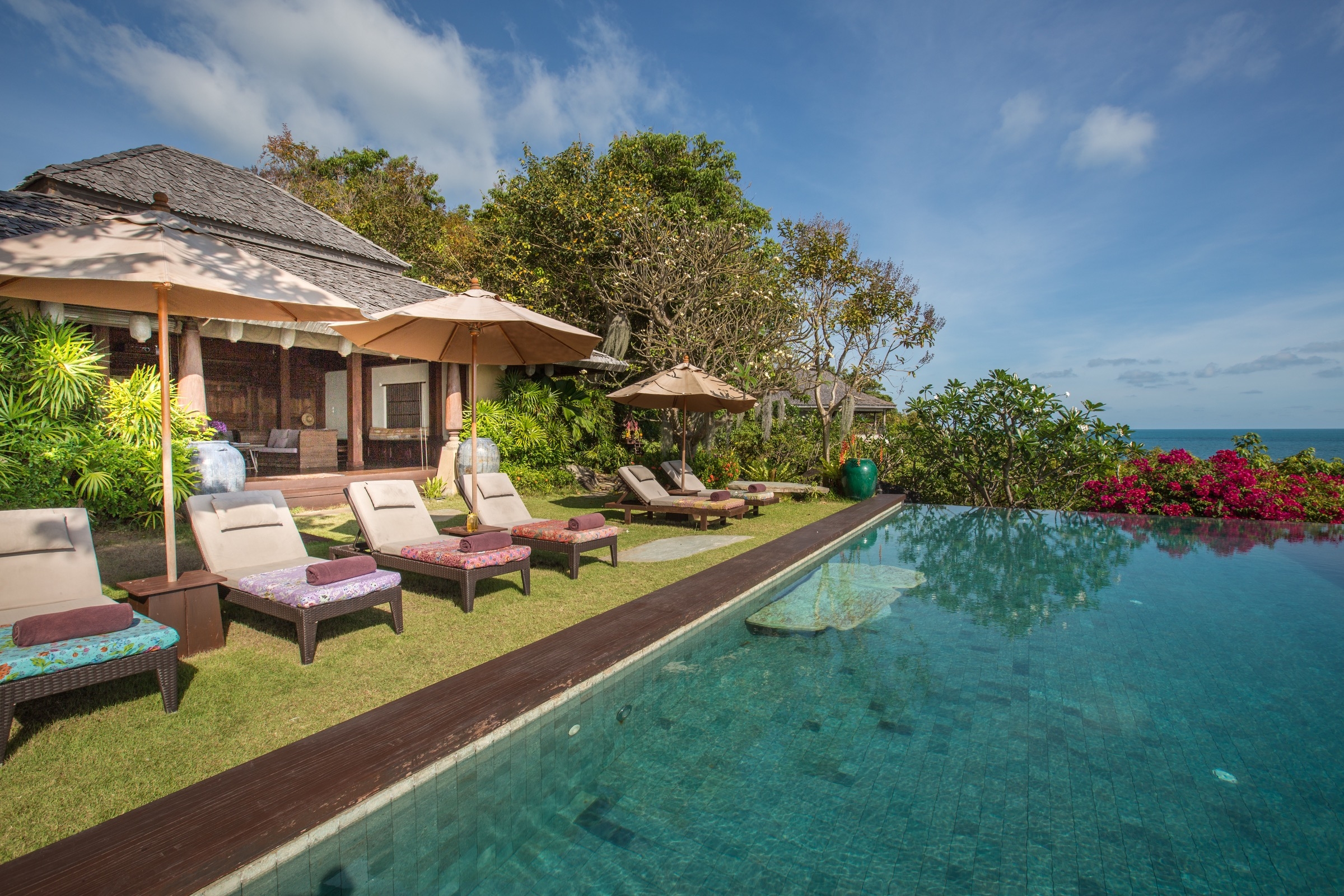 Featuring a rich blend of Eastern influences, Samudra hosts seven unique bedrooms spread across gardens, a Balinese-style temple, and a tree-house. The Garden Master Suite, in particular, offers spectacular views over the Marine Park.
Whilst you enjoy the breathtaking scenery from the infinity pool or outside dining pavilion, a discreet staff of five members will cater unobtrusively to your every need – ensuring your getaway is utter bliss.
A haven of lush tropical gardens and authentic, careful design, Samudra is perfect for hosting weddings of anniversaries – the enormous seven-meter table made of reclaimed Takian wood can seat 24 guests, and the property boasts 180 meters of secluded beachfront.
Essential Info:
Beds: Seven
Bathrooms: Six
Prices start at: $1304 / night
Yo Villa
Yo Villa is another resort which takes full advantage of the breath-taking ocean views found near the secluded north-east of Koh Samui – it is truly majestic.
Each of the four master bedrooms offers an outrageously spacious en-suite and a private balcony from which you can soak in the spectacular vista. Featuring both a roomy indoor, and elegant outdoor lounge, poolside sala, home theater and gym, luxury lovers will be forgiven for never wanting to leave!
Outside, a 17-meter sea view lawn is perfect for watching the sun set after a refreshing dip in the wraparound infinity pool. Look no further – this is one of our most luxurious villas to date!
Essential Info:
Beds: Four
Bathrooms: Seven
Prices start at: $1316 / night
Bangrak Beachfront Villa
Our final listing, Bangrak Beachfront Villa, is undoubtedly one of the hottest ocean view villas in Koh Samui. It is nestled so close to the lapping waves that you can imagine the feeling of sand between your toes as soon as you roll out of bed!
Minimalist yet chic, Bangrak stretches over 1,600 metres of tropical land which simply falls away into pure white sand and turquoise ocean. Of the seven double bedrooms, two are master suites and feature outside secluded Balinese bath and shower areas. True tropical luxury!
Wander through the gorgeous dining terrace (which features a breathtaking vista) and you will find the relaxing courtyard area and blissful pool. For those wanting to keep fit the home gym will be a bonus. On the other hand, we recommend relaxing as much as possible in this secluded slice of heaven!
Essential Info:
Beds: Seven
Bathrooms: Seven
Prices start at: $2157 / night
Ready to book one of our stunning ocean view villas in Koh Samui? Click here to see some more from our selection!