Some of the most magical places in Thailand still lie off the beaten track – many exciting small towns and villages still hold the key to hidden gems. For the keen explorer, there are a wealth of surreal experiences and out-of-this-world photo opportunities to be had.
From natural pools and majestic waterfalls to unknown beaches and stupendous mountains, you can be sure to find some of the most ethereal spots in the world once you know where to look. Once there, you will feel yourself as if you were in some fairy tale, full of magical creatures and surrealistic landscapes.
Doi Mon Jong – A Mountain with Panoramic Views
If you're looking for pure, off-the-beaten-track travelling then the mountain of Doi Mon Jong is probably the rural paradise you've got in mind. Glorious sunsets and breath-taking views place the mountains here among the top unique natural attractions in Thailand.
Here, fields of Rhododendrons will blossom in the sunlight – especially during December and January. It's a remarkably remote and beautiful place to set up camp and gave upon an uninterrupted view of the countryside below the Milky Way.
Essential Information:
Location: Omkoi Wildlife Sanctuary, Musoe Forest Protection Unit, 131 Moo 2 Tambol Yangpiang, Amphur Omkoi, Chiangmai 50310
The Canyon at Pai
The town of Pai in northern Thailand is known for hippy vibes, groovy bars and beautiful sunsets. It's also home to it's own mini-Grand Canyon with stunning (if slightly precarious) panoramic views.
Although the paths can be narrow and decent footwear is advised, there are few better places in the north to have a picnic and a few drinks whilst watching the sunset. The twisty winding ledges are a great spot for adventurers and those who want to get lost in one of the most unique natural attractions in Thailand.
Essential Information:
Location: Pai District, Mae Hong Son 58130, Thailand
Erawan Waterfalls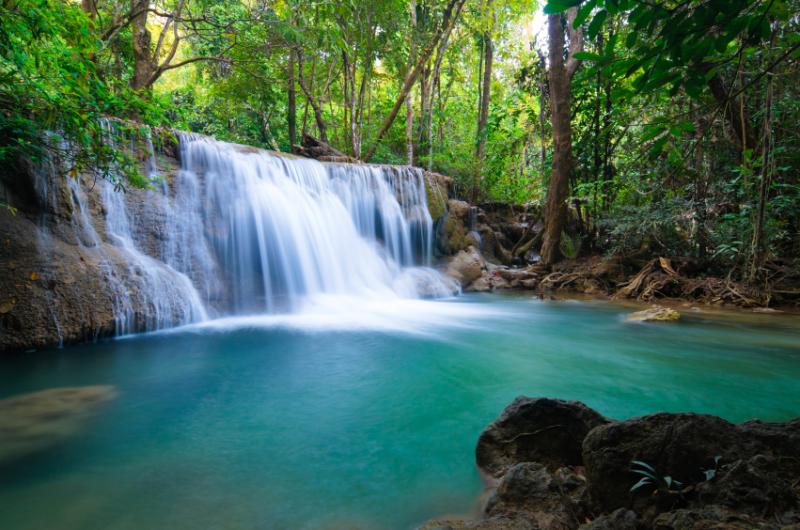 No list of magical places in Thailand would be complete without the inclusion of a truly mystical waterfall, which is why the Erawan Waterfalls are a must-see.
The stunning cascading waters of Erawan National Park (located in the Kanchanaburi Province) are embroiled in Hindu mythology and make for a truly enchanting day-trip. The waterfalls are composed of seven tiers, and the lower pools are easily accessible for the whole family.
The perfect place for a few hours of swimming, exploring and enjoying nature, these waterfalls are surrounded by exquisite nature. Keep an eye out for monkeys in the lush jungle around you!
Essential Information:
Location: Tha Kradan, Si Sawat District, Kanchanaburi 71250, Thailand
Moo Ban Rak Thai
For those truly looking for something new, the little village of Moo Ban Rak Thai is among the most unique spots in Thailand. It's a taste of genuine culture, which as of yet has hardly been touched by the tourism industry.
A Chinese-style settlement which borders an incredibly picturesque lake, it is undoubtedly worth visiting for anyone around the Mae Hong Son area. If you're looking to get away to a village which feels like it's at the end of the earth, the village of Ban Rak Thai lake is a good place to start. Be sure to try the delectable types of tea on sale!
Essential Information:
Location: Mok Cham Pae subdistrict, Mae Hong Son, Thailand
Wat Rong Khun – The White Temple
Like something from a fairy-tale, the surreal White Temple is undoubtedly one of the most magical places in Thailand. It's unmissable!
Located in Chiang Rai, you'd be hard pushed to find a more creatively yet beautifully designed temple in the world. It's as much a work of art as it is a building, and the sheer attention to detail is what makes it uniquely gorgeous. Although not as ancient as many of Thailand's temples (it was in fact designed in 1997) it is every bit as sacred.
Essential Information:
Location: Lahaul-Spiti | Pa O Don Chai Subdistrict, Chiang Rai 57000, Thailand
Ratchaprapha Dam
Not far from Surat Thani province lies Ratchaprapha Dam, an incredibly scenic lake which will have you believing you are in a real-life movie!
Here, unique limestone karsts rise from the water like beautiful natural skyscrapers. The lake is truly stunning; it is worth booking a boat trip to take full advantage of the awesome views. Amidst the amazing sculptural rocks, it is also possible to visit floating huts and restaurants.
For those in search of true adventure, it is possible to take a swim, hike to nearby caves or hire a kayak to enjoy one of the most unique spots in Thailand. An unbelievably tranquil and beautiful location, this is one place you can't afford to miss!
Essential Information:
Location: Khao Phang, Ban Ta Khun District, Surat Thani 84230, Thailand
Kluai Beach – Blissful Seclusion
Famed for gorgeous coastlines, many of Thailand's beaches are now popular tourist attractions. For those looking to avoid the crowds, Koh Kood is home to a number of breath-taking beaches which as of yet remain relatively well-kept secrets.
Despite being Thailand's fourth biggest island, it is barely developed for tourism, meaning there are no ATM's or 7/11's insight. Whereas the coastline can be rocky and scrub-like, it is dotted with completely unspoilt beaches which you can enjoy in privacy and tranquillity.
Kluai beach is the ideal spot to get-away-from-it-all and enjoy the sand between your toes without the hustle and bustle. One of the most unique spots in Thailand, the clear waters and picturesque coastline will make you wish you never had to leave.
Essential Information:
Location: Koh Kood, Trat, 23120 Ko Kood, Thailand
Pang Sida National Park – For Real Life Fairies
What makes Pang Sida National Park so special? A slice of natural paradise boasting luscious tropical forests, the park contains a secret – it is home to thousands upon thousands of butterflies.
Between May and September, over 400 species of these delicate yet ethereal creatures will gather in their multitudes around the park, often swarming around you, which makes Pang Sida National Park one of the most magical places in Thailand.
A must for butterfly lovers and nature photographers, the best time way to see them is by visiting early on a sunny morning. The national park has a number of waterfalls to enjoy, making for a truly otherworldly experience.
Essential Information:
Location: Muang Sakaeo, 27000, Thailand
Sra Morakot – The Emerald Pond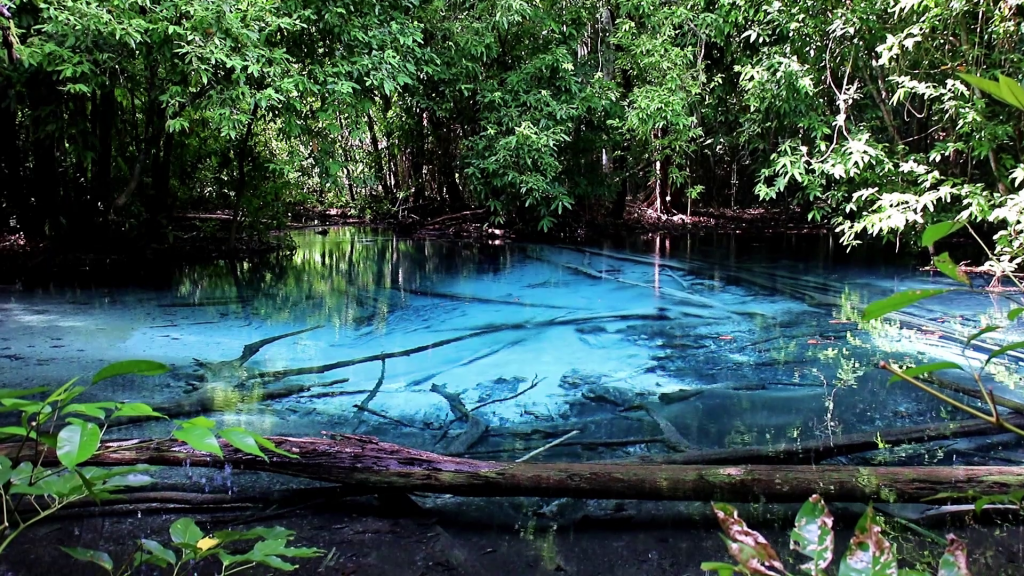 Holidaymakers and backpackers alike flock to the town of Krabi, drawn in by irresistible beaches, scorching temperatures and soft white sands. Make no mistake though – the Emerald Pond of Sra Morakot around the corner is one of the most magical places in Thailand.
Created from a natural water stream which runs from the nearby forest, this stunning jungle pool is undoubtedly worth a day trip. The crystal-clear lagoon is perfect for an enchanting dip and boasts unique photo opportunities.
Sra Morakot lies an hour or so drive outside of Krabi, so your best bet is to rent a car – arrive early to beat the crowds and be prepared with suitable footwear as the surrounding rocks can be slippery!
Essential Information:
Location: Kok Thai Sub-district / Sri Mahosot District – about 23km from Krabi.
Lake Nong Han – The Red Lotus Lake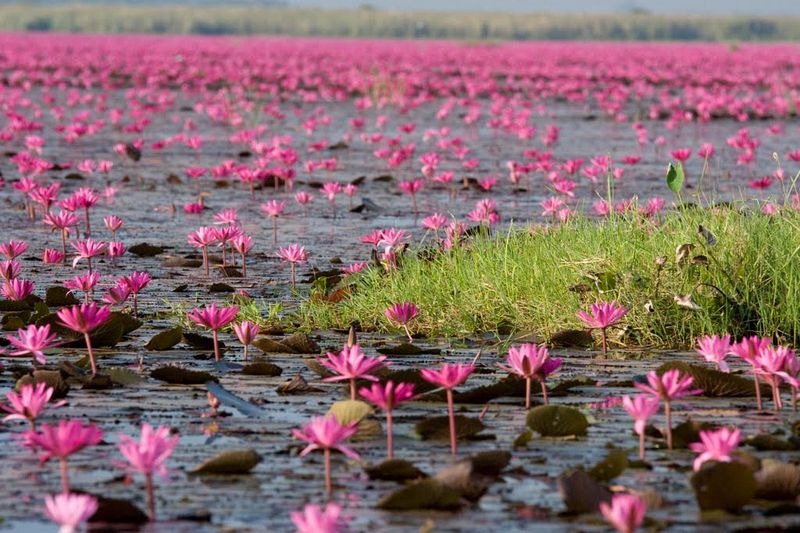 In the early mornings of January every year, a seemingly normal lake in Udon Thani becomes one of the most unique natural attractions in Thailand.
Across 8,000 acres of Lake Nong Han explodes with beauty as a mass of red water lilies take bloom, spreading almost as far as the eye can see. It's no wonder that the lake is a popular destination for pre-wedding photo shoots – you can't help but feel a sense of romance and enchantment.
Even better, it is possible to hire a boat to get as close as possible to this spectacular natural attraction. Like many of the beautiful sights on this list, it is best to visit as early as possible to catch the flowers at their peak bloom. A truly unmissable sight!
Essential Information:
Location: Amphoe Mueang, Sakon Nakhon, Thailand
Feeling inspired? Start booking your magical holiday now with this list of our favourite poolside villas for less than $230.