If you've already traveled to Bali, then you won't require a detailed explanation as to why the Island of the Gods so frequently ranks as one of the most romantic destinations in the world. This is absolutely true that you can find a vast variety of romantic things to do in Bali. It's a land where natural treasures harmonize with exceptional accommodation and dining venues to establish the perfect romantic setting. Thanks to its gleaming white sand beaches, glistening rice terraces, and misty mountain lakes, Bali has long been a favorite location for the honeymooners – and it's just as popular with couples looking to revitalize the passion in their relationships, too.
There is a plethora of ways to forge fond memories on this stunning isle, whether you're an active couple keen to bond over exhilarating and adventurous pursuits or a pair who would rather cement their love by indulging in a candle-lit meal under the stars. Our romantic Bali guide lays out ten of the best things to do for couples looking to reignite the passion in their relationships.
1. Couple's Jacuzzi at Tegal Wangi Beach
One reason the Island of the Gods will reignite the spark in your marriage is that you'll be presented with some of the world's most spectacular natural treasures, that will ultimately help you to forge memories of a lifetime with your loved one. Tucked away on the western edge of Bali's southern Bukit peninsula, Tegal Wangi Beach is one of the island's best hidden stretches of shoreline – and the perfect location to indulge in an afternoon of beach fun. In fact, this coastal setting is so romantic that it's even become a favorite destination for wedding photographers carrying out starry-eyed shoots on or before the big day.
One of our favorite features of this beach, in particular, are the small stone pockets that line the shore, each of which is filled with warm salt water to form an array of natural Jacuzzis. A long, relaxing soak with your husband or wife in one of these balmy natural tubs provides the ideal way to dial up the romance before the daily sunset show starts at around 6 pm.
2. Crafty Couples
If you're inspired by the expert craftsmanship of Bali's talented array of artisans, then fashioning your own jewelry as a couple could provide the perfect memento of your romantic trip. A new set of matching rings is also a meaningful way to reaffirm your love for one another, and creating the rings yourself adds a fun, personal slant as well.
Situated in Ubud, Chez Monique is one such venue where lovebirds can go to create their own jewelry. Visitors get an accelerated masterclass in silver craftsmanship, which is overseen by expert artisan and founder of Chez Monique, Wayan Sunarta. Classes tend to last about four hours, and by the end, you will have forged your personalized piece of jewelry – you can even create necklaces, bracelets or earrings for one another if you prefer. As well as coming away with a bespoke souvenir, you'll also have had the chance to enjoy a couple of hours' quality time with your loved one.
Essential info:
Web: http://chezmoniquejewelry.com/
Tel: 081 338 454 677
Address: Jl. Hanoman No 36, Ubud, 80571
Facebook: https://www.facebook.com/Chez-Monique-Jewelry-278910235517889/
Instagram: chezmoniqueubud
3. More than just a candlelit dinner
When it comes to romantic things to do in Bali, your journey would be incomplete without a trip to one of the island's world-class restaurants for an exquisite meal. Of course, a shared passion for food isn't the only important element when it comes to establishing the perfect romantic atmosphere – the setting also plays a key role.
If you're on the lookout for a romantic dining opportunity, then look no further than the 100 candle-lit dinner at Swept Away Restaurant at The Samaya in Ubud. This one-of-a-kind dining experience invites couples to take their seats by the Ayung River, in a setting illuminated by the light of 100 twinkling candles. An abundance of scattered fresh flower petals helps to complete the romantic atmosphere. A mouth-watering six-course tasting menu is then served, with your choice of wine to match the food. If this blissful evening sounds like the perfect treat for you and your partner, make sure to book it in advance as only three dining slots are available per night.
Essential info:
Web: http://ubud.thesamayabali.com/
Tel: 62 361 973 606
Address: Banjar Baung, Desa Sayan, Ubud, Bali, Indonesia
Facebook: https://www.facebook.com/thesamayaubud/
4. The classic date night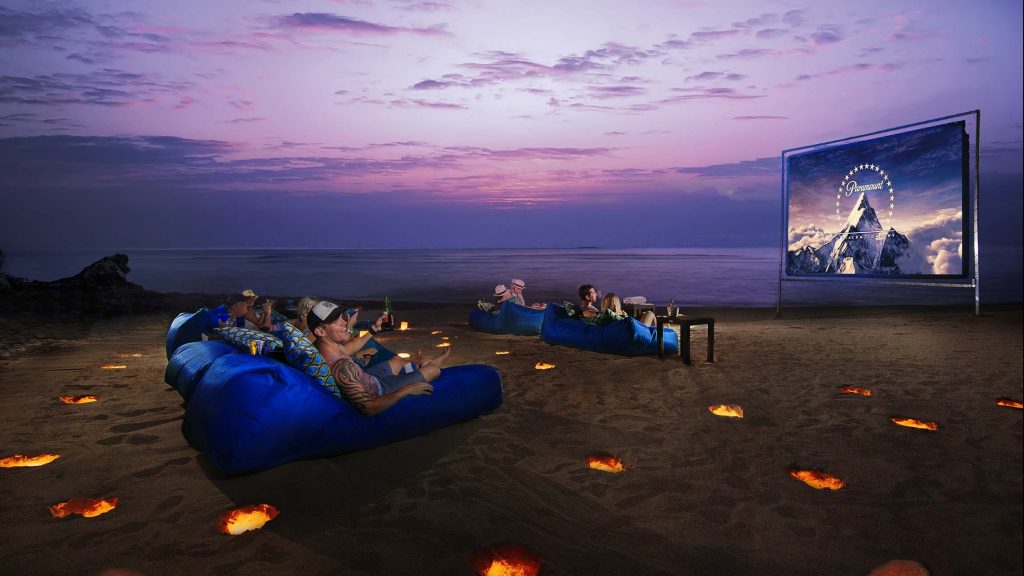 If you and your loved one are fans of the classic dinner-and-a-movie date night, then a Monday evening spent at the Karma Kandara's beach movie night could be the perfect way to rekindle the flame. Set at the foot of a craggy limestone cliff, the Karma Kandara occupies a wow-factor location, ideal for setting the romantic tone early in the evening. A private funicular takes guests from the top of the cliff down to the sand, enhancing the exclusive setting of the venue. No doubt, that this is one of the most wonderful romantic things to do in Bali.
For the ultimate romantic evening, you'll want to make sure you arrive after 6.30pm when the family-friendly movie starts. Grown-up movie screenings start at 9 pm – this is when couples can settle down into plush bean bag style chairs and watch a movie right on the sand. In addition to classic cinema treats like popcorn, there's also a sophisticated menu of snacks for couples to choose from including antipasto, sushi, and authentic Balinese satays.
Essential info:
Web: https://karmagroup.com/find-destination/karma-resorts/karma-kandara/
Tel: +62 361 848 2202
Address: Karma Kandara, Jalan Villa Kandara, Banjar Wijaya Kusama, Ungasan, Bali, 80362, Indonesia
Facebook: https://www.facebook.com/KarmaBeachBali/
Instagram: https://www.instagram.com/karmabeachclubs/
5. A moment with nature
If you and your loved one are both early risers, then sunrise dolphin watching off the shore of Lovina Beach is sure to create one of the most unforgettable experiences of your vacation. Situated on the northern fringe of the island, this is a laid-back spot that's ideal for couples that want to get away from the hustle and bustle of the well-trodden tourist track. Thanks to the calm waters off the coast, this spot has also become a favorite hangout for pods of dolphins – particularly around dawn. The striking black sand beach offers the perfect backdrop for romantic memories, too.
Dolphin watching tours are one of the most popular activities in the area and can be organized through several of the hotels in the region, including The Lovina. A typical morning tour starts at around 6 am and lasts for roughly two hours. With The Lovina's tour, for example, you'll be with an English-speaking guide who knows all of the best spots to go to catch a glimpse of these magical sea creatures.
Essential info:
Web: http://www.thelovinabali.com/en/
Tel: +62 362 3435 800
Address: Jalan Mas Lovina, Lovina 81151, Singaradia, Bali, Indonesia
Facebook: https://www.facebook.com/THELOVINA.Bali.Resort/
6. Superb sunset vistas
When it comes to dialing up the romance with your loved one, any one of Bali's sublime sunset experiences will fit the bill. The sun sinks behind the horizon on cue at around 6.30pm each day, and there are plenty of places on the island to simply gaze at the stunning spectacle and soak up the romantic atmosphere with your partner.
Of course, many of the best vantage points for enjoying the sunset are peppered along the western coast of the island. However, one of our favorite relaxed spots is on Jungut Butu beach on Nusa Lebongan island, a short boat ride from the south-eastern coast of Bali. A few drinks might help ease you into the date night mood, and there's nowhere better than The Deck Café & Bar, which is perched just above the beach. A well-positioned seat in this chic yet wonderfully laid-back venue will reward you with vistas of the sun setting behind Bali's Mount Agung in the distance – all in all, the ideal start to your romantic evening.
Essential info:
Web: http://thedecklembongan.com/
Tel: +62 828 9700 1771
Address: Beach boardwalk, Jungutbatu, Nusapenida, Klungkung Regency, Bali 80771, Indonesia
Facebook: https://www.facebook.com/thedecklembongan/
Instagram: https://www.instagram.com/thedecklembongan/
7. Relax and unwind
If you're reading this guide for inspiration as to how Bali can reignite the passion in your marriage, then you won't be surprised to find a couples' pamper session on our list of romantic things to do. One of our favorite venues for a soothing spa treatment is at the Body Temple Spa in the laid-back town of Canggu.
The spa menu is packed with an impressive array of scrubs, massages, and facials for couples that would prefer to personalize their pamper sessions. However, the Couples Retreat treatment also appeals. The 100-minute experience begins with a luxurious black tea and flower bath, which is followed by a 60-minute hot stone massage. Next up, there's an invigorating coconut body scrub that'll leave your skin feeling soft and sexy, before a shower to round off the treatment before date night begins.
To expand your list of other romantic SPAs to visit in Bali, have a look at our materials about the 10 amazing Bali spas you never knew existed.
Essential info:
Web: http://www.bodytemplebali.com/
Tel: +62 361 474 1019
Address: Body Temple Spa, Jalan Pantai Berawa, Canggu, Bali
Facebook: https://www.facebook.com/bodytemplebali
Instagram: https://www.instagram.com/bodytemplebali/
8. Cruising towards romance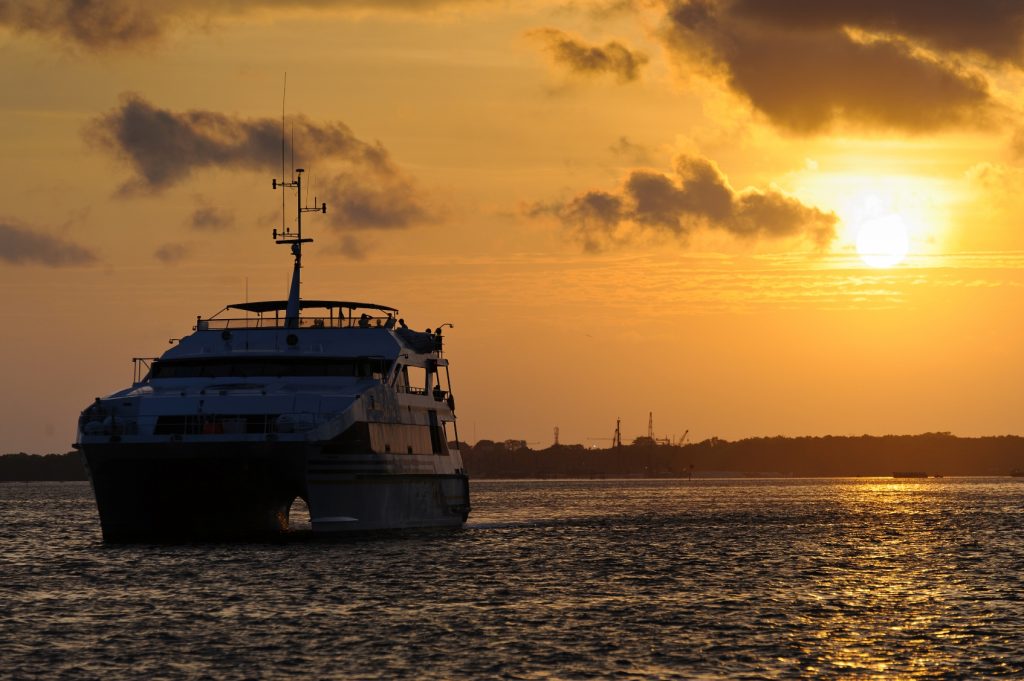 Bali is rich with wow-factor dining experiences, which is great news for couples keen to revitalize the passion by indulging a host of unforgettable holiday meals. Combine a dramatic Balinese sunset with a sumptuous meal aboard a luxury sea-going vessel, and you're onto a winner. After all, any vantage point overlooking the ocean as the sun sinks below the waves is going to be blissfully romantic.
Loved-up couples can enjoy a lavish five-course meal aboard the Aristocrat, a luxury catamaran. After drinks and canapes in the marina garden in Benoa Harbour, the craft heads off into the sunset, with a maximum of eight couples aboard – perfect for retaining the exclusive atmosphere. Once the sun has set, a canopy of overhead fairy lights illuminates the deck, helping to prolong the magical atmosphere until the craft docks at the end of the evening.
Essential info:
Web: https://www.balihaicruises.com/
Tel: +62 361 720 331
Address: Jalan Raya, Pelabuhan, Benoa, 80223, Benoa, Bali, Indonesia
Facebook: https://www.facebook.com/balihaicruises/
Instagram:https://www.instagram.com/balihaicruises_bali/
9. Bali on horseback
For some couples, a fast-paced activity is all it takes to re-ignite the romantic spark. Bali boasts plenty of options, and one of our favorites is horseback riding. Not only does this activity provide a wonderful opportunity to explore the island with your partner, but you're also seeing things from more of a local perspective, too. There's a number of stables on the islands offering horseback riding tours that wind their way through local villages, paddy fields and even across the beach, right through the surf.
The Kuda-P Stables are situated a short drive from Canggu, and are one such establishment that offers a horseback tour of the island. If it's your first time riding, then many of the rides here are catered towards beginners. Horses are individually selected to meet the riders' individual requirements, too. Plus, you can choose from a range of routes, long and short, through the rice paddies, villages or beaches.
Essential info:
Web: http://www.kudapstables.com/
Tel: +62 811 3939 011
Address: Gang Sabana, Banjar Kang Lang, Pererenan, Bali
Facebook: https://www.facebook.com/KudaPStable/
Instagram: https://www.instagram.com/kudapstables/
10. Romantic Hideaway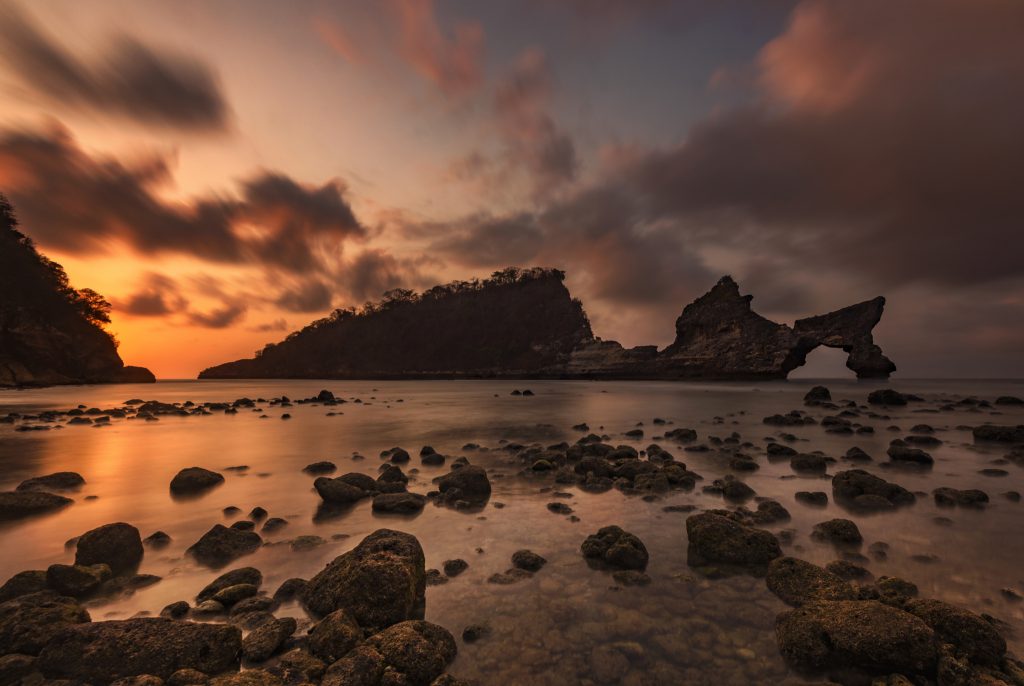 When it comes to romantic activities, one of the best way to enjoy Bali is the explore its hidden gems, far away from the beaten tourist track. After all, privacy is an essential element when it comes to turning up the romantic heat.
If you're on the lookout for secret romantic places to visit, then consider taking a day trip to Nusa Penida, an island off the coast of Bali. Situated on the east coast of the island is Atuh Beach – one of the most scenic stretches of coastline you'll have the pleasure of exploring on your vacation. The crescent-shaped beach is enclosed by the craggy cliffs of Juntil Cape to the left and the rocky island of Labuan Ampuak to the right. Luxurious white sand underfoot provides the perfect carpet to settle down and enjoy a romantic picnic with your loved one.
Essential info:
Address: Nusa Penida, Klungkung, Bekasi
How to get there: Head to Bali's Sanur Beach and catch a boat to Nusa Penida – they leave several times per day. Once you disembark, hire a taxi to take you directly to Atuh Beach.
Facebook: https://www.facebook.com/atuhbeachnusapenida/