When people talk about Thailand, they often describe the country's spectacular coastline, its vibrant party resorts, and its ornate temples found peppered across its southern landscape. Yet the north of Thailand also has plenty of impressive spots worthy of your time. In fact, northern Thailand is rife with gorgeous scenery, spectacular natural wonders, and unique landmarks, making the region one of the most magical places in Thailand. Step off the well-trodden path and experience the fairy tale side of the Land of Smiles. If you've been wondering what to see in the north of Thailand, look no further!
Sukhothai Historical Park
Hauntingly beautiful, Sukhothai Historical Park is one of Thailand's most magical UNESCO World Heritage Sites. The park is made up of the majestic ruins of almost 200 historic buildings and monuments, along with ancient walls and idyllic lily-covered ponds. Due to its sheer scale, around 70 square kilometres, Sukhothai can usually be explored in complete tranquility, meaning you can escape the crowds for some well-deserved rest in a truly splendid environment. Visit the ancient palace ruins of Wat Mahathat or take in the beauty of 13th-century temple, Wat Phra Pai Luang. If you're starting to put together ideas of what to see in Northern Thailand, then Sukhothai Historical Park should definitely make your list!
Essential info:
Address: Mueang Kao, Mueang Sukhothai District, Sukhothai 64210
Instagram: https://www.instagram.com/skt_his_park/?hl=en
Open: Daily from 6 a.m. until 6 p.m.
Doi Inthanon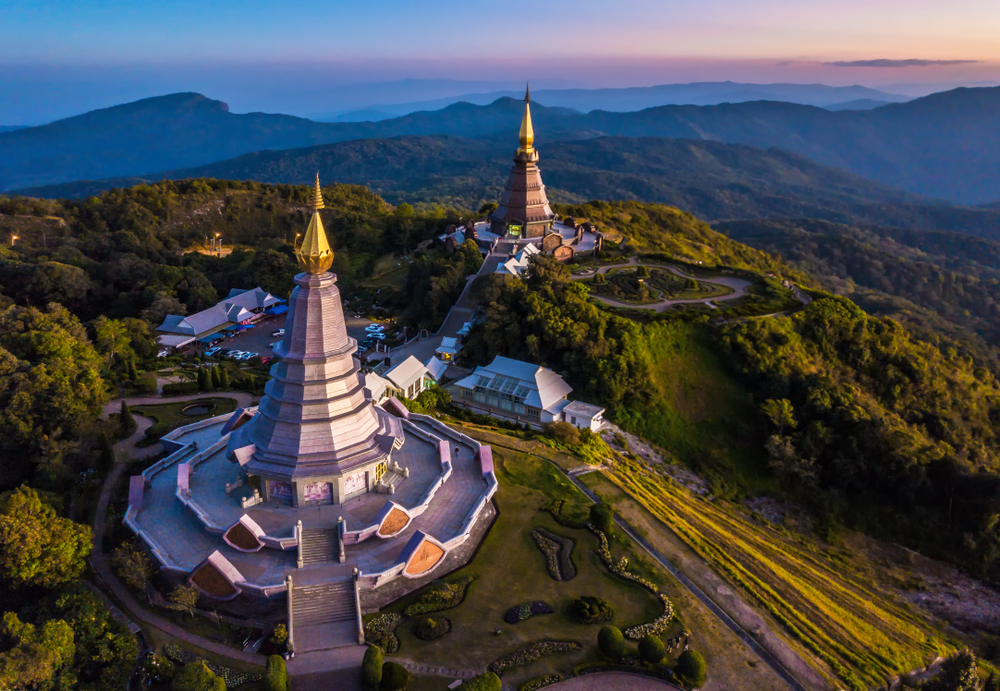 As the tallest mountain in all of Thailand, Doi Inthanon has much more to offer than just hillsides! Surrounded by breathtaking scenery, gorgeous local flora, and a diverse national park, Doi Inthanon stretches up to a height of 2565 meters. Explore the gorgeous tropical forests of Doi Inthanon National Park, hike through the traditional villages of the Northern Hilltribes and end your experience in time for sunrise from the summit of the mountain. Here, you can witness two authentic Thai Chedis, or Buddhist stupas, dedicated to Their Royal Majesties, the King, and Queen of Thailand. Positioned about 100 meters apart, the fairytale-like Chedis make for incredible photo opportunities and their vantage points offer unbeatable hilltop views. It is for this reason, and many more, that Doi Inthanon remains one of the most magical places in Thailand.
Getting there:
Doi Inthanon can be reached from Chiang Mai by yellow songtaew from Pratu Gate. The songthaew stops at Chom Thong at the southeast side of the park. From there, take a second songtaew to Doi Inthanon headquarters. The journey takes around two hours. Once you've arrived, hire a scooter for around 200 THB to experience the region to its full extent.
Mae Ya Waterfall
If you're wondering what to see in Northern Thailand, then an impressive waterfall could never disappoint. Often considered the tallest in the country, Mae Ya Waterfall is located inside Doi Inthanon National Park. As one of the most magical places in Thailand, Mae Ya stretches up to around 260 metres over 30-storeys. The waterfall is supposedly 100 metres wide, surrounded by breath-taking seasonal foliage, which makes it one of the most enchanting landscapes in northern Thailand. Take some time out of your busy schedule to experience a fairytale backdrop in a truly mesmerizing natural environment.
If you need somewhere to stay during your adventure, take a look at our private apartments in the heart of the region.
Essential info:
Address: Ban Luang, Chom Thong District, 50160
Getting there: Mae Ya is about 14 kilometres from Chom Thong Village, from which you can take a local bus or taxi to the waterfall.
Ban Pa Pong Piang Rice Terrace
Often described as one of the most beautiful rice terraces in all of Thailand, Ban Pa Pong Piang has to be seen to be believed. Stretching endlessly over the hillsides of the rolling Mae Chaem province, these gorgeous rice terraces benefit from mountainous surrounding and are often blanketed by morning fog, making for spectacular photos! Thought to be the region's best-kept secret, these terraces remain remarkably untouched, where quiet rice verandas can be explored in total solitude. If you're planning a trip to northern Thailand, be sure to add this beautiful place to your itinerary.
Getting there:
From Pratu Gate in Chiang Mai take a yellow songthaews to Chom Thong, which depart every 20 minutes and cost around 35 THB per person. From here, take a second yellow car to Mae Chaem, departing every two hours. The journey takes around one hour and 30 minutes.
Wat Phra That Doi Suthep
https://www.instagram.com/p/Bq-Jb_iAxqU/
If you still need inspiration for what to see in the north of Thailand, then add a unique temple to your schedule. Glistening in the sunlight, Wat Phra That Doi Suthep is perhaps one of the most fairytale-esque spots in all of northern Thailand. Like something from a magical children's book, the golden temple sparkles and shines from its prominent position on the hillside of Doi Suthep mountain. This sacred Buddhist monastery was constructed in 1383 and boasts an intricate 300-step staircase that leads up to the temple. Two giant carved serpents decorate its banisters. At the top, a gilded spire stretches up into the ski, surrounded by beautiful murals and shrines. Tranquil and entirely unique, this golden temple remains one of the most magical places in Thailand, and is well worth a trip!
Want to know more about this incredible country? Check out our dedicated guide to four epic road trips through Thailand!
Essential info:
Address: Mueang Chiang Mai District, Doi Suthep 50200
Getting there: Take a local red songthaew from Chiang Mai to Doi Suthep, approximately a 30-minute journey costing 40 THB per person.
Sai Ngam Hot Springs
https://www.instagram.com/p/BLlg3_dgvbx/
What could be more memorable than taking a warm bath outside and under the stars? Of all the magical places in Thailand, the Sai Ngam hot springs are truly remarkable. Less crowded than the more popular springs of Tha Pai, Sai Ngam is about 15 kilometres away from Pai and finds itself secluded in the heart of a tranquil rainforest. With inviting 34°C crystal clear waters, the hot springs are perfect for romantic moments or playing bathing, all in the depths of a natural Thai jungle. About as fairy tale as landscapes gets, Sai Ngam should be on every travelers bucket list! Why look any further for what to see in Northern Thailand?
Essential info:
Address: U-Mong, Mae Na Toeng, Pai District, Mae Hong Son 58130
Cost: 20 TBH per person
Open: Daily from 8 a.m. until 6 p.m.
Tham Lot cave
As Thailand's biggest, Tham Lot Cave covers 1,666 meters of impressive, craggy caverns. Of all the magical places in Thailand, this cave is one of the most unforgettable. With a wide gorge-like entrance, the Nam Lang River runs directly through Tham Lot, meaning you can kayak or walk through its unique tunnels. Huge prehistoric limestone chambers await, where colossal stalactites hang down like animal jaws. The cave is also home to numerous ancient archaeological discoveries, including carved wooden coffins from thousands of years ago, which are displayed in the aptly named Coffin Cave. To explore the cave, you must hire a gas lantern and a local guide or rafter. If you happen to be in the north of Thailand, then a trip to Tham Lot Cave is an absolute must!
Essential info:
Address: Tham Lot, Pang Mapha District, Mae Hong Son 58150
Web: https://www.aboutpai.com/lod-cave-pangmapha/
Getting there: Tham Lot can be reached by public transport or moped. Get the four-hour bus from Chiang Mai Arcade bus station (destination Mae Hong Son) and get off at Soppong/Pang Mapha. From there, it's a short taxi ride to Tham Lot.
Open: Daily from 8 a.m. until 5.30 p.m.
Phae Mueang Phi Forest Park
Located in forested Phrae, Phae Mueang Phi Forest Park is one of the strangest but most magical spots in northern Thailand. Years of erosion has caused giant rust-coloured rocks to melt away, creating odd formations across a unique sandstone landscape. Loosely translated as the City of Ghosts, this breath-taking forest park is an enchanting place, where ancient rocks tower over 15 metres high, forming shapes that resemble mushrooms and chimneys. The perfect spot to catch the sunrise or sunset, head here in the early morning or late afternoon, when the weather is cooler and the crowds smaller. If you're looking for a truly unique adventure in northern Thailand, this should definitely make your list!
Looking for more unique places in Thailand? Take a look at our guide to amazing untouched spots across the county.
Essential info:
Address: Phrae 4018 Rural Rd., Mueang Phrae, Amphoe Mueang Phrae, Chang Wat Phrae 54000
Getting there: Buses run to Phrae from Chiang Mai's Arcade station and take approximately four hours for around 110 THB. Buses also run from Bangkok's northern bus terminal and take eight hours for around 300 THB.
Pha Daeng National Park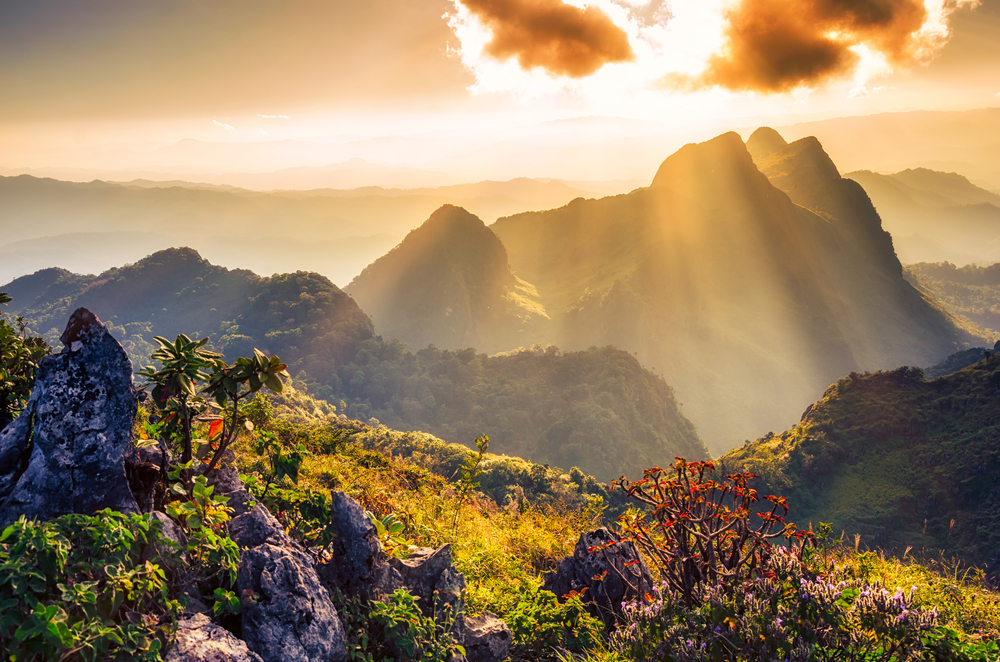 If you're still wondering what to see in the north of Thailand, add Pha Daeng to your list. Also known as Chiang Dao National Park, Pha Daeng is one of the most outstanding natural landscapes in the country. As one of Thailand's largest national parks, Pha Daeng covers 1,225 square kilometres of mountains, forests, and valleys. While you're exploring the beautiful and diverse terrain of this incredible park, be sure to stop by at Chiang Dao Animal Reservation, where wild boar, porcupines, and chipmunks can be spotted. In the park, the Yod Doi Tuay viewpoint is one of the most memorable and magical spots, offers incredible landscape views from the top of Yod Doi Tuay. With waterfalls and numerous caves awaiting you, a trip to Pha Daeng makes for a truly unforgettable adventure.
Make the most of your trip to the Chaing Mai region by booking one of our gorgeous and luxurious private villas.
Essential info:
Address: Muang Na sub-district, Chaing Dao district, Chaing Mai 50170
Getting there: The park's entrance is a few hundred metres off Route 1178, around 15 kilometres from Arunothai or 30 kilometres from Chiang Dao.
Phayao Lake
https://www.instagram.com/p/BovQ7QOnedD/
As the largest freshwater lake in northern Thailand, Kwan Phayao is a true example of natural beauty. A fairytale-like place with tranquil waters and idyllic surrounding scenery, Phayao Lake is the perfect spot for outdoor explorers. As well as a gorgeous mountainous backdrop, the lake boasts endless parklands for relaxed days away from the crowds. The lake's most magical feature, however, can be found at its centre. The remains of the partly submerged Tilok Aram Temple can be seen jutting out from the water. Built during the reign of King Tilokarat, the temple is celebrated on the full moon of the 3rd, 6th and 8th lunar months. On these dates, candlelit ceremonies take place at dusk, with locals visiting the temple by boat to give gifts of flowers, incense, and candles. These sacred events make for one of the most magical experiences you can have, in one of the most magical places in Thailand.
Essential info:
Address: Wangto Road, Tha Wang Thong, Muang Phayao, Phayao 56000
Getting there: The lake is around two and a half hours away from Chiang Mai by local bus (from the main arcade station). Alternatively, hire a motorbike and make the scenic journey yourself.
Pin for later: