Thanks to its bountiful land the Bali diet is eclectic, flavorsome and nutritious. The Indonesian island offers plenty of culinary gems, rich in spices, fish and fruits, making Bali cuisine some of the most exciting in all of Southeast Asia. With rice being a staple of almost every meal, many mistake the Indonesian diet for one that lacks diversity – but the island's celebrated national dishes prove this misconception wrong! If you're planning an adventure to these shores, or looking for a special diet to keep your body balanced and ready for the upcoming summer,  there are plenty of incredible foods that you simply can't afford to miss! Here, we explore the realms of Bali cuisine and help you maintain a well-balanced diet during your trip/in your daily life, with our seven-day nutrition plan.
The key focus of the Bali Diet refers to increasing in your body's intake of antioxidants and aiding in insulin regulation, which can be achieved by avoiding any types of canned and processed food, as well as giving up on excessive sugar and artificial sweeteners consumption. Overall, the core of the diet is constituted by fresh organic fruits and vegetables, hormone-free meat, seafood, nuts, beans, and seeds. So, are you ready to start this delicious journey?
Breakfast bowls & fruit plates
https://www.instagram.com/p/BVusqV8lDSr/
Proving that the Indonesian diet need not be dull, Balinese breakfast bowls are almost too good to eat. The island is known for its delicate and artistically presented breakfasts, rich in colourful fruits and topped with homemade granola. A smoothie in a bowl, these beautifully crafted treats feature everything from dragon fruit to honey and goji berries – and some are even served in a hollowed-out coconut! What better way is there to begin the day?
Another excellent breakfast option you should include in your Bali Diet is all kinds of fruit plates mixed with thin pancakes, jams, light syrups, and berries. This will add a twist to your diet and boost your energy level for the entire day while keeping your nutrition balanced and harmonized.
Nasi Goreng
An essential part of the Bali diet, Nasi Goreng is made up of perfectly seasoned fried rice (which you can replace with the steamed one), topped with an egg. As one of Bali's most famous dishes, this daily staple is often eaten for breakfast. Simple yet delicious, the fragrant rice dish consists of various vegetables, meats, and seafood, and comes in varying degrees of spiciness. If you're a lover of the Asian diet, this wonderfully simple dish should definitely make your meal-plan list!
Looking for detailed Balinese recipes to cook at home? Say no more!
Coffee
https://www.instagram.com/p/BWVXTFZFPir/
It might seem like a western obsession, but coffee is big business in Bali – and we're not just talking about Kopi Luwak (Luwak coffee)! The perfect way to start any day, artisan coffee shops across the island are serving up creamy flat whites, potent espressos and Asian-style matcha lattes. Now a key part of the daily Indonesian diet, heading to these shores is sure to leave you with a killer coffee craving!
While coffee is a highly important part of Bali diet, we are recommending to limit your caffeine consumption to once – twice a day, while introducing various tea combinations, or even more sophisicated options like Chai Latte.
Avo on Toast
https://www.instagram.com/p/BpTM-8MAs_J/
Thanks to its proximity to Australia, and its popularity with Ozzie travelers, Bali has adopted several of the country's popular foodie fads – including Australia's coffee addiction! One of the most joyful imports is smashed avo on toast, found on the menu of hundreds of cafes across the island. Freshly toasted bread is topped with seasoned avocado and sprinkled with feta cheese, seeds or chili flakes. Though not necessarily the most obvious addition to the Bali diet, this import is certainly one of the best!
Bali Smoothies
With the smoothie bowls highly popular in Bali, you can also supplement your diet with drinkable smoothies, which are just great for quenching your first and creating a vitamin boost. These are really easy to prepare: for example, you could mix coconut water, apple, banana, and papaya to come up with a healthy & organic refreshing drink that could substitute soda and packaged juice.
Chia Pudding
https://www.instagram.com/p/BsWk5ZmFtuV/
Pretty and artistically presented, Bali cuisine doesn't get much more enticing than chia pudding. Vegan and sugar-free, these little pots are perfect for a healthy breakfast or an after-dinner treat. Accompanied by fresh fruit or blended smoothie juice, chia pudding is perhaps the most colourful and fun thing you will eat during your Balinese adventure!
Sayur Urab
https://www.instagram.com/p/BnPfz5qBUhF/
Vegetarians need not feel left out, thanks to this staple of the Indonesian diet. Basically, a flavorsome salad, combining steamed vegetables with spices and toasted coconut, Sayur Urab (Long Bean Salad), makes for a wonderful side dish or a nutritious main meal. As one of the healthiest options in the Bali diet, this fragrant salad could please even the fussiest of the diner!
Sate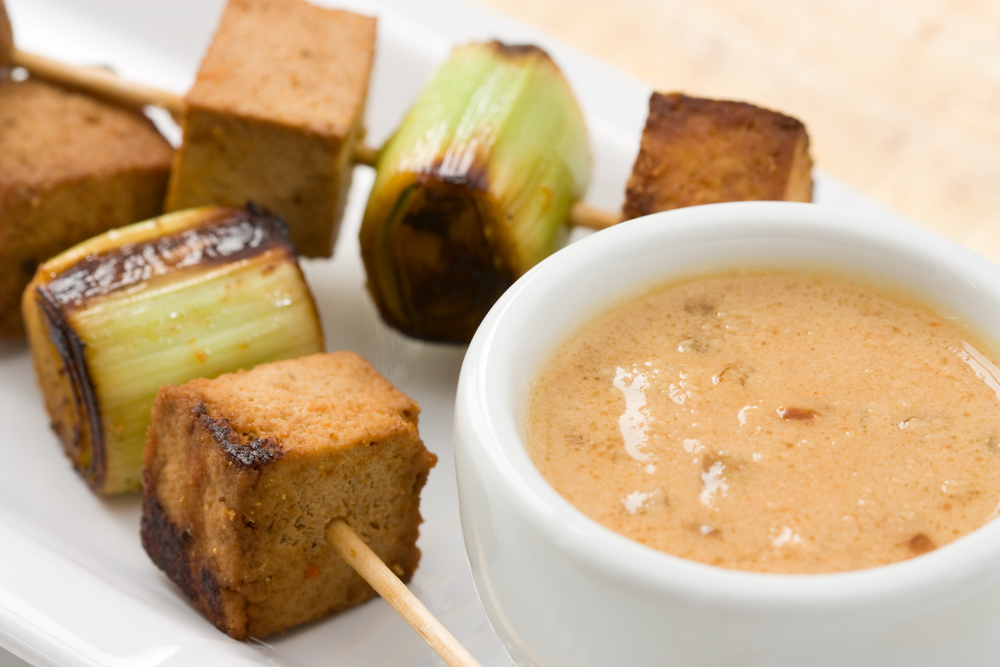 Whether fish or chicken, sate is a staple of the Indonesian diet. Blended with spices and lemongrass, the protein of your choice is diced, placed onto sticks and barbecued over coals. Usually served with rich peanut satay sauce, this indulgent Balinese dish is ideal for a light lunch. Vegetarians need not miss out either, since grilled tofu features heavily on sate menus across the island. Sate is also one of the most affordable dining options on Bali!
If you're on a tight budget, our guide to the best cheap eats on Bali will allow you to dine well for less!
Bebek betutu
Balinese Betutu is a must for any dinner. Consisting of smoked, steamed or roasted duck, this national specialty is perfectly seasoned and smothered in a sticky, sweet glaze. Highly moreish, Betutu usually comes alongside steamed rice, pickled chilies and a spicy dipping sauce – the perfect recipe for a flavorsome evening meal. If you're wanting to explore the real heart of the Asian diet, then this dish is the one for you!
Black rice salads & bowls
Black rice bowls with salmon and avocado, black rice salad with spinach and sesame beans, baked cauliflower with black rice…the choice is limitless when it comes to various rice combinations in Bali. Similar to the poké concept, Balinese bowls should not necessarily be sweet and consist of fruits: on the contrary, you can use your imagination as much as you want, coming up with new combinations and recipes. Needless to mention, once in Bali, you will try all those dishes in the island's numerous healthy food cafes and restaurants.
For specific suggestions with ingredients- download our 7-days Bali Diet Nutrition Plan.
Bubur Injun
https://www.instagram.com/p/Bg3odoSAdik/
If there is one sweet treat we are to include in our Indonesian diet, it can only be the Bubur Injun. Made up of black rice cooked in coconut milk, this unusual looking dish can be served with fruit for breakfast or ice cream for dessert! Sticky, indulgent and truly unique to these shores, this sugary bowlful is well worth the calories and remains one of the most authentic Balinese delicacies
If all this talk of Bali cuisine has made you sleepy, check out our incredible hand-selected apartments, found dotted across Bali – the most spectacular spots for a truly memorable night's sleep.
Pin it for later: