Bali is the newest tourist hub of this world and everyone has to come to this place once if they want to be acknowledged as the truly dedicated travelers. While some people dig Bali for the excellent beaches and partying lifestyle, other come here to reach the internal equilibrium and total relaxation. However, the most inspired travelers within both groups know that there are certain benefits of choosing a holiday pool villa in Bali over an ordinary hotel room and search for the top options in this field. Feeling excited? Get the latest tips on where to stay in Bali in 2018!
Jimbaran
It used to be a small typical fishing village with a small market of Bali, but the tourism has developed it a lot. It is now a beautifully developed fun-loving destination for the travelers to enjoy their holidays.
The place is stuffed with 5-star hotels and a few luxury villas that you can rent, the famous millionaire's row is also here.
There is Regal Wangi Beach, Jimbaran Bay Beach, the fish market and the town itself is the main attraction of Jimbaran.
Villa Aiko – 4 bedrooms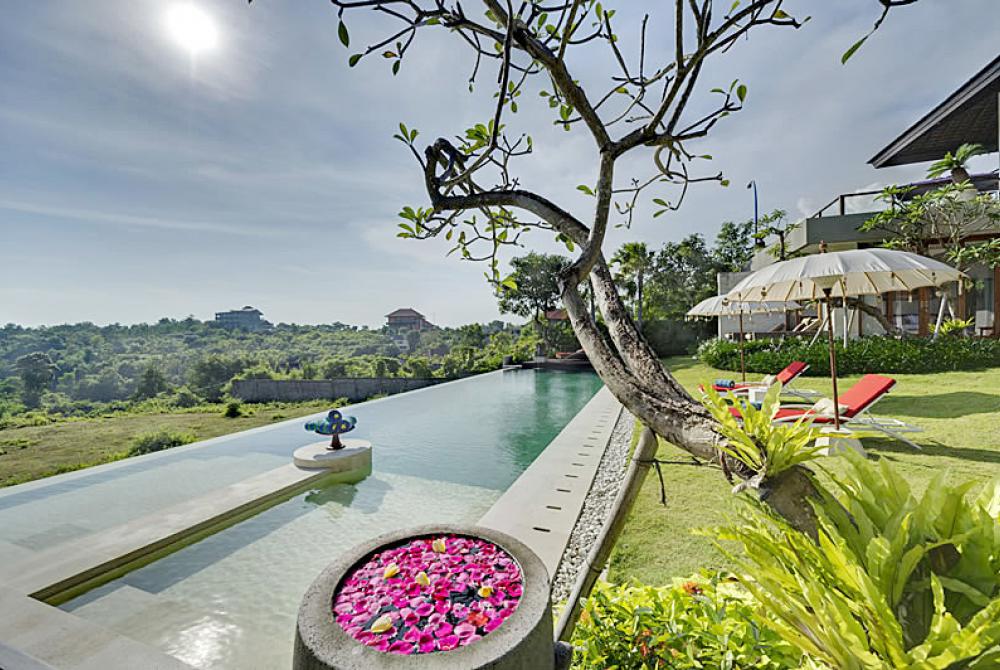 Rooftop jacuzzi, infinity pool, luxurious interiors and breath-taking views of the ocean – all this and more could be found at Aiko, that is definitely one of the hottest holiday villas in Bali.
This Four room villa has, facilities like lounge seating, AC, pool table, DVD player, Xbox, and Wii. Plus, you will get parking space, a spacious terrace, comfortable sun beds and a special bar area.
For more information, visit https://www.eatsandretreats.com/villas/villa3512.html
From USD 681/night
Villa Jamalu – 4 bedrooms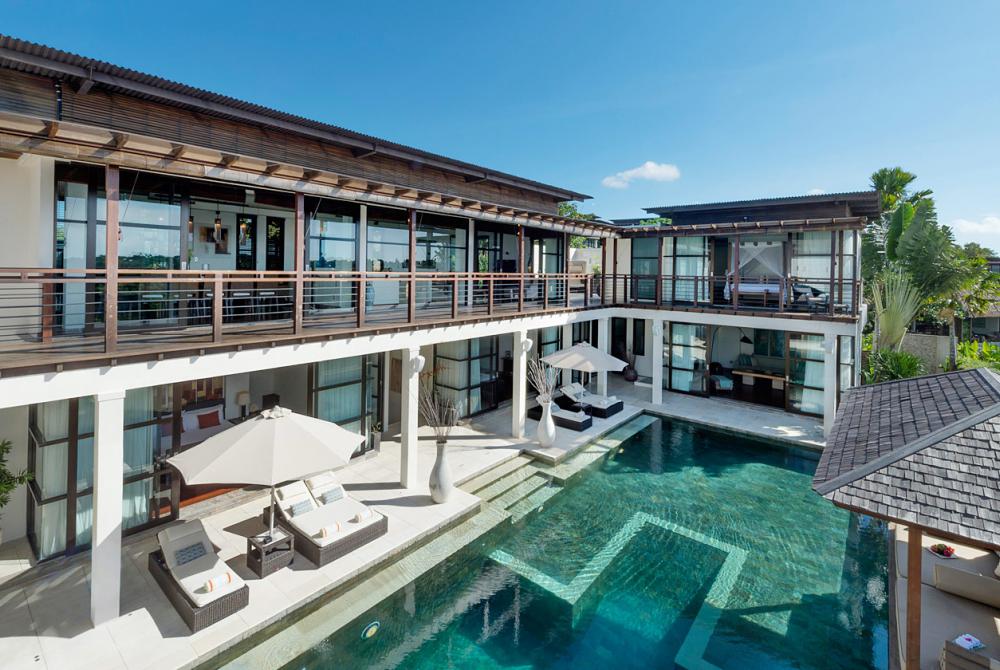 The three-story Jamalu villa is located a few minutes from the white sands of Jimbaran Bay and surprises its guests with mind-blowing views. The sunset chasers will be completely in love with this place!
The villa offers 4 spacious bedrooms, a unique outdoor area with sunbeds and a fabulous 15-meter saltwater swimming pool. Perfect for any kind of travelers – from couples to families, right?
For more information visit: https://www.eatsandretreats.com/villas/jamalu.html
Lovers of authentic experiences will be totally delighted with the Adenium villa that features Balinese elements in its design and represents a place perfect for meditations and unity with nature.
Its outdoor area with comfortable sunbeds, a luxurious swimming pool and breath-taking views of the ocean will help you to plunge in the pure relaxation and enjoyment.
For more information, visit https://www.eatsandretreats.com/villas/adenium-villa-bali.html
From USD 566 / night
Seminyak
Looking for a more serene, less crowded and equally enchanting alternative to the widely-popular beaches in Bali? Wondering where to stay in Bali in 2018? Well, Semiyank nestled at the Southern end of Bali is exactly what are you looking for! Brimming with alluring beaches, Semiyank offers the tourists a myriad of fun-filled activities that complete a vacation.
You can choose to ride the waves, or perhaps simply stick to swimming or soaking in the sun. You can also choose to wander in the nearby stretches that morph into the peaceful villages of Kerobokan and Umalas. Opt-in to stay at one of the beautiful Villas nearby and you will enjoy the vacation of a lifetime. Look at the following top luxury villas in Bali.
Villa Kinaree – 4 bedrooms
In the heart of Seminyak's exclusive Oberoi district, lies a palatial Balinese Villa known for its ideal location, incredible beauty, and astonishing luxury offerings. Villa Kinaree is just a stroll away from the beautiful Seminyak beach.
Seminyak's most sophisticated shopping destinations, dining places and best nightlife spot's are also at a very close distance to the Villa, which allows the guest to experience both peace and serenity along with fun and excitement.
For more information, visit https://www.eatsandretreats.com/villas/villa4848.html
From USD 795 / night
Villa Solo – 1 bedroom
An elite haven, known for its incredibly serene location and exquisite architecture, Villa Solo offers a pleasant stay to its guests and is a perfect option for couples traveling to Bali for a romantic getaway.
The Villa is extremely chic and cozy, while the staff is known to be really warm and welcoming. Plus, all the must-visit spots of Seminyak are just a short walk away from the Villa.
For more information, visit https://www.eatsandretreats.com/villas/villa3964.html
From USD 357 / night
Villa Kawi – 2 bedrooms
A tranquil hideaway flaunting an elegant tropical living, Villa Kawi is a delightful staying option for anyone visiting Seminyak.
Contemporary Balinese architecture that renders peace and privacy, combined with discreet professional service makes Villa Kawi an inviting option for the tourists. This property lists among the top luxury villas in Bali.
For more information, visit https://www.eatsandretreats.com/villas/villa3962.html
From USD 442 / night
Canggu
Here is the perfect spot where you can surf beaches, feel the Bohemian vibe and mesmerizing café culture of Bali! Feeling intrigued? If your answer is yes, then you should definitely plan a trip to Canggu!
You can go at Batu Bolong Beach to surf, explore the famous Tanah Lot, shop at Sunday market, and indulge yourself in relaxing meditation and much more. On top of that, you can pair your fun with a memorable and luxurious stay at a holiday home in Canggu.
Some of the best private and luxurious holiday homes in Canggu are:
Villa Bendega Rato – 3 bedrooms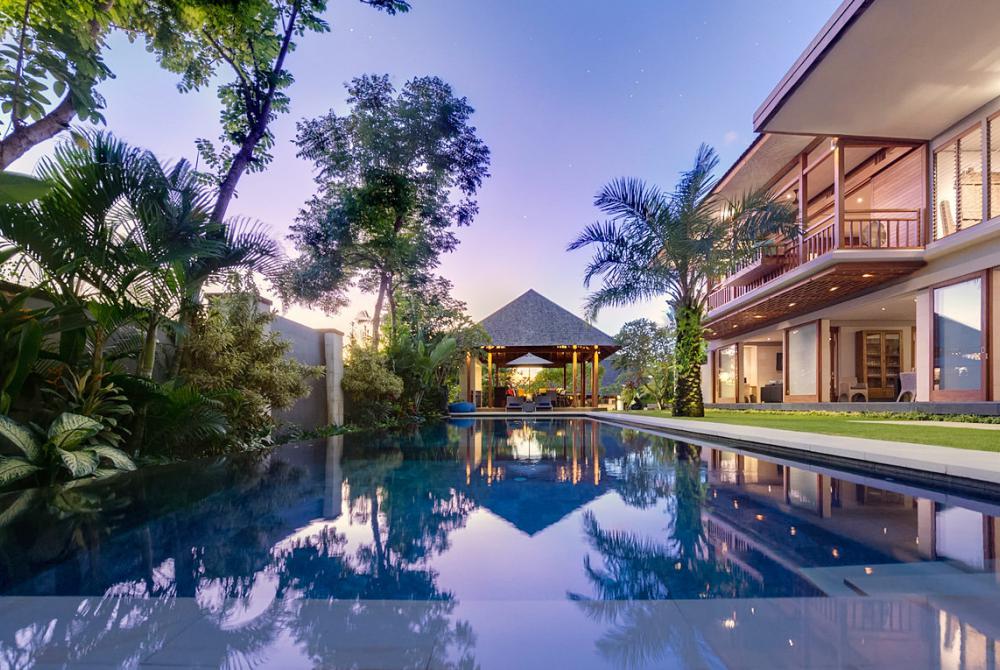 This gorgeous villa is surrounded by terraced rice fields and is just a few minutes' walk away from the beach.  The villa has three spacious bedrooms each with en-suite bathrooms and private balconies loaded with spectacular sunset and beach views.
Each villa has a private swimming pool surrounded by decking amenities like hammock and pool furniture. Also, you will get your personal housekeeping staff and chef. The living space and dining rooms are spacious and fully-furnished with modern amenities.
For more information, visit https://www.eatsandretreats.com/villas/villa4546.html
From USD 595 / night
Villa Asante – 4 bedrooms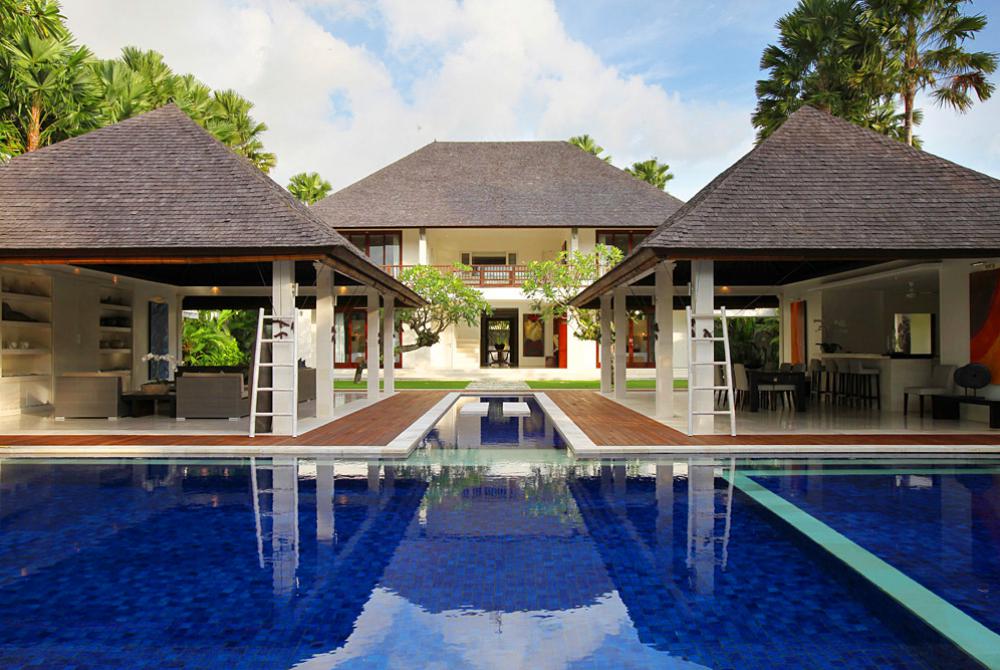 Located just 300-meters from Echo Beach, this villa comes with a tranquil setting for those who love bright lights and late nights. Echo Beach, one of the trendiest location in Canggu and, is famous for pounding surf and panoramic views.
You will enjoy all luxurious amenities such as personal chefs who will cook delicious traditional Balinese dishes for you. You will also get a housekeeping staff so that you can make the most out of your holidays.
For more information, visit https://www.eatsandretreats.com/villas/villa4539.html
From USD 895 / night
Villa Damai – 3 bedrooms
Villa Damai is located at Canggu Terrace amidst rice fields, banana plantation, and mature coconut trees. This beautiful holiday home is amazingly designed in contemporary styles.
The three-bedroomed villa is also surrounded by traditional Balinese villages so that you can watch the Bali's harvest activities from the privacy of your bedroom. Echo Beach is accessible at a very short distance from the villa. This is one of the best pool villas in Bali.
For more information, visit https://www.eatsandretreats.com/villas/villa4052.html
From USD 393 / night
Nusa Dua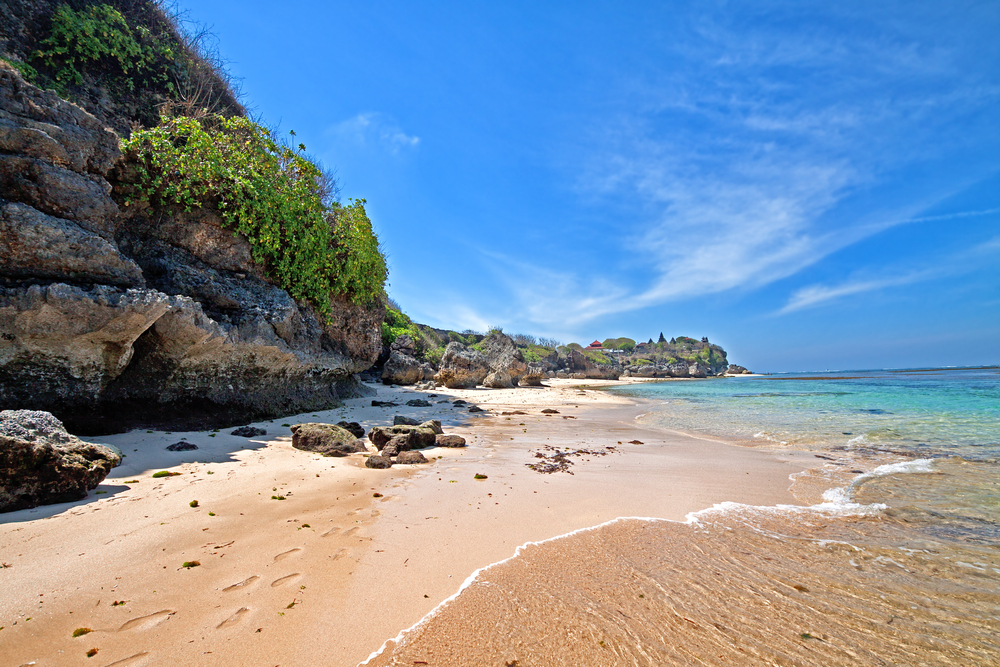 Nusa Dua provides its guests with an ultimate luxurious paradise with its white-golden sand beaches, gorgeous upscale shopping, natural richness and much more. Water sports are one of the main reasons why tourists flock to this place every year.
You can indulge in activities such as sea walking, flying fish, Jet Ski, swimming, surfing, snorkeling and many more. Visit The Pirate Bay restaurant to join Captain Jack Sparrow's crew, visit Devdan show to witness Indonesian culture or flyboarding like a pro at Nusa Dua.
Stay at any of the following best villas in Nusa Dua:
Villa Rose – 4 bedrooms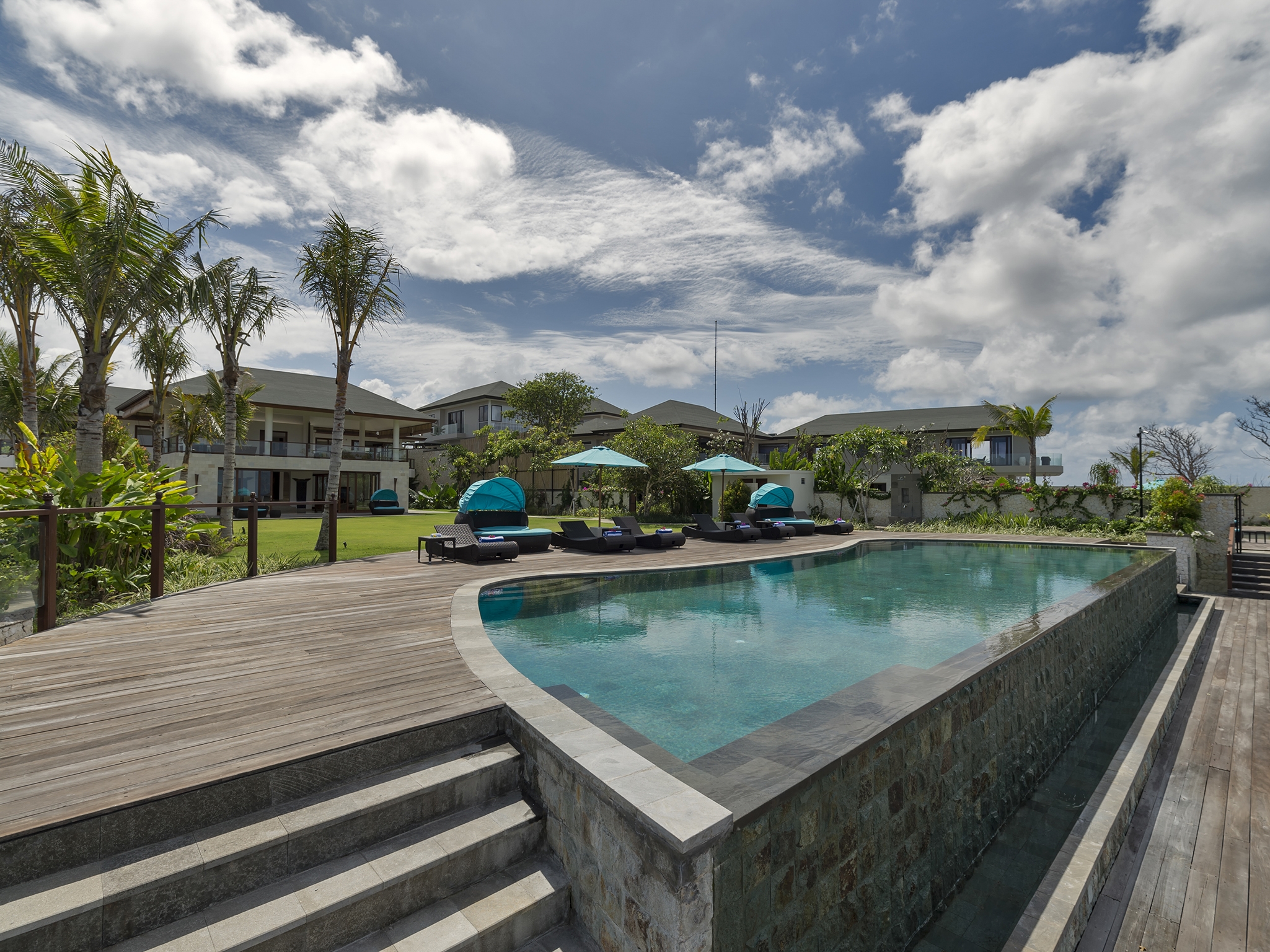 Nestled in the instant neighborhood of the crystal clear, reef-protected waters and pristine sands of Pandawa Beach, Villa Rose comes with a secluded and tropical setting. You can reach the beach from the villa by a road cutting its way through the natural and beautiful cliff.
This gorgeous villa is close to some of Bali's best surf beaches. The airport and attractions such as the sacred sea temple of Uluwatu and the New Kuta Golf Club are also at a very short distance.
For more information, visit https://www.eatsandretreats.com/villas/villa3883.html
From USD 1559 / night
Villa Marie – 6 bedrooms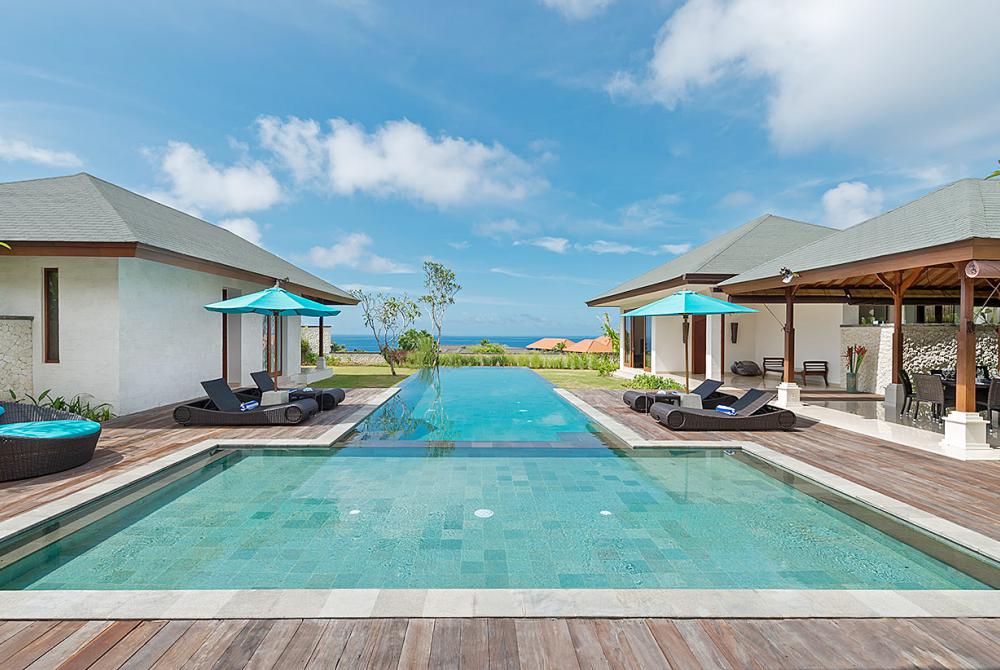 This beautiful holiday home is one of the three Pandawa Cliff Estate holiday homes. Like Villa Rose, Villa Marie enjoys a close proximity to the Beach, shopping centers, and restaurants.
You can enjoy a lot of water sports and adventures at this place. Besides these, Villa Marie is well-equipped with all home-like amenities that will make it an unforgettable vacation for you.
For more information, https://www.eatsandretreats.com/villas/villa3882.html
From USD 1675/night
The Pala – 6 bedrooms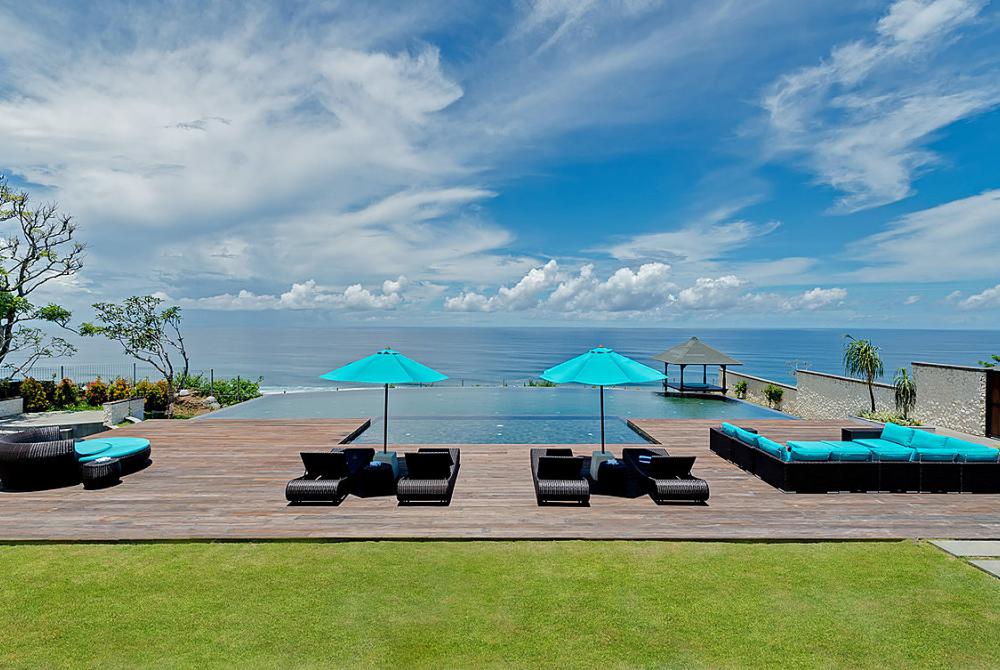 Boasting its secluded settlement at the end of Bali's southernmost tip, The Pala is one of the most luxurious villas for a comfortable stay and one of the top options for those wondering where to stay in Bali in 2018. This tranquil villa overlooks the vast stretches of the Indian Ocean due to its cliff-top setting.
You will enjoy all amenities in the villa, with spacious bedrooms and en-suite bathrooms with private swimming pool and personal housekeeping staff.
For more information, visit https://www.eatsandretreats.com/villas/villa3881.html
From USD 2,189