For discerning holiday-makers, sustainable and eco-conscious travel is becoming ever more prevalent themes. Essentially, traveling mindfully and responsibly means that you're doing your bit to respect and preserve all the distinct features and foibles that make a destination like Bali as unique as it is. This can relate to anything from environmental conservation, to improving the lives of the local community via sustainable tourism in Bali. Due to the growing number of visitors heading to Bali each year, resources are becoming increasingly stretched – which is why it's so important to travel responsibly, to preserve its natural and cultural highlights for future generations.
As a result of growing awareness regarding sustainable travel, more and more of those working in Bali's tourism sector are stepping up to do their bit to preserve the island and all its delights. In fact, it's now easier than ever before to minimise your lasting footprint on the island. In this article, we'll be taking a closer look at Bali's array of eco-conscious activities and attractions.
Mixing with the locals
One of the best ways to travel sustainably in Bali is to do your bit to channel money back into the local economy. By visiting family-run establishments, like Paon Bali cooking school, you do just that. Plus, immersing yourself in traditional Balinese culture is a great way to help preserve it for visitors in the future.
This establishment is run by Puspa and her husband Wayan in the village of Laplapan, close to Ubud. Wayan picks up class attendees from their place of accommodation, and brings them to the cooking school that's run out of his and Puspa's home. Guests learn the skills of Balinese cooking from Puspa, and will test out their newfound skills by preparing an array of dishes, from Sate Languan to Balinese soup. Thanks to the growth of their business over the years, Wayan and Puspa have been able to employ members of their local community, therefore giving an excellent boost to the economy and well-being of local people.
Essential info:
Web: https://www.paon-bali.com/
Tel: +62 81 337 939095
Address: Paon Bali Cooking School, Laplapan Village, Ubud, Gianyar, 80571, Indonesia
Facebook: https://www.facebook.com/pages/Paon-Bali-Cooking-class-ubud/
Giving back
Giving a little something back to the local community is also a great way to boost your holiday's sustainability credentials. There are plenty of local charities based in Bali, ranging from animal shelters to education programmes like the Bali Children's Project. The scheme is dedicated to helping children in Bali escape poverty, sickness and hardship via education.
While the benefit of short-term voluntary positions with children is debatable, there's a host of other opportunities to contribute to the good work this charity does. Some visitors choose to make one-off donations to buy school supplies or even mattresses for children, while others choose to sponsor a child to enable them to continue their education. Either way, you're having a direct impact by helping Bali's poorer families.
Essential info:
Web: http://balichildrensproject.org/
Tel: +62 361 976 189
Address: Bali Children's Project, Post Box 243 80571, Ubud, Gianyar, Bali, Indonesia
Facebook: https://www.facebook.com/BaliChildrensProject/
Eco-friendly accommodation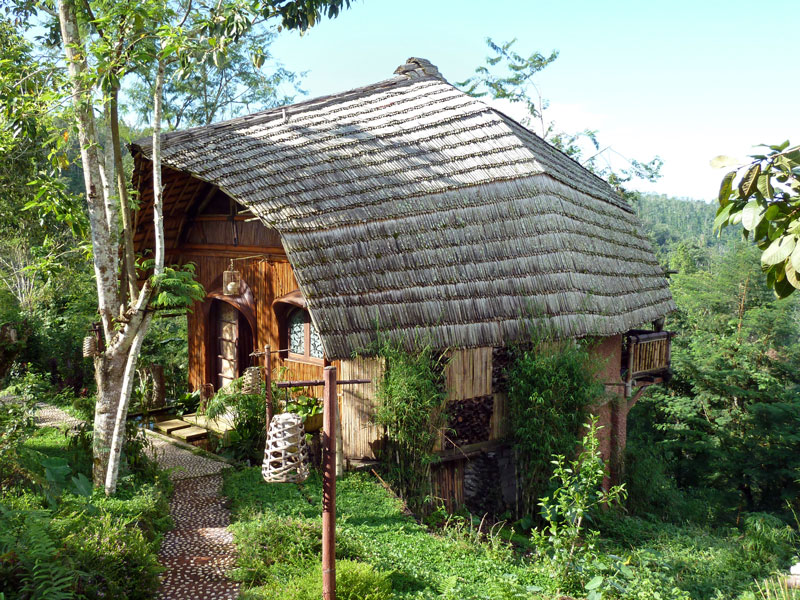 With many guests putting a strain on the same resources, some of Bali's larger resorts and hotels are guilty of harming the island's environment. If you're keen to travel eco-consciously, then it's important to pick out your accommodation carefully. Staying in locally-run establishments, for example, will give a direct boost to the local economy.
If traveling green is a top priority, Bali is also home to an array of eco-resorts that are designed specifically to minimise their impact on the environment. One such example is the Bali Eco Village, near the village of Pelaga, 45km from Ubud. The resort was constructed by local people, using natural materials. In fact, the buildings have been created almost entirely from bamboo, using traditional Balinese construction techniques. The water for cooking, bathing and drinking is all locally, sourced. Plus, the water used in the organic farm garden, which provides the veggies for the resort's restaurant, is recycled. The resort also boasts its own waste management system that collects and recycles the waste.
Essential info:
Web: http://www.baliecovillage.com/index.php
Tel: +62 813 5358 2797
Address: Bali Ecovillage, Banjar Dinas Lawak, Belok/Sidan, Kabupaten Badung, Bali, Indonesia
Shopping local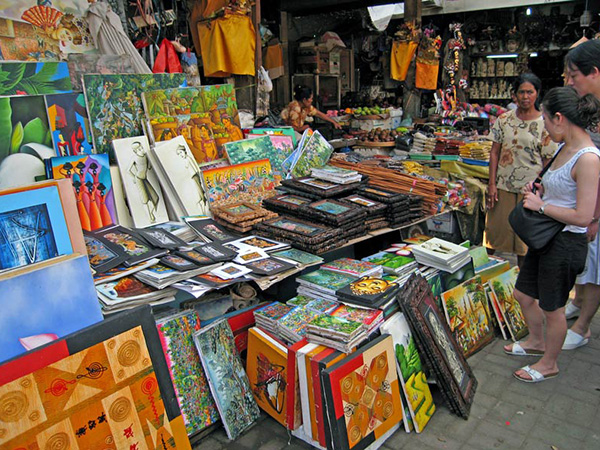 With a wealth of independent clothes, handicraft, and antique boutiques to be discovered throughout Bali, it's easy to shop locally whilst on vacation. Of course, shopping locally could mean anything from buying fresh groceries at the local market to purchasing souvenirs crafted by local artisans.  Ultimately, shopping locally assists the long-term sustainability of the local economy.
Located opposite the Puri Saren Royal Ubud Palace, the Ubud Art Market is a fantastic place to shop for souvenirs. The majority of the goods for sale here are produced by artisan and craftsmen from neighboring villages, including Pengosekan, Tegallalang, Payangan and Peliatan. There's an eclectic array of goods on offer, from handmade woven bags to brightly coloured original pieces of artwork. There are also silk goods, items of clothing and an array of Balinese knick-knacks, ideal for souvenirs for loved ones back home. By buying locally-produced items, you're supporting that industry and helping to preserve traditional manufacturing techniques for years to come.
Essential info:
Address: Jalan Raya Ubud main road, opposite the Puri Saren Ubud palace
Locally-sourced ingredients
Eating locally-sourced produce while you're in Bali is a fantastic way to support nearby farmers and to enhance the sustainable tourism in Bali. Chowing down on locally-produced vegetables will also give you a good idea of the typical produce that goes into your average Balinese diet, as opposed to less authentic, imported items.
With a menu based on fresh, locally-sourced produce, Locavore is one of Ubud's most sought-after dining spots. By working closely with local farmers, Locavore supports sustainability within the community. 95% of the ingredients used in its dishes are Indonesian, and the restaurant's own garden provides many of the herbs and vegetables. All the meat on the menu is from free-range animals that were raised on nutritious, natural diets. As if that wasn't enough, the restaurant itself is constructed from recycled wood and features solar passive panels, reducing the establishment's electricity consumption by 50%. The food also just happens to be exquisite.
Bear in mind that Locavore is one of Ubud's most popular dining spots – so you'll need to book at least two weeks in advance for a table.
Essential info:
Web: https://www.locavore.co.id/
Tel: +62 361 908 0757
Address: 10 Jalan Dewi Sita, Ubud, Bali, Indonesia
Facebook: https://www.facebook.com/RestaurantLocavore/
Do it yourself
If Bali's locally-farmed product and agricultural sector is something you're particularly interested in, then don't miss out on the chance to visit the Side by Side Organic Farm on the eastern side of the island. This establishment is focussed on improving the lives of the local Balinese community by providing a space for local artisans to sell their expertly-produced foods in the market garden.
The farm offers a range of opportunities for volunteers, and tasks can involve anything from picking fruit in the farm's orchards and planting rice, to feeding the cows and pigs. All the food served in the farm's restaurant is healthy and fresh, and a meal here provides a fine opportunity to gaze out over the stunning Balinese landscape. Volunteers residing at the farm can also use it as a base for their eco-conscious exploration missions, which may include hiking, biking or even climbing.
Essential info:
Address: Side by Side Organic Farm, Padang Kerta, Kerangasem sub distruct, Karangasem Regency, Bali 80811, Indonesia
Facebook: https://www.facebook.com/Side-by-Side-Organic-Farm-331639733544054/
One for the kids
If you're traveling as part of a family group, but are keen to grab some much-needed romantic time with your partner, how about packing your kids off to camp for a day or two? Bali's Green Camp is a fantastic destination for younger travelers, providing a golden opportunity for them to enhance their knowledge of nature and sustainability in a vibrant, fun setting.
In addition to building little ones' environmental awareness, Green Camp is a whole lot of fun. There's a host of activities included in the programme here, including team-building games, night time safaris, and creative outdoor activities. Youngsters will also have the chance to explore Bali's spectacular rice paddies and even make organic chocolate using cacao harvested from the camp's very own trees. There are day and overnight camp programmes available, in addition to three and five-day family camps for adults that want to get in on the action, too.
Essential info:
Web: http://www.greencampbali.com/
Tel: +62 851 0009 3310
Address: Jalan Raya Sibang Kaja, Banjar Saren, 80352, Abiansemal, Bali, Indonesia
Facebook: https://www.facebook.com/greencampbali
Pamper yourself
Another way to make the most of Bali's splendid array of natural produce is to pamper yourself at one of the island's organic spas. Plus, with the increase of chemicals used in many of today's skincare products, the opportunity to indulge in some treatments at a locally-run establishment that uses environmentally-friendly products is too good to miss.
Cantika Spa near Ubud is one such venue. Established by Ketut Jasi in 1997, the spa grows and produces 100% of its own products. The ingredients are then handmade into blissful beauty products by Jasi using traditional Balinese techniques. In addition to the wealth of traditional treatments you can indulge in at Cantika, there's also the chance to take part in a workshop where you get the chance to create your own set of fragrant lotions and potions. There's also the chance to go on a tour of Cantika's organic garden.
Essential info:
Web: http://www.cantikazestbali.com/
Tel: +62 361 970 135
Address: Jalan Raya Katik Lantang, Penestanan Kelod, 80571, Gianyar, Bali
Facebook: https://www.facebook.com/cantikaspa/
Explore on two wheels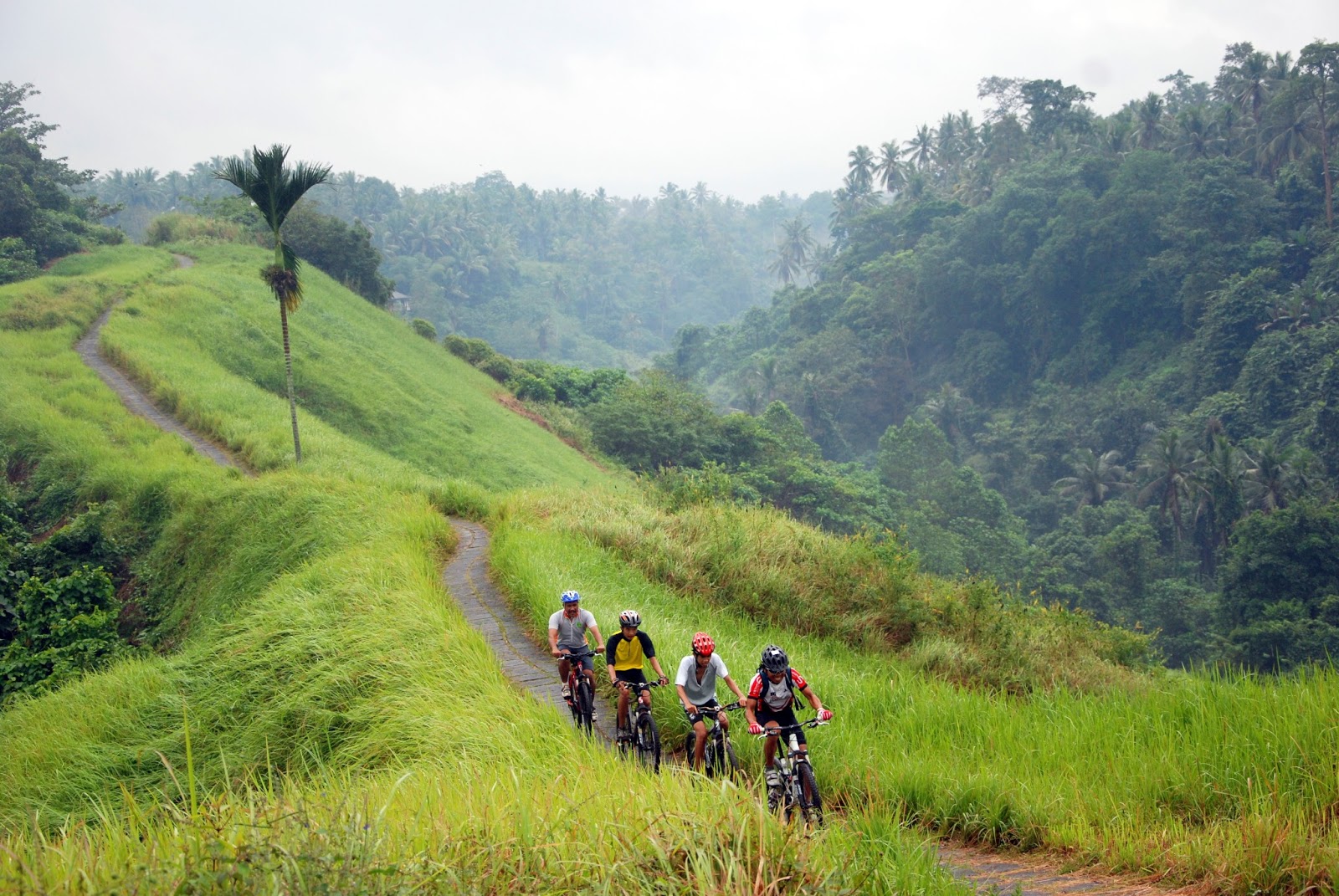 Rather than hiring a car or moped to explore all of the beautiful nooks and crannies of Bali, discovering the island on a bicycle tour is a significantly more eco-friendly option. Bali Eco Cycling, which is run as part of Bali Eco Tours, offers a selection of packages to help visitors discover the real Bali, far away from the hustle and bustle of busy resort towns.
A selection of tours is available depending on your age and level of fitness. Typically, routes run through the stunning emerald green heartlands of Bali, winding through lush forested areas, coffee and cocoa plantations and small, secluded villages. Along the way, the guide will teach you about different aspects of traditional Balinese culture. Tours also include stop-offs at various points, including Balinese homes, plantations, and rice paddies. Visitors can even learn about and join in with the planting of the rice. All in all, this is an excellent day out for those that want to immerse themselves in authentic, local Balinese culture.
Essential info:
Web: http://www.baliecocycling.com/
Tel: +62 813 3742 0420
Address: Jalan Raya Pengosekan, 80571, Gianyar, Bali
Facebook: https://www.facebook.com/baliecotours/
Up close with nature
Any guide to sustainable tourism in Bali would be incomplete without a mention of one of the island's spectacular national parks. The island's forests boast some of the island's most diverse, abundant landscapes, providing a rich habitat for animal and plant life.
Situated in Bali's north-western corner, Taman Nasional Bali Barat (West Bali National Park) covers an area of 190km2, with a further 580km2 of protected reserve to the east. It accommodates an array of different landscapes, from primary monsoon forests to mangroves. The park also covers protected marine areas, too. Only a small area of the park is open to visitors, and you can hire a guide to take you on one of the hiking trails. The Tehal Bunder trail is popular with keen bird watchers, and takes approximately two hours. The Gunung Klatakan trail is more physically challenging, and takes around eight hours. Look out for wild boars, monkeys, and Menjangan deer.
Essential info:
Getting there: You can access the park by driving along the north coast road from Lovina or Pemuteran. When you arrive, check in at one of the two park offices to buy the necessary permits and arrange your guide.
Facebook: https://www.facebook.com/ticbalibarat/
Want to learn even more? Check this article about the most reliable animal sanctuaries and rescue centers and learn how to contribute to the conservation of wildlife in Bali.