The exquisite beauty of corals and diverse variety of marine species ensure that beginners and expert divers alike can enjoy many of the top diving experiences in Bali. The island is renowned for vibrant and colourful underwater life, with creatures great and small gracing its tropical waters.
Diving is one of the many reasons that countless people have fallen in love with the 'Island of the Gods' – after all, you should not miss exploring some of the finest scuba-diving spots in the world whilst you're in the area. Here's our guide to the most thrilling diving sites in Bali!
Liberty Ship Wreck, Tulamben
Thirty meters offshore of the northeast Balinese coast lies the wreckage of the USS Liberty, a World War II Cargo ship. One of the most famous and accessible wreck diving sites in the world, it is suitable for divers of all abilities.
Liberty Ship Wreck is home to dramatic coral reefs, where schools of bump head parrot fish and jackfish regularly swirl in the early hours of the day, which make for an amazing sight during the less crowded morning dives.
Perfect visibility and a diverse species of marine life make Liberty Ship Wreck one of the top diving experiences in Bali and an excellent starting point for divers of any level all year round.
Manta Point, Nusa Penida
Meeting the rays at Manta point promises to be a breath-taking experience. For scuba divers in search of these fascinating ocean giants, this spot in Nusa Penida promises to be one of the top diving experiences in Bali.
Although it is possible to dive all year round, your best chance to spot these unique creatures will come between March and June. Often you will find them having their skin cleaned by tiny lip fish at 'cleaning stations' within the relatively shallow waters. With luck you might catch five or six at a time, performing an intricate underwater ballet. Don't be scared, as Manta Rays are absolutely harmless – however, you should still be careful as these creatures are really big.
Seraya Secret Dive, Tulamben
If you've never heard of muck-diving before, don't be grossed out by the name! Amidst a silty seabed of black volcanic sand off the coast of Tulamben lies an incredible marine ecosystem – the perfect home for many species in the early stages of their development.
This makes the Seraya Secret Dive one of the top diving experiences in Bali (and indeed the world) for macro underwater photographers, with a little patience you can hope to spot pipefish, nudibranchs or seahorses among other delicate species.
Also highly recommended is the opportunity to embark on a night dive, as there are many incredible and unique species who are only active after dark. From the popular clownfish to the unusual mimic octopus and everything in between, this dive site is an oasis of the weird and wonderful.
Crystal Bay, Nusa Penida
Recommended for more experienced scuba divers, Crystal Bay in Nusa Penida has some of the clearest waters you can expect to find among diving sites in Bali. For those who are skilled enough to manoeuvre the current down to depths of 30m, the reward of the famous Mola Mola (or oceanic sunfish) awaits.
Leopard and Whitetip Sharks are also amongst the larger species you ought to be on the lookout for, as well as the famed Whale Shark. Appearing less frequently around Indonesia in recent years, this gentle ocean giant has still been known to show up on dives around Nusa Penida, with confirmed sightings this year.
Ceningan Channel, Nusa Ceningan
One of the best diving spots in Bali is located on it's 'sister island' of Nusa Ceningan, home to some stunning coral and underwater ruins – including an unusual and mystical underwater Buddha. This Bali diving site was created in order to help the conservation of coral reef and is attracting adventure seekers from all over the world.
Better known to the locals as the Pemuteran Temple Garden, the easiest way to find the Buddha is to hire a local guide with a fishing boat – swimming into the current can be a battle due to the tide and the plethora of local boats.
Don't let that put you off! Perfect for divers looking to get off the beaten track, finding this eerily beautiful underwater garden promises to be a rewarding quest and is well worth it.
Menjangan Island
A small island located off the north-west coast of Bali, Menjangan Island is protected thanks to the conservation efforts of the West Bali National Park. It is also less touristy than the Southern region of the island. The result? Three hundred feet of unspoiled coral reef walls, home to turtles, small sharks and an abundance of other species.
The exotic variety of underwater life here comes in all colours and sizes – it is so abundant that any non-diving companions can have enjoyed an equally awe-inspiring snorkel of the area. Furthermore, this fantastic ecosystem thrives between shallow waters and incredible depths. Incredible clarity and visibility as deep as 50m secure this island as one of the best diving spots in Bali for beginners and experts alike.
Amed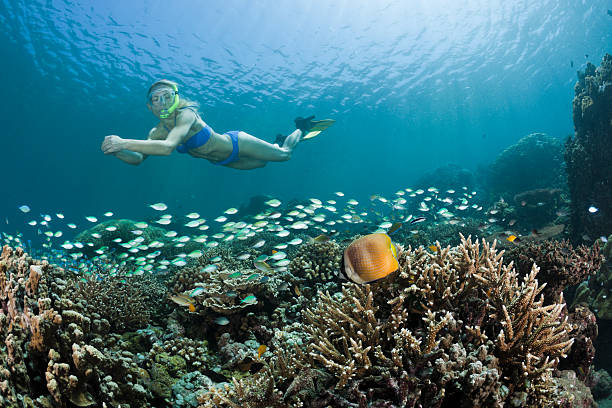 The quiet fisherman's village of Amed offers a relaxing diving atmosphere which is perfect for less experienced divers. Don't be fooled though – this is still one of the top diving experiences in Bali! Due to the proximity of the volcano at Mount Agung, the diving sites here feature black sands which form an unusual contrast with the vibrant and colourful corals.
The current here is very light and visibility is excellent, which means even beginners can spot rare species such as the ghost pipefish and pygmy seahorse. Another spot which is perfect for underwater photographers, you can access these dive spots from the shore or enjoy a short transfer in a traditional jukung boat.
Essential Information:
We recommend arranging a dive with Bali Ocean, an award-winning scuba-diving school in Sanur who offer a variety of dive locations including all of those above.
Location: Jalan Danau Poso, Gang Wanasari 3b, Sanur, 80228, Bali, Indonesia
Contact:+62 361 270 852
Website: https://www.baliocean.com/
If you're ready to embark on some unmissable scuba-diving adventures, take a peek at our updated list of the hottest villas in Bali and start booking your retreat now!