The world of Avatar is a strange and beautiful place, with luminous waters, mesmerizing caves and inconceivable limestone formations, hidden among dense jungles. But if you thought these sci-fi landscapes where all fantasy, think again! If you've ever wanted to climb inside your television set and be transported to Pandora, now you can! Asia is full of beautiful, surrealistic landscapes that look just like a scene from Avatar! In fact, Asia is home to some of the most surreal places in the world! Here, we reveal the coolest, most incredible movie-like destination worthy of your Instagram reel! So, if you're seeking Avatar-esque surreal places in Asia, read on!
Khao Sok National Park, Thailand
https://www.instagram.com/p/BqzfUgPFDsG/
Often described as the most beautiful National Park in the world, Khao Sok is also one of the most surrealistic landscapes in all of Asia. Endlessly captured on canvas and silk by ancient dynasties, Khao Sok is a UNESCO World Heritage Site where mesmerizing islands, turquoise waters and rising limestone topography take centre stage. In fact, the park's towering karsts cliffs rise up to an impressive 960 meters in places, each surrounded by an infinite reservoir and unforgettable local wildlife. Walk through centuries-old bamboo forests, sail over the tranquil waters of the Ratchaprapha Dam and pass through jungles like Tarzan, because Khao Sok National Park is by far one of the most surreal places in the world!
Make your trip to Thailand even more unforgettable, by booking one of our incredible private apartments.
Essential info:
Address: 62 Khlong Sok, Phanom District, Surat Thani 84250, Thailand
Web: http://khaosoknationalpark.com/
Tel: 66 84 184 5805
Pura Lempuyang, Bali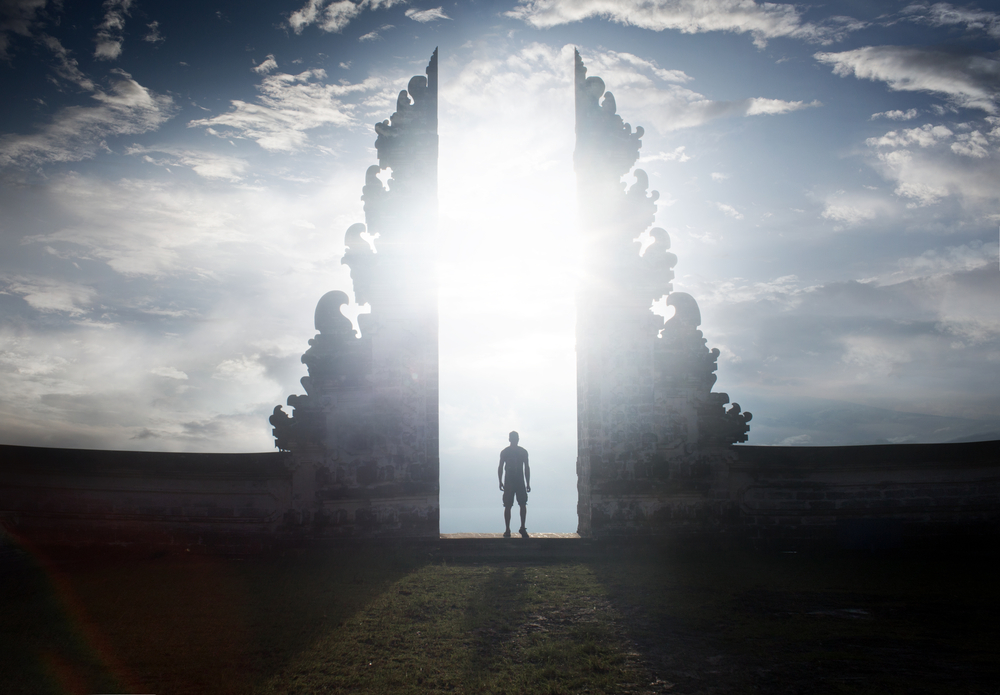 The ancient temple of Pura Lempuyang sits on the slopes of holy Mount Lempuyang in Karangasem, Bali. As one of the island's oldest and most sacred temples, Pura Lempuyang can be reached by a colossal staircase, featuring 1,700 steps. Surrounded by forests inhabited by wild macaques, the temple offers unobstructed panorama towards Mount Agung. Three dragon carved staircases lead up to the main temple, while its Gate Of Heaven has been captured endlessly by social media influencers. Hauntingly beautiful and majestically abstract, the temple sits over 1,170 metres above sea level and is by far one of the most surreal places in Asia.
During your Balinese adventure, live like a movie star in one of our gorgeous private island villas.
Essential info:
Address: Banjar Purwa Ayu, Desa Tribuana, Abang Subdistrict, Karangasem
Getting there: Pura Lempuyang Temple is around two hours from Ubud and two and a half hours from Canggu. Hire motorbikes or book a taxi to the car park of the temple. From here, it's a two-hour hike through the jungle.
Halong Bay, Vietnam
https://www.instagram.com/p/BZvTX9nA8yr/
Boasting thousands of unusual limestone islands, Halong Bay is one of the most surrealistic landscapes in the world. This tranquil azure harbour is home to 1,600 unique islands, all towering from the water in strange formations. A World Heritage Site since the early 90's, the islands of Halong Bay are each capped with a dense forest, adding to the mystique of the landscape. This Avatar-esque destination captures the naturalness of the movie, where lush floating islands sit on turquoise waters. Take a boat tour or kayak through the region for a real insight into how mesmerizing the bay's limestone pillars really are! Of all the surreal places in Asia, Halong Bay is one of the most spectacular.
Getting there:
Reach the bay from Hanoi by mini bus from Gia Lam to Bai Chay. Tickets cost 120,000 VND and the journey takes about four hours. There are also buses from My Dinh Bus Station for 100,000 VND and the journey is much quicker.
Zhangjiajie National Forest Park, China
https://www.instagram.com/p/Bppq-__nRwO/
One of numerous national parks within the Wulingyuan Scenic Area, nowhere is more Avatar-like than Zhangjiajie National Forest Park. Located in Hunan, China, this exceptional and bizarre landscape features cut gorges with calm streams, juxtaposed against sandstone pillars towering into the sky. When exploring, be sure to visit the First Bridge under Heaven, a naturally occurring platform connecting one pillar to another, as well as the Lost Souls Platform, where unrivaled panoramic vistas can be enjoyed. Taking its name from the movie, Avatar's Hallelujah Mountain is also worth a visit – this suspension bridge gives you incredible views down to the famous Pillar Between Heaven and Earth, the formation which is meant to have been the main inspiration for James Cameron's sci-fi hit.
Getting there:
From Zhangjiajie Train Station turn left and walk 150 meters for the City Bus Station. From here, buy a ticket to Zhangjiajie Scenic Area. The journey takes about 40 minutes and costs around 12 CNY.
Gunung Mulu National Park, Malaysian Borneo
https://www.instagram.com/p/BoOKcG5hGMs/
Another national park offering a truly surrealistic landscape, Gunung Mulu National Park in located in Malaysian Borneo. As one of the finest scenic spots in the world, the park boasts incredible cave networks and towering tropical karst, jutting out like teeth from the hillside. As a protected rainforest, Gunung Mulu is best known for its colossal Deer Cave, which leads to a secret gully with a beautiful waterfall, known as the Garden of Eden. Head to the summit of Gunung Mulu Mountain to witness magnificent views across the park, or take in the beauty of enchanting Clearwater Cave. No matter how you choose to spend your time here, this is one of the most spectacular and surreal places in the world.
Getting there:
There are daily flights from Miri and flights four times a week from Kuching and Kota Kinabalu to Mulu. From the airport there is a regular shutter bus service to the park.
Bohol, The Philippines
From the rolling mounds of the Chocolate Hills to its exotic jungles, pristine beaches and superb coral reefs, Bohol is one of the most impressive destinations in the world, not just the Philippines! The symmetrical curved peaks of the Chocolate Hills look conjured from someone's vivid imagination, while the dense rainforest that surrounds them look drawn from a fairy tale. If all this wasn't enough to entice you, the intoxicating formations found inside Hinagdanan Cave help to secure Bohol as one of the most surreal places in Asia! Head to the bamboo bridge of Bohol rainforest and pretend to be Neytiri or Jake for the afternoon!
Needing more excuses to book your next holiday? Take a look at our guide to the best places to visit in Southeast Asia in 2019!
Getting there:
Fly from Manila to Tagbilaran City on Bohol Island. There are daily flights and the journey takes about an hour and a half. You can also fly directly to Cebu City airport and then take a ferry to Tagbilaran City.
Son Doong Cave, Vietnam
https://www.instagram.com/p/BpoSaPPh-0J/
You may have visited your fair share of caves, but you won't have seen anything quite like Son Doong in Vietnam. Covering 9,000 metres in length and a height of 150 metres, the cave is the largest in the world. Open to the public since 2013, the relatively new-found cavern is accessible only by guided tour. Its name translates to Mountain River Cave, which is apt when you consider the incredible peak-like formations and tranquil waters found inside Son Doong. Just like Pandora's Cave in Avatar, secret limestone grottoes and huge passageways make up the interior of this spectacle of Mother Nature, securing it as one of the most surreal places in the world!
Essential info:
Address: Xuân Trạch, Bố Trạch District, Quang Binh Province, Vietnam
Web: http://www.sondoongcave.org/
Sri Pada, Sri Lanka
https://www.instagram.com/p/Bq7CTkVB-eS/
Also known as Adam's Peak, Sri Pada in Sri Lanka towers 2,243 metres into the sky. As one of the most exciting travel opportunities in the country, Sri Pada offers the chance for hiking and climbing, and remains a hugely important pilgrimage site for Buddhists. As Asia's most sacred mountain, Sri Pada has a unique appearance, with craggy shelves and tree-covered slopes, surrounded by rich forests and enchanting natural wilderness. Reach the top by climbing its 6,000 steps and take in the surreal yet awe-inspiring beauty of the surrounding landscape from the mountain's impressive summit. We can almost see the Na'vi settling down on this tropical peak, can't you?
Needing somewhere to stay during your Sri Lankan adventure? Check out our hand-picked luxury villas, littered across the country!
Getting there:
From Kandy take a train to Hatton, then a bus to Dalhousie. From Colombo take a train to Hatton, then a bus or tuk-tuk to Dalhousie.
Toyama Bay, Japan
https://www.instagram.com/p/BqX9mC1B78q/
The vibrantly glistening waters of Toyama Bay may look like something from James Cameron's imagination, but they're real! Located in Japan, this unusual surrealistic landscape comes to life between March and June each year, when bioluminescent firefly squid are forced to the surface of the bay. Normally living 1,200 feet below water, the current pushes the squid to the water's edge, lighting the bay's rim with a strange and beautiful luminous blue froth. During firefly season, sightseeing trips depart from Namerikawa fishing port at 3 a.m. each day. This spectacular phenomenon can only be seen in a few locations on Earth, making Toyama Bay one of the most surreal places in the world.
Getting there:
Namerikawa fishing port is a 10-minute walk from Ainokaze Toyama Railway Namerikawa Station, which is about four hours away from Tokysuo by train.
Colourful Volcanic Lakes, Indonesia
The tri-coloured lakes of Mount Kelimutu truly have to be seen to be believed. Sitting inside the craters of this colossal volcano, the waters of these lakes vary from deepest black to vivid green and vibrant red. Located on the island of Flores, Indonesia, the Mount Kelimutu's lakes sit at 1,690 metres, inside Kelimutu National Park. The colours of the lakes are ever-changing, due to a naturally occurring phenomenon, meaning they look slightly different every day of the year. Many believe the lakes are the resting place of departed souls, taking sunrise trips to the volcano's summit to witness day-break over the colourful waters. Truly breath-taking and entirely unique, this tri-coloured basin is definitely one of the most surreal places in the world.
Want to learn more about the diverse Indonesian archipelago? Take a look at our definitive guide.
Getting there:
Mount Kelimutu is close to the town of Moni, which is about 50 kilometres east of Ende and four hours from Maumere, the main city of Flores. Take a motorbike, taxi, car or bus to the car park at Kelimutu's peak and then follow directions by foot.