If you're anything like us, you'll be planning your next adventure as the warmer months approach. With so many vacation options, you may be struggling to decide where to go. Here, we explore why summer is the perfect time to hit Thailand, with June, July and August offering glorious sunshine. Thanks to its beautiful beaches, versatile activities and enduring landscape, there are plenty of things to do in summer in Thailand and this handy guide reveals our top 10 unmissable experiences. Pack your sunscreen and let's set off…
Go Skydiving Over the Beaches of Pattaya
If you're an adrenaline junkie looking to spend summer 2019 in Thailand, then this one is for you! Thai Sky Adventures offers both tandem and experience skydives over the glistening shores of Pattaya. Head up in a plane for a 20-minute flight that will take you over city and coastline to 13,000 feet.
Then, it's time to take a leap of faith, for your 60-second journey down to earth. Soar over the beaches and take in incredible views during this once-in-a-lifetime experience. A real rush for active adventurers, you'll dive through the air at up to 125 miles per hour, before landing back on solid ground!
Essential info:
Address: Nong Khor Resevoir, Sri Racha, Chon Buri Province
Website: https://www.thaiskyadventures.com/
Facebook: https://www.facebook.com/Thaiskyadventure
Cost: 11,350 THB per person
Pretend to be an Influencer on the Phi Phi Islands
The Phi Phi Islands offer some of Thailand's most pristine beaches and bays, which is why it has become a hot spot for the elite of Instagram. Influencers from around the world are taking to these shores for snorkeling, sunbathing and selfie opportunities – and you can do the same!
As one of the coolest things to do in summer in Thailand, the Phi Phi Islands are just a short boat ride away from Phuket and offer a taste of tropical paradise. Made famous by Hollywood movie, The Beach, these six isles offer azure waters, golden sands and mountain backdrops that are sure to set your social account alight!
Getting there:
The islands can be reached by ferry or speedboat from Phuket, Krabi or Koh Lanta. From Phuket's Rassada Pier the journey takes around two hours and costs 800 THB. A speedboat is much quicker at around 45 minutes, but costs around 11,000 THB.
Try Homemade Ice Cream in Koh Phangan
https://www.instagram.com/p/BAl-BeECuBC/
A summer staple, ice cream is often thought of as a European treat. Yet Southeast Asia has a surprising amount of producers, creating delicious gelato that you can enjoy during the hottest months. Thailand is no exception! Phangan Homemade Icecream lies in the heart of the island, close to Phaeng Waterfall, and serves up delicious regional scoops and sorbets, as well as authentic Thai dishes.
Sit outside and cool off with a scoop or three of your favorite flavor or dive into a plate of chicken satay before ordering a decadent dessert! Make your visit truly unforgettable by booking one of our incredible private villas, located across Koh Phangan.
Essential info:
Address: 53/2 Moo 2, Opposit Ban Maduawan School, Ko Pha Ngan 84280
Tel: +66 77 238 681
Facebook: https://www.facebook.com/pages/Phangan-Homemade-Icecream-Food-Drink/
Try Rooftop Sunset Yoga at Grounded
Grounded is a studio near the beach in Koh Tao, offering daily yoga sessions and incredible active experiences. One of the best events in summer (2019) in Thailand will be Grounded's outdoor summer yoga classes, which take place on its rooftop overlooking the beach. Work your body, mind and soul during a sunset class, where you can take in magnificent views while you flow. As well as sunset yoga, the studio also offers beach classes and three daily lessons at 9am, 11am and 6.30pm. What better way to find your zen?
Essential info:
Address: 52/1 Moo 1, Sairee Sairee Koh Tao Surat Thani 84360
Email: [email protected]
Facebook: https://www.facebook.com/GroundedKohTao/
Cost: 250 THB per class, or 1,100 THB for five classes
Hit the Waters off Koh Samui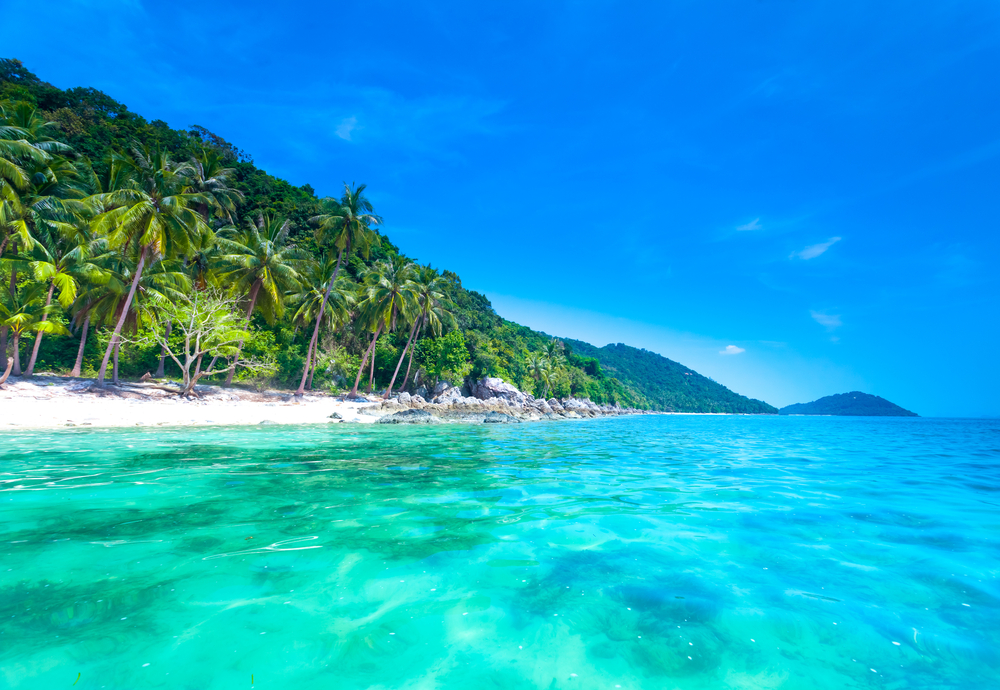 Thanks to its dazzling waters, the island of Koh Samui is the perfect place to spend some downtime. Make the most of your adventure to these shores by booking a once-in-a-lifetime experience, that will allow you to have some fun and soak up some incredible coastal views. Koh Samui Jet Ski and Water Sports by James Jetstar offers everything from flyboarding to water skiing, as well as jet ski rental for those wanting to explore the region's coves and bays in style!
If relaxation is more your scene, simply make the most of the island's incredible beaches, where they'll be selfie opportunities a plenty! After a long day of adventure, relax and unwind in your own luxurious villa or apartment, found across Koh Samui.
Website: http://kohsamuijetski.com/
Tel: 099 369 7789
Facebook: https://www.facebook.com/kohsamuiwatersports/
Cost: Activities from 500 THB per person
Take a Jungle Hike in Northern Thailand
Chiang Mai offers some of Thailand's best adventure opportunities. Located in the north of the country, the region is home to Doi Suthep–Pui National Park, awash with waterfalls, cooling mountain springs and lush rainforests. Chiang Mai Jungle Trekking offers some of the best experiences around, taking groups on guided expeditions through the rich landscape of the area.
Spend four hours walking the countryside hills and rice paddies, cool off in a waterfall spring and meet locals in traditional Thai villages. There will even be the opportunity for elephant spotting, making this jungle adventure one for wildlife enthusiasts! Plus, don't miss out on the region's other incredible offerings – take a look at our guide to 10 magical spots in northern Thailand, that look like a fairy tale!
Essential info:
Address: 121 Moonmuang Rd., Sriphum, Muang, Chiangmai, 50200
Website: http://www.chiangmaijungletrekking.com/
Tel: +66 (0)81 035 4836
Email: [email protected]
Cost: 1,300 THB per person
Experience Bamboo Rafting in Khao Lak
Could bamboo rafting be the best activity for summer 2019 in Thailand? Well, it's certainly one of the funniest! The Khao Lak Safari Tour will see you spend the day on a bamboo raft, traversing the waters of Lam Ru National Park. Along the way you'll witness incredible jungle scenery, visit a pineapple farm, interact with elephants and meet a tribe of turtles. Cool off in a waterfall and don't miss the chance to witness the region's tiny Buddhist temple, located inside a natural cave!
Essential info:
Address: 17/19 Mu 1, Lam Kaen, Thai Mueang District, Phang Nga 82210
Website: https://www.khaolakadventure.com
Tel: +66 (0)9 6653 9696
Cost: 2,800 THB per adult and 1,800 THB for children aged 4-10 years
Traverse the Canals of Bangkok
Not everyone knows that Bangkok is actually home to a series of picturesque canals, and exploring them couldn't be easier. In fact, the city offers a highly affordable ferry, the Chao Phraya Express Boat, allowing you to enjoy this unique part of Thailand on a budget. The Chao Phraya River is one of the best natural attractions in Thailand, and this ferry service offers hop-on, hop-off flexibility, so you can step onto terra firma whenever you want to.
Meet locals, buy authentic street food and witness local wildlife along the way. The public boat service runs from the central Sathon Pier to Nonthaburi, before heating on to Pakret.
Essential info:
Website: http://www.chaophrayaexpressboat.com/en/home/
Cost: From 10 THB per person
Lie back on Phuket's Karon Beach
Phuket is known for its glistening waters and alluring sands. Karon Beach is perhaps the island's most pristine strip of sand, so taking a trip here is sure to be one of the best things to do in summer in Thailand. Located on the west coast, Karon is the third longest beach in Phuket and offers fantastic snorkeling and diving opportunities, as well as the perfect environment for relaxation!
In between your sunbathing sessions, explore the town's shopping, dining and nightlife opportunities, and don't miss the regular market, held inside Karon Buddhist temple! The area's viewpoint is also a must, offering incredible coastal vistas. While you're here, be sure to explore our guide to the top six most luxurious villas in Phuket.
Witness the Bat Caves of Khao Yai National Park
Of all the events in summer (2019) in Thailand, the nightly bat flights of Khao Yai National Park are a must see! The rich national park is home to a giant cave where millions of tiny bats live. Each evening, the creatures fly out to begin their evening hunt, screeching as they go. The unique spectacle begins at dusk and lasts hours, taking place every night until the last bat has left the cave.
Get there early to witness the beauty of Khao Yai, set out over 2,000 square kilometres and boasting waterfalls, rich forests and wild monkeys. As sun sets, be there to see the bats dance across the sky – an experience you won't forget in a hurry!
Getting there:
The best way to visit the park is to book a private transfer with Thai National Parks. You will be collected from your villa or hotel in Bangkok and taken directly to Khao Yai. The journey takes around two and a half hours and costs 2,300 THB.