Often considered one of the most magical destinations in the whole of Pacific Asia, Bali is a utopic island made up of tranquil beaches, jaw-dropping scenery, and ancient temples. There is an immense amount of magical places in Bali – he islands' location in the Indian Ocean, and its rich cultural and religious roots make it not only strikingly beautiful but highly diverse in its attractions. From coral reefs to tropical jungles and shrines atop active volcanoes, this is a paradise unlike anywhere else in the world, offering an unrivaled amount of unique natural wonders for visitors to tick off their bucket lists.
No matter what your holiday preference, be it escaping the daily rat-run or throwing yourself into the hustle and bustle of your temporary home, Bali's extensive sights could surprise even the most worldly of traveler. So whether you're planning an unforgettable gap year trip, or you're looking for special spots for your honeymoon, this definitive guide reveals the mind-blowing destinations and the most unique and magical places in Bali that every visitor should add to their holiday agenda.
Beiji Guwang Canyon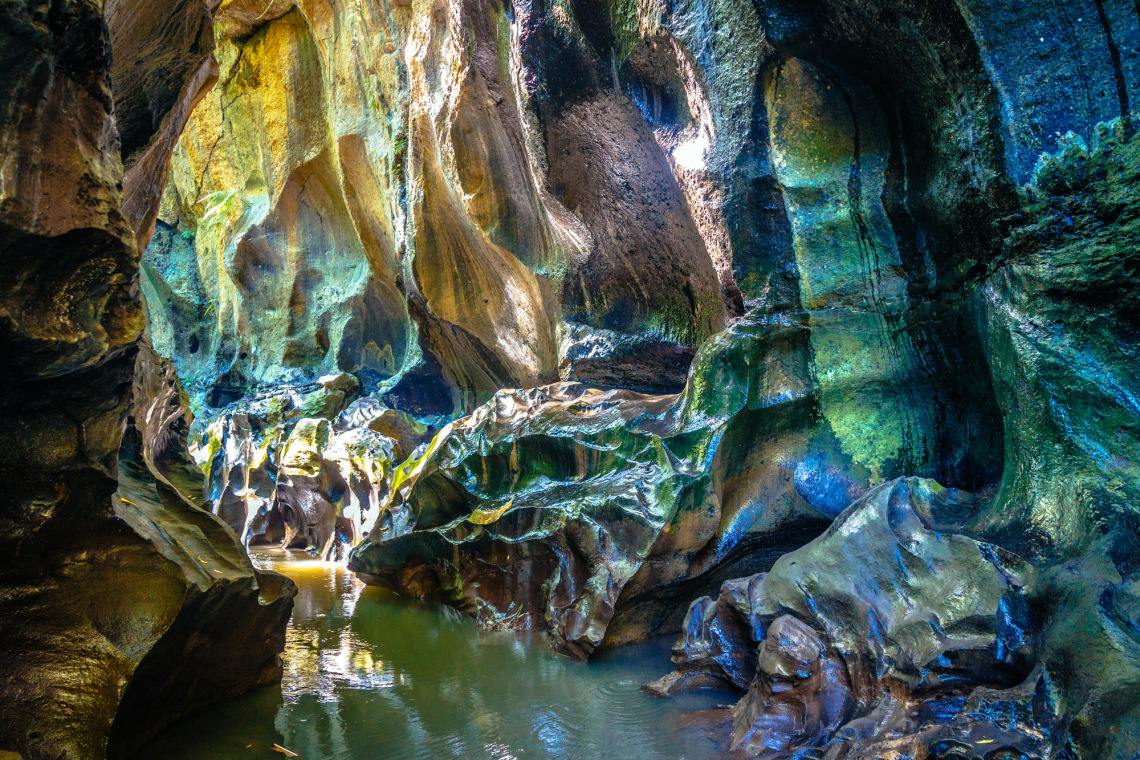 Just 20 minutes from the capital of Denpasar you will find one of Bali's most impressive and unique natural wonders. The Beji Guwang Canyon, also known as the Hidden Canyon of Beji Guwang, is a maze of hidden passages and lush greenery. Find yourself wadding through a crystal clear stream in the centre of a narrow gorge, surrounded by jagged rock formations, spectacular waterfalls and a rich forest of trees.
Situated in the picturesque Sukawati district, this hidden paradise features craggy caves and rutted ledges, for brave visitors to explore and climb. You can either go it alone, paying the entrance fee of IDR15,000 (roughly US$1.11), or take to the canyon with a local tour guide, costing approximately IDR100,000 (US$7.40). See the hidden faces and characters engraved into the canyon wall, get up close with Balinese wildlife and even ascend ancient trees, which have gradually become one with the rock face itself. Open daily from 8 am until 5.30pm, a trip here will take up to two hours, so pack waterproof clothing and a decent pair of shoes and experience Mother Nature at her most impressive.
Essential info:
How to get there: Make your way to Guwang village and take the stone staircase next to the Pura Dalem Guwang, which leads down to the canyon.
Address:  Jalan Sahadewa, Banjar Wangbung, Guwang, Sukawati, Guwang, Sukawati, Kabupaten Gianyar, Bali 80582, Indonesia
Instagram: https://www.instagram.com/hiddencanyonbejiguwang_/
Pura Ulun Danu Bratan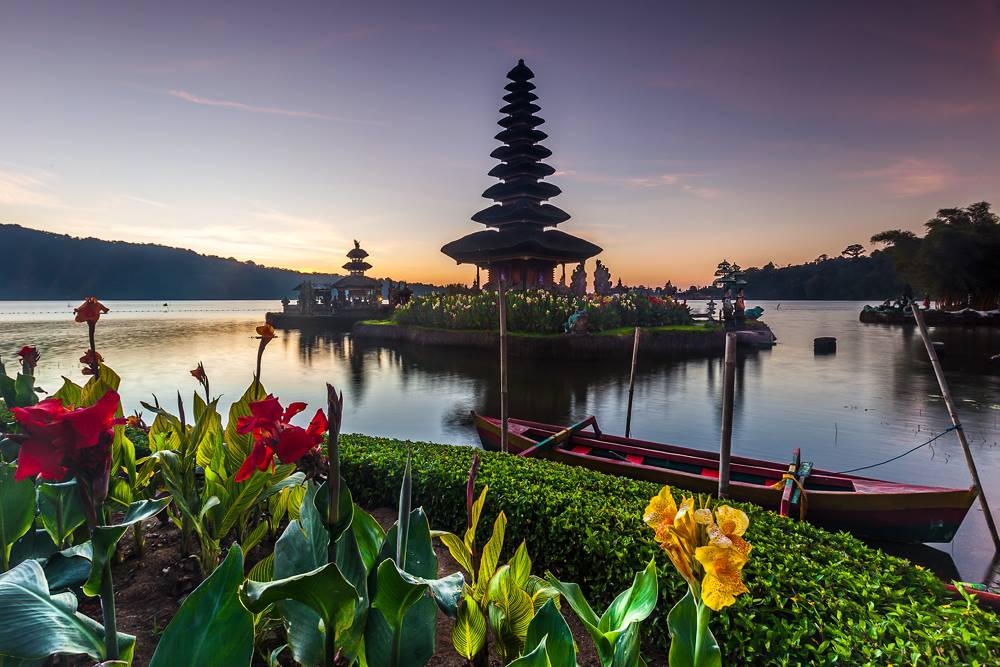 Ranking high on travel to-do lists, Pura Ulun Danu Beratan is one of Bali's most notable Shaivite temples, dedicated to the water Goddess Dewi Danu. Situated in the middle of Lake Bratan in the shadow of Bedugul's mountain ranges, this floating temple will instantly transport you into an Indonesian Fairy Tale. Picture a calm lake surrounded by foothills and shrines floating on the surface of the water. As you walk through this enchanting area, you will become lured into its soothing atmosphere.
Built in the early 17th century, Pura Ulun Danu Bratan is the most dominant structure in the region and features an iconic tower offering 11 floors of worship. Though visitors are not allowed inside this majestic sanctuary, a visit to the surrounding area is well worth your time. The park is open from 8 am until 6 pm every day and for roughly IDR30,000 (US$2.20 per person) you can become one with Dewi Danu herself.
Essential info:
How to get there: From Baturiti take a 10-minute taxi ride to Pura Ulun Danu Bratan, costing around IDR70,558 (approximately US$5.23), or from Bratan, a taxi will cost about IDR60,500 (approximately US$4.48) and will take roughly six minutes.
Address: Danau Beratan, Candikuning, Baturiti, Tabanan Regency, Bali 82191, Indonesia
Goa Gajah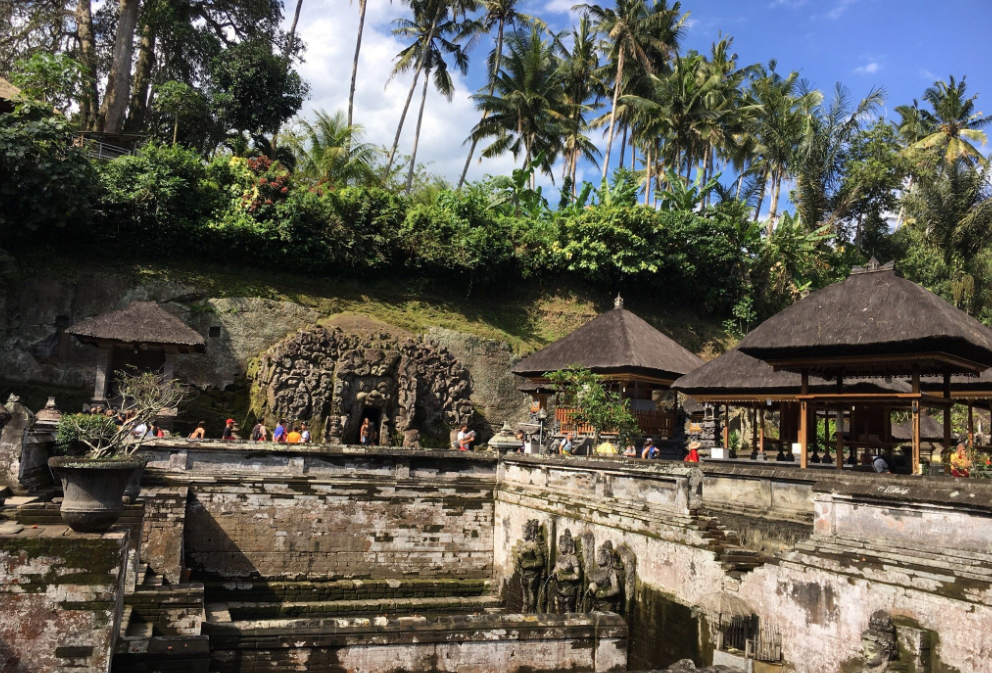 One of Bali's most remarkable archaeological sites dates back as far as the 9th century. Goa Gajah, also known as the Elephant Cave, is situated equal distance between Ubud and Gianyar. This mesmerizing ancient shrine, famous for its fascinating Hindu carvings, feels like a cross between a scene from an Indiana Jones movie and a tomb where Lara Croft would feel at home.
The park is filled with ancient trees, their roots crawling across the ground, strange rock formations and holy monuments. Despite its name, the cave itself doesn't resemble an elephant, but instead is a large cavern with an exterior engraved with unusual patterns and ominous faces. Inside you will find significant symbols of Shiva, the Hindu god. This mystical and highly spiritual place is open daily from 8 am until 5.30pm and costs IDR15,000 to enter (approximately US$1.11). Head here before 10 am for a more peaceful experience and spend a few hours healing both the mind and the soul in this extraordinary sacred park.
Essential info:
How to get there:  From Bedulu village head onto the main road leading out of Udud, towards Gianyar. Follow signposts for Goa Gajah. You will walk past two local shops before you will find the entrance.
Address: Ubud, Bedulu, Blahbatuh, Kabupaten Gianyar, Bali, Indonesia
Campuhan Ridge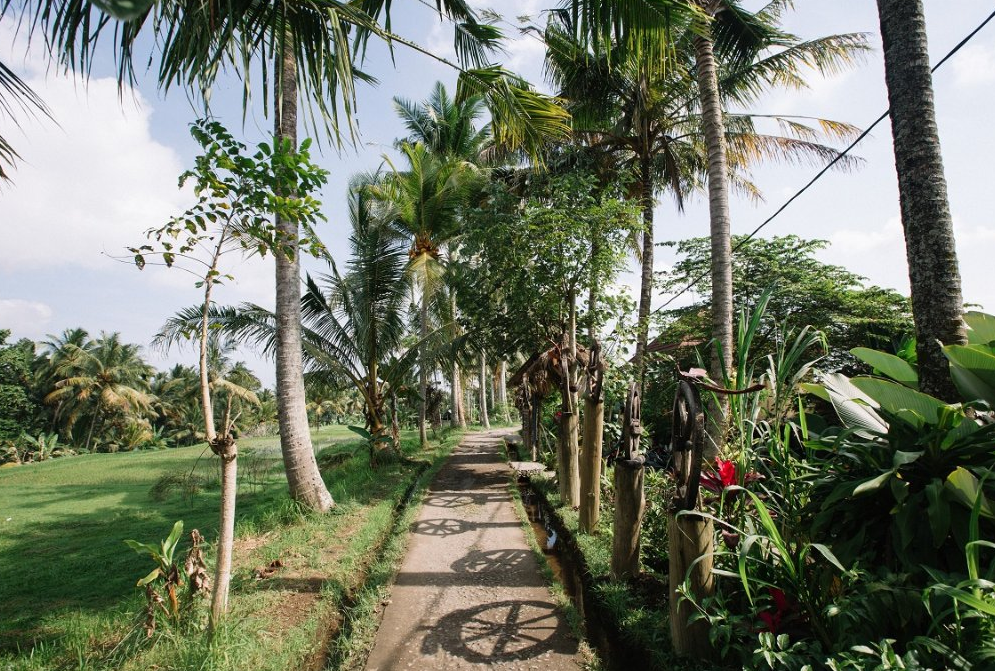 The Campuhan Ridge may sound like your average run-of-the-mill walking trail, but in Bali nothing is ever that mundane. If you imagine gentle valley streams and rolling hillsides with cascading waterfalls then you'll start to get an understanding of the beauty of this mountain pathway. As magical as it is attractive, time spent here will not easily be forgotten.
Situated in the uplands of Ubud, this hilly ridge is not only a spectacular piece of natural beauty but a haven away from the commotion of Bali's more popular tourist spots. Along the pathways, witness remarkable rice fields where workers tend to their crops, visit magical temples for a moment of quiet reflection and see the strange and enticing carvings in the boulders that run along the trail. Any visitor to the Campuhan Ridge should take a seat on the wooden swing that hangs over the edge of the hillside, looking out over the breath-taking forest below; a once in a lifetime experience. Free to enter, the Campuhan Ridge is one of Bali's most impressive natural attractions, so head here just as the ridge opens (5.30am), or a few hours before it closes (7 pm), for a more serene experience.
Essential info:
How to get there: From Jl. Raya Campuhan, follow the signage next to Warwick Ibah Luxury Villa. A left-pointing arrow reveals the pathway of the valley.
Address: Jalan Raya Campuan, Sayan, Ubud, Kelusa, Payangan, Kabupaten Gianyar, Bali 80571, Indonesia
Tukad Cepung Waterfall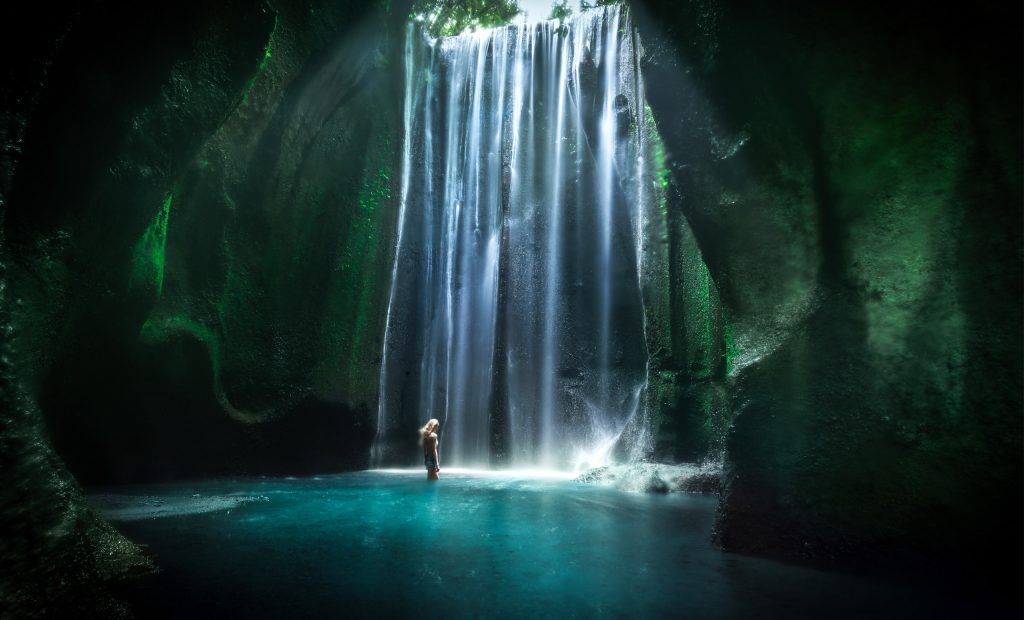 Often described as the best virgin waterfall in Indonesia, Tukad Cepung is a mecca for natural beauty. The waterfall can only be accessed by walking through a tropical forest and a narrow gorge. Eventually, you will find yourself standing in front of a mesmerizing natural wonder, a cascading waterfall enclosed within a cavern of overhanging rocks. At the right time of day, when the sunlight hits the peak of the waterfalls' drop, light fills the cave, illuminating this peaceful warren and turning it into something quite magical.
Situated in the remote region of Bangli, this spot remains one of Bali's best-kept secrets, which makes for a quiet escape away from the crowds of Seminyak and Kuta. Open from 6 am to 6 pm every day, Tukad Cepung Waterfall is free to visit and will leave you with a lasting impression.
Essential info:
How to get there: Tembuku is a 40-minute taxi ride from central Denpasar and costs around IDR36,0000 (US$26). From Ubud, Tembuku is around a 30 minute journey, which costs approximately IDR22,0000 (US$16). Once there, the waterfall is a 30 to 40-minute hike through a picturesque ravine.
Address: Jl. Tembuku, Dusun Penida Kelod, Tembuku, Bangli, Tembuku, Kabupaten Bangli, Bali 80671, Indonesia
Facebook: https://www.facebook.com/tukadcepung/
Instagram: https://www.instagram.com/tukadcepung/
Angel's Billabong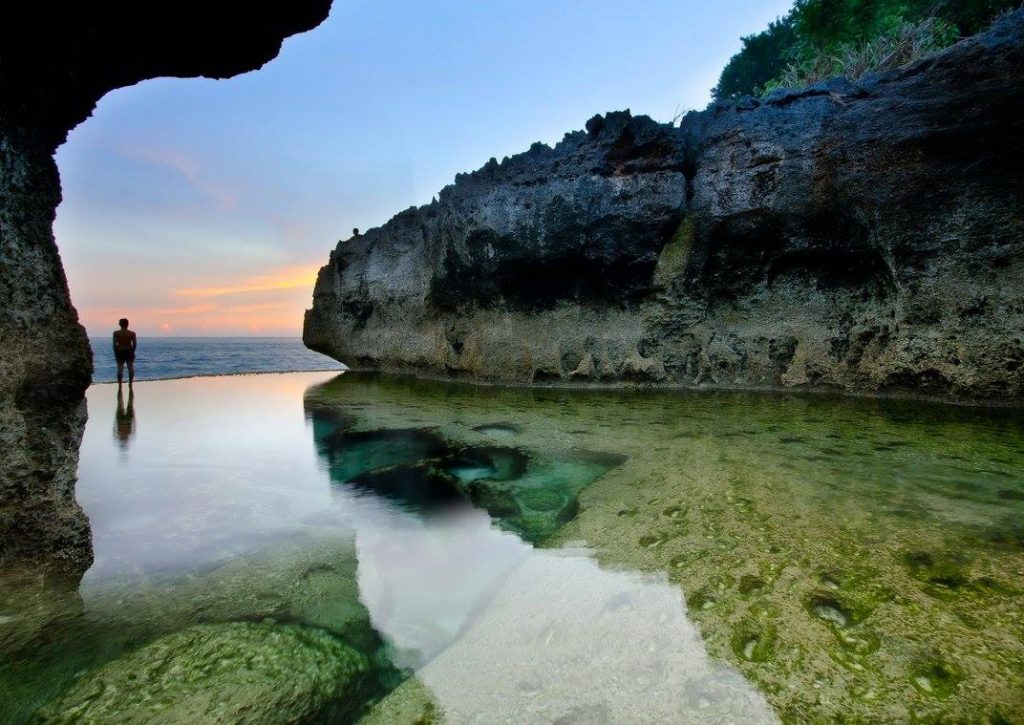 Situated on the small Balinese isle of Nusa Penida, Angel's Billabong is unlike anywhere else in Asia and is truly one of the most magical places in Bali. A true piece of paradise, this beautiful natural wonder is one of Bali's most under-valued sights, offering crystal clear waters and an outstanding ocean view. Angel's Billabong is a shallow body of water formed from rock pools, carved into the gap between huge boulders at the edge of the sea.
Visitors can climb to witness manta rays playing in the ocean below, paddle in the seawater or stand on the edge of the Billabong as the wave's crash before them.
Without seeing it for yourself, it is hard to understand the sheer magnificence of this spot. The near-by Broken Beach is another paradise for sun-seekers of all ages, making this part of Bali a truly special destination for your kick list.
In addition, this place is also perfect for romantic getaways, and if you are looking for other romantic spots in Bali, check this article about 10 Reasons Why a Bali Getaway Will Revitalise Your Marriage.
Essential info:
How to get there: Take a boat from Sanur Beach on mainland Bali. On the beachfront you will find many companies offering transfers to Nusa Penida. The journey takes around 40 minutes and costs around IDR130,000 (US$9.63).
Address: Banjar Sumpang, Desa Bunga Mekar, Nusa Penida
Facebook: https://www.facebook.com/Angel-Billabong-138971026512923/
Instagram: https://www.instagram.com/angel_billabongs/
Suluban Cave
Despite its location close to the tourist hub of Uluwatu, there is a secluded inlet of land where a bay of rich, crystal clear waters can be found. By following an old wooden staircase leading down from the top of a beachy cliff, you will find yourself in a hidden cove, with craggy rocks lunging out over your head and the tide gently lapping against the sand.
Suluban Cave is one of the most special and unique spots in the whole of Bali, a breath-taking paradise where the tropical beach meets a scene from Pirates of the Caribbean. The surrounding sea is known for its beautiful coral reefs and the area attracts other local wildlife, including monkeys, rare birds, and obscure fish. Head to Suluban Cave just as the sun rises and witness Balinese nature in all its glory.
Essential info:
How to get there: From central Uluwata, make your way to the seafront and follow signs for Suluban Beach. A wooden staircase leads down to the cave.
Address: Jalan Pantai Suluban, Pecatu, Desa Kuta Selatan, Badung, Indonesia
West Bali National Park
Where else in the world can you see deer paddling in the ocean? Situated in the most northwest point of the island, West Bali National Park is an oasis of wildlife, scenery and gorgeous beaches. Besides its resident deer, you can see wild pigs grazing, surreal insects basking in the sun and macaques swinging from palms above your head. This is a tropical nirvana where dessert island ideals were born.
This stunning conservation area was opened in 1941 and covers an impressive 770 square kilometres. It is a hub for wildlife enthusiasts, photographers and anyone wanting to witness rare regional animals in their natural habitat, including almost 200 different bird species. On the beach front, right in the middle of the water, you will find a small swing. Take a seat and enjoy the warm water washing over your feet as you look out at the paradise before you, while birds of prey soar above your head.
Access to this important and beautiful conservation area relies on a permit, costing IDR25,000 (US$1.85) per person, which can be collected from the help desks at either Cekik or Labuhan Lalang. Guests also need to be escorted by a guide, which comes at an additional cost of between IDR50,000 (US$3.70) and IDR100,000 (US$7.40), depending on your negotiation skills.
Essential info:
How to get there: Gilimanuk can be reached by boat from Java, which runs 24-hours a day, seven days a week and costs around IDR6,000 per person (less than one US$). The boats run roughly every 20 minutes and takes half an hour. From Denpasar, you can take a bus from the Ubung terminal which takes around three hours and costs approximately IDR40,000 (US$2.96). Once you're there, make your way to Cekik to collect your permit. This is approximately a 25 minute walk or a four minute car journey.
Tel: +62 (0) 365 61060
Address: Kantor Pos Gilimanuk, Taman Nasional Bali Barat, Bali, Indonesia
Facebook: https://www.facebook.com/tamannasional.balibarat/
Instagram: https://www.instagram.com/bali_barat/
Pura Tirta Empul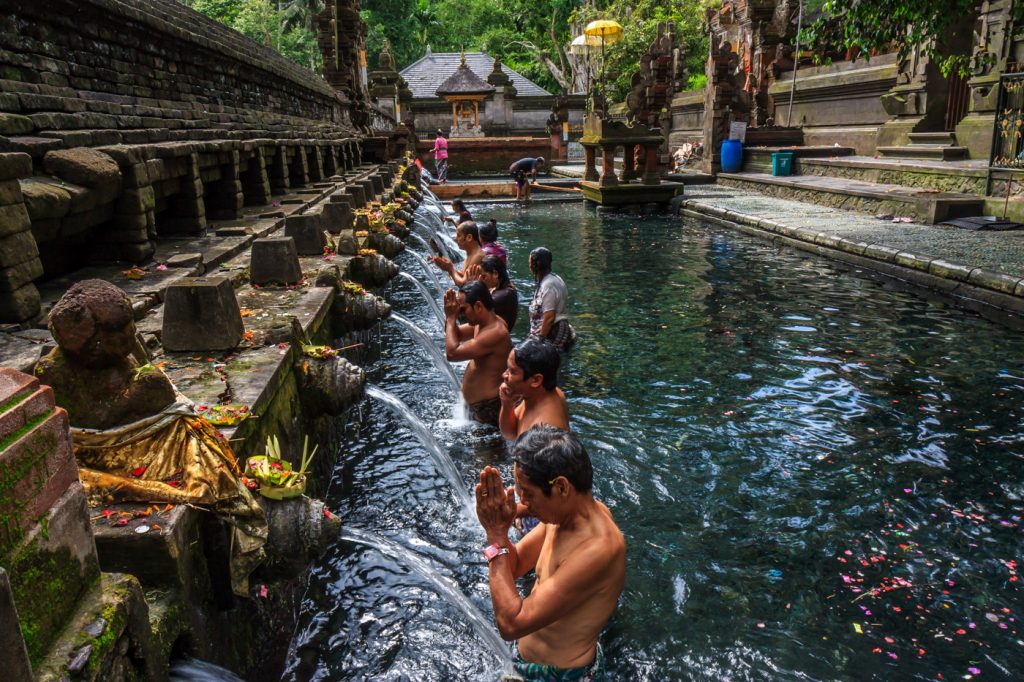 In the rural village of Manukaya, you will find one of Bali's most magical and spiritual spots. Pura Tirta Empul is a significant Balinese Hindu water temple, uncovered in around AD 962 and featuring its own natural mountain spring.  In this peaceful place, cultural rituals and natural beauty meet. Locals can be seen bathing in the sacred waters of the springs, while priests collect holy water and take prayers.
The springs here flow into the Pakerisan River, forming an area of outstanding natural beauty surrounding the temples' grounds. Be transported back in time and witness ancient ceremonies in one of Bali's most captivating spots.
Essential info:
How to get there: From the centre of Tampaksiring town there are many clear signposts directing people to the temple.
Address: Jalan Tirta, Manukaya, Tampaksiring, Manukaya, Tampaksiring, Kabupaten Gianyar, Bali 80552, Indonesia
Panglipuran Village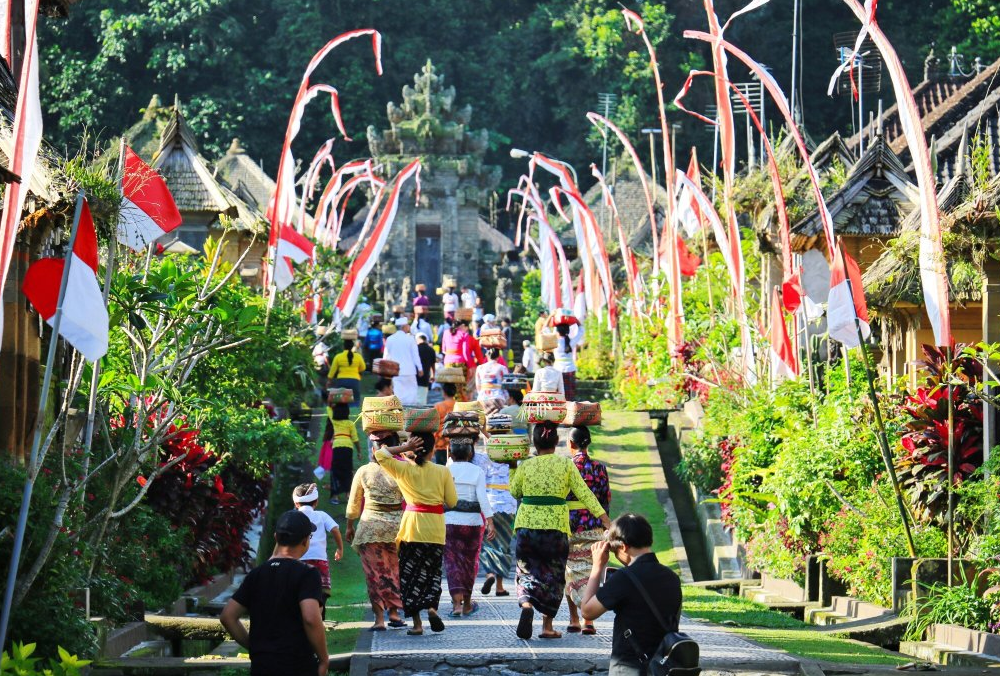 Offering a unique taste of authentic Balinese life, Panglipuran Village is a perfectly preserved community in the Bangli regency of the island. This quaint street features a cobbled road, lined with traditional huts and spectacular symmetrical gardens. An impressive natural bamboo forest surrounds the neighbourhood and makes for a truly magical place to spend a few hours. Be immersed in a tranquil atmosphere and experience the unique culture of Balinese village life.
Witness beautiful, authentic regional houses and watch locals balance their wares in baskets on top of their heads. Entrance to this street costs IDR30,000 per person (US$2.22) and it's open from 8 am to 5 pm every day. If you find yourself here during Galungan Day, an annual Hindu celebration which changes the date each year, you will witness the village decorated with Penjor, curved bamboo poles covered with coconut leaves, making for a truly magical cultural experience.
Essential info:
How to get there:  Due to a lack of public transport in the area, the best way to the village is by private taxi from central Susut. This 35-minute journey will cost around IDR31,7513 (US$24).
Address: Jalan Tegallalang, Tegallalang, Kabupaten Gianyar, Bali 80561
Facebook: https://www.facebook.com/pages/Penglipuran-Traditional-Village/162968677089988?rf=464245753615808